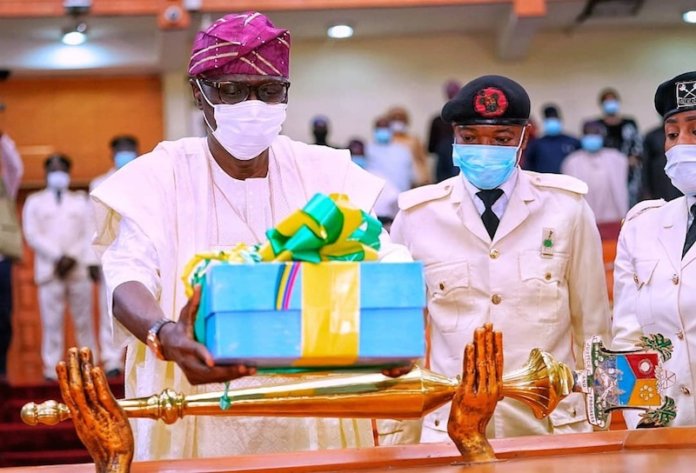 Kazeem Adeniji writes that the Lagos State 2021 budget will make up for last year's losses
A budget is a document to chart a financial course, usually for a year. For many people and organisations, it is a plan towards ensuring success of their aims and aspirations. Hence, it is why government budgets are a big deal. While the preceding year made mincemeat of many budgets, no thanks to the Covid-19 pandemic, Lagos particularly suffered given the wanton destruction it incurred when the #EndSARS protest metamorphosed into #EndSARS riots.
However, in preparing for 2021, the state under the administration of Babajide Sanwo-Olu as governor is set to come back with a bang. Its 2021 budget, tuned to N1.163tr and titled 'Budget of Rekindled Hope', is poised to offset the loss of 2020 and of course, go beyond that. As the most populated state in the country, Lagos is continually on its toes to provide a good life. And the icing on the budget cake is perhaps that N702.93bn was approved as capital expenditure while N460.5bn is for recurrent expenditure.
And harping on the need to stimulate the economy, the state is deploying N381.9bn, more than a third of its budget allocation to the economy. Surely, this is a good move as if a vibrant economy exists, it becomes easier to attend to other areas of growth and development. And some of the sectors under this category include agriculture; commerce; tourism, arts and culture; energy and mineral resources; transportation; infrastructure; and waterfront.
Looking at the budget, it is easy to tell the seriousness of the state to rebuild. In 2021, Lagos will be allocating N311.43bn to infrastructure. From the document, this sum covers direct intervention through the Ministries of Works and Infrastructure, Waterfront, Transportation, Judiciary and Education. Also included is a seed capital of N15bn for The Rebuild Lagos Trust Fund which addresses repairing or replacing public and private goods destroyed in the #EndSARS riots.
And regarding direct human capital development, Lagos will be committing N148.57bn in 2021. This would equip entrepreneurs with financial and technical support through the Lagos State Employment Trust Fund (LSETF). Also, to properly prepare youths for the IT job market, the state is also collaborating with major players in the tech space like Oracle, Microsoft and Google.
And as the world embraces more technology, Lagos cannot afford to be left behind. Gone are the days when life could be optimally enjoyed without an internet connection. In this year's budget, Lagos is committing a further N37.37bn to technology so as to make Lagos a 'smarter' city. Last year during the Covid-19 lockdown, under a PPP initiative, Lagos began laying fibre duct infrastructure to deliver high speed broadband internet access to residents. Already, some residents have started enjoying this fast internet speed. And in a recent briefing, the Lagos State Commissioner for Budget and Economic Planning, Sam Egube, said that the state would spend N24bn to build 3,000km of internet fibre network. Earlier in November 2020, while delivering his budget speech at the Lagos State House of Assembly, Sanwo-Olu had said that the 2021 budget would also provide for the installation of 2000 intelligent cameras around critical points of the state to checkmate crime, enhance traffic management and improve data gathering.
Furthermore, Lagos intends to prioritize the security of lives and property as well as local intelligence gathering in communities by increasing significantly the number of Neighbourhood Watch Officers over the next two years. And to steer youths in the state in the right direction, the state proposed an allocation of N9.16billion to 'social protection' in the 2021 budget. Also, to complement the work of the security officers, the state intends to be aggressive with the Lagos State Residents Registration Agency (LASRRA) scheme so as to identify residents of the state. It is to ensure everyone feels safe in 2021 that the state is allocating N32.8bn to 'public order and safety'.
For the environment, this year, Lagos is budgeting N50.9bn to spruce up its surroundings. This will take care of drainages and overall aesthetics of the state. And going off from there, the state wants to take advantage of the 24-hour economy by lighting up at night, a project that the state has earmarked the sum of N32.58bn to in the 2021 budget. Surely, this would be money well-spent.
Through intervention in works, transportation and environment, Lagos seems more focused on the economy. But that is not all. The state is committing about 10% of its budget to health. And coming at a time when Lagos is the epicentre of the Covid-19 in Nigeria, such investment is key. You know, it's only when people are alive that they worry about living. It would be recalled that last year, the state launched EKOTELEMED which is the first state-wide telemedicine platform in the country. This year, with N118.4bn allocated to health, Lagos would be better off in meeting the healthcare needs of the about 25 million people that call the coastal city home.
In the area of education, Lagos will commit the sum of N143.7bn in 2021. Though, it is a far cry from the accepted 26% recommended by the United Nations, it is a step in the right direction. Also, recall that the Covid-19 also influenced the use of IT in deploying teaching in both primary and secondary schools. "We have also deployed electronic devices to over 9,000 teachers and 35,000 students," Sanwo-Olu said in November 2020. "We intend to continue to expand this program by working with the private sector to reach 20,000 and 1,000,000 devices for teachers and students respectively."
And importantly, it is satisfying to know that Lagos has allocated N18.3bn towards agriculture in 2021. Last year, the state set up the Imota Rice Mill with an N8bn CBN concessionary loan and upon completion will create over 250,000 direct and indirect jobs. Also, last year, the state established the Lagos State Aquatic Centre of Excellence (LACE) under a PPP framework which will boost fish production from 20% to 80% and provide employment for over 12,000 fish farmers both directly and indirectly when in full operation. The state also embarked on the Lagos Food Production Centre Avia, Igborosu Badagry which would also create over 100,000 direct and indirect jobs. In these times when food sufficiency is more or less power, these forward planning measures should be commended.
And speaking at a budget review session recently, the state Commissioner of Agriculture, Mrs. Abisola Adefisayo, lamented the low contribution of agriculture to the state over the years, citing the sector's overall contribution to the country's GDP was about 21%. She however noted that agriculture contributes 70% to jobs in the country as most people live in rural communities.
Away from all the sophistication of modern life, without food, humans find themselves in a precarious state. "We are looking forward to creating an enviable market structure, not just as a means for purchases but also as a means of agro-tourism," said Adefisayo.