---
Igbos and the 2023 Challenge
Eddy Odivwri
Hmmm, wonders will never end. I hear the Igbos now have a new King.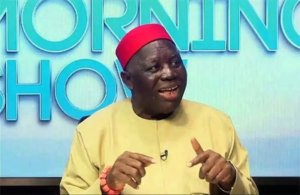 Never! Where did you hear that? Igbos don't have kings. They only have Igwes
What is the difference?
Go and read your history books again.
In any case, who is this new king you claim?
Did you not hear that Professor George Obiozor has been elected the President of the Ohaneze Nd'igbo?
You see yourself? Kings are crowned, not elected. So if Obiozor was elected, it clearly shows he is not a King. He is merely heading the socio-political body of the Igbo people, an umbrella body for the advancement and projection of the pains and aims of the Igbo people.
Hmmmmm….. the pains and aims….. what do you mean by that?
Need you ask? Is it still news that the Igbos have been crying for over fifty years since the Nigerian Civil war ended? Have you not heard them say the war has long ended but that the Nigerian state is still in the trenches against the Igbos? Have you not been hearing either their groaning or their wailing? Isn't that why they have been clamouring for the handshake across the Niger? Isn't that why they have been clamouring for an inclusive government? Isn't that why they have been clamouring for equitable distribution of national rights and privileges?
But the present government has demonstrated enormous goodwill to the Igbo nation. Or are you not aware that the long talked about 2nd Niger bridge is almost completed? Are you not aware that several kilometers of roads have been tarred, dualised and upgraded in the South east? Are you not aware of the upgrade of the Akanu Ibiam International airport in Enugu? Are you not aware that…..
(cuts in) Enough of your jaded project sprinkles.
Why has the fundamental demands of the Igbos not been met? Why is it that it is only the South East geo-political zone that has five states, instead of six states or more like other geo-political zones?
Why is it that it is only the South east that has been deliberately denied the presidency of this country despite all the supportive indices like demography and economic prowess? Or don't you know the Igbos are the economic live-wire of the country?
You see why they have been crying about marginalization?
You claim that this administration has done even what Napoleon could not do. Tell me, from Number one citizen to the number six citizen in this country, where do you find an Igbo man? Are they not fellow Nigerians?
Do not ask opaque questions bleeding with ignorance. This is a democracy. If the Igbos take the right political decisions, they will reap the fruits thereof. If they, conversely, take the wrong political decisions, they will contend with the consequences thereof. It is as simple as that.
What do you mean by 'right political decision'?
As said, it is a democracy. It follows the biblical principle of "if you sow sparingly, you reap sparingly". But if you decide to sow bountifully, you will reap bountifully. Check your history, so many Igbo sons have held the number three position of this country in the past, almost like it was a birthright. And that was a function of their political decision at the time. I am sure you can fill in the gap in this matter.
And that exactly is the issue: why is the Igbo man good only for number three position of the land? Are some people more Nigerian than others? Are they allergic to the Number one position? What do they lack as a requirement to so be?
Hmmmmmm, torrents of questions. But let me attempt to answer the one on what they lack. … (pause).. My brother the Igbos lack unity. That is why they have never been able to form a cohesive front to advance their course. They have Big Man Complex. Everybody is a big man. They have the crabology spirit!
Whaaaat? Cra-what?
Calm down. They have crabology spirit. They behave like crabs. Put a hundred crabs in an uncovered basket. Go to Mbaise and come back , you will meet all hundred crabs waiting for you, Nobody wants to let the other go. You see it in the way they also drive in city traffic. They would rather the junction blocks than allow somebody else to go before them.
Did you know that if not for crabology, late Dr Alex Ekwueme would have emerged the PDP presidential candidate in 2003 and possibly won the 2003 presidential election? Do you know all the governors from the South East at the time, refused to support their kinsman and pitched tent with then President Olusegun Obasanjo? Do you remember those ballot papers at the PDP convention were numbered?
I ask you: what did the then south east governors stand to lose if they supported their kinsman? Nothing!, I dare say. Just the crabology infection that was bent on scattering them. Do you also remember that even on the senate presidency seat, the Igbo men in the senate were plotting against one other resulting in having about three senate presidents in four years? Ever since that office was zoned away from the South East, have we experienced the notorious banana peel syndrome and the turmoil and huge turnover in that office? Or didn't you also see the kicks and complaints against the election that just produced Prof Obiozor? The intra-ethnic contention is huge and inhibitive.
That is why I say that one of the major tasks of the new President General of Ohaneze Nd'igbo, George Obiozor, is to quickly develop and inject the anti-crabology vaccine on all Igbo sons and daughters, home and abroad, so they can defeat their Goliath in 2023. They do and should have all it takes to overcome, after that metaphoric inoculation.
But democracy is all about contests. Why are you condemning the competitive spirit among the Igbos?
Don't miss the point. The competition has to be healthy, otherwise it will be destructive.
When they unite they can do much more. Isn't it why they talk about Iguebuike?
Already, with Obiozor, an erudite professor with enormous local and foreign goodwill, the Igbo nation is already moving forward. Didn't you hear they are already forming their own security outfit like the Amotekun of the South West, Sege Kafasa of the north etc.?
He has to position the Igbo nationality strategically such that 2023 will mark a political watershed for them. They are part of Nigeria. They are not forbidden from the presidency. They have lots of illustrious sons and even daughters, within and outside the south-east geo=political zone, that can become the President of Nigeria. All they need do is shine their eyes and calculate accurately in the larger political space.
I can admit that your submission is prescriptive. I pray they embrace it.
Related Articles