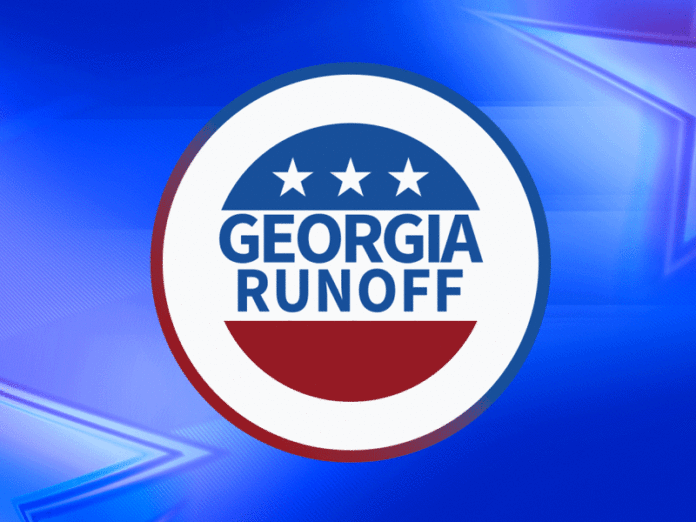 Democrat Raphael Warnock defeated Republican Kelly Loeffler Tuesday, NBC News projects, in one of two critical runoff elections in Georgia that will determine control of the Senate and potentially the fate of Joe Biden's presidency.
"Tonight we proved that with hope, hard works and the people by our side, anything is possible," Warnock told supporters in a video livestream.
Democrats need to win both contests to flip the Senate, but the other race, between Democrat Jon Ossoff and Republican David Perdue, remains too close to call, according to NBC News, with 98 percent of the expected vote counted.
If Perdue wins, Republicans will maintain control of the chamber and be able to block President-elect Biden's Cabinet appointments, judicial picks and legislative agenda — colossal stakes that Biden said Monday would "chart the course not just for the next four years, but for the next generation."
Warnock, who has never before run for public office, is the pastor of Martin Luther King Jr.'s former church in Atlanta. He will be the first Black Senator from Georgia and only the 11th Black senator in American history. He won, in part, thanks to astronomical Black turnout.
Warnock was born in Savannah, the eleventh of 12 children raised by his Pentecostal preacher parents in a public housing project before attending the historically black Morehouse College on a Pell Grant.
"Congratulations to our next U.S. Senator," former Georgia gubernatorial candidate Stacey Abrams tweeted at Warnock. "Soon, he will walk those august halls and cast votes as a leader with courage, justice and integrity. God bless you and keep you in your service to us all."
Loeffler, in her own brief remarks at an election night party in Atlanta before NBC News projected Warnock the winner, declined to concede the race.
"It's worth it for this election to last into tomorrow. We're gonna make sure every vote is counted. Every legal vote will be counted. And I'm not gonna stop working," she said.
The unusual election, in which the state conducted runoffs for two Senate seats at the same time, shattered spending records with the campaigns and allied super PACs inundating voters with more than half a billion dollars worth of advertising in the two months since the November general election.
Warnock's win in the special election means he will fill out the remainder of the term of former GOP Sen. Johnny Isakson, who stepped down for health reasons in late 2019. Loeffler was appointed to fill the seat until an election could be held. Warnock will have to run for re-election in 2022, when the term expires.
The winner of the other race, a regular election, will get to serve a full six-year term.
In some rural areas where the GOP needed to run up the score and counting was completed rapidly, Republican turnout appeared down slightly more than Democratic turnout compared to the November general election.
Meanwhile, turnout was up in Democratic-leaning and heavily African-American areas. The chairman of the board of elections in Fulton County, which includes most of heavily Democratic Atlanta, told reporters in a virtual briefing that Election Day turnout surpassed the November election.
If Democrats win both seats, the Senate would split 50-50 and let Vice President-elect Kamala Harris cast the tie-breaking vote.
The other race remains close, with operatives eyeing Georgia's rules on recounts, which allow a losing candidate to request one if the race is within half a percentage point. As of 2:42 a.m. ET Wednesday, Ossoff had 50.1 percent of the vote, while Perdue had 49.9 percent.
Gabriel Sterling, a top election official in Georgia, predicted at a news conference Tuesday evening that it would be a "long night."
"Its going to be a nickel and dime, scratching and clawing over the next several hours as these continue to come in," Sterling said. "There's big tranches for Democrats and there's lots of little tranches of votes for Republicans."
Officials reported short lines and no major problems throughout Election Day after more than 3 million Georgians took advantage of early voting.
President Donald Trump, who held a rally for the GOP ticket in a conservative corner of the state Monday night, has not stopped trying to overturn his loss in the November election, and those attempts have overshadowed the runoffs. Some Republicans worry his attacks on Georgia election officials will depress GOP turnout.
Three quarters of Georgia Republicans think the 2020 presidential election was unfair, while 93 percent of Democrats say it was fair, according to NBC News exit polls.