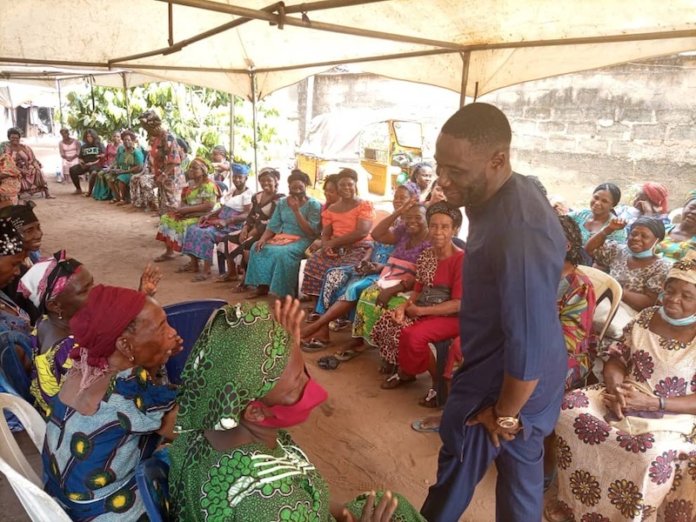 The Christmas season is known for sharing, especially to the less privileged. In fulfillment of this, a US-based businessman, Chibueze Ezenagu last Christmas, reached out to women of Umuogbu Village in Awka, Anambra State. David-Chyddy Eleke reports
On the eve of Christmas, a large number of youth gathered at Umuogbu village square in Awka South Local Government Area. The gathering of over 500 women was not based on ethnicity, religion or denomination. It was a gathering of women who needed help, and the helper was a United State- based businessman, Chibueze Ezenagu who simply saw the need to share with the women the joy of Christmas.
Ezenagu who runs a building materials company in Boston, USA did not just assemble the women for the give-aways, he also used to the opportunity to educate them about the realities of COVID-19, where he urged all to adhere to the safety protocols prescribed to help beat the disease and also flatten the curve.
Speaking during an event he organised to distribute the food items to them, he said he was in Nigeria for the Yuletide but felt the need to distribute food items to women in Umuogbu village in Awka, Anambra State, to cushion the effect of the virus-induced hardship on the people.
"2020 was a very difficult year. My business almost crashed because of the pandemic. We had to close shop and resort to online trading; receiving orders through our website and shipping goods to people. I was just telling myself that as tough as the year was for me in US, it may be tougher here in Nigeria, and that informed my reason to organise this event, to share food items to women to cushion the effect of the harsh economy.
"We are lucky that it coincided at Christmas, which is a time of sharing gifts with loved ones. We are doing this to support our people and cushion the effect of the hardship caused by the pandemic. We are sharing 700 bags of rice today for Umuogbu village women in Awka. This is my own way of supporting them. What we are doing today is an annual ritual, just that this year's event fell at a time when a pandemic came upon us."
For Ezenagu who runs a foundation in Nigeria; Chibueze Ezenagu Foundation (CEF), it would not be the first time he is distributing items to people. He said, "This is something we are used to doing. My father and mother do this, but today, they live with me in America, so I decided to take over from them, through Chibueze Ezenagu Foundation. In January too, we shall be sharing school bags to children who are returning to school. That is our own little support to education, among our people."
Advising the women on the realities of COVID-19, he said, "The disease is real, and I urge our people to take necessary precautions. I seem to be the only one who didn't catch the disease in my family. We live in the US. My parents caught the disease, my fiancee too. My father stayed for four days in the isolation centre to receive care, my mum stayed for 10 days. The disease is a reality and Nigerians must believe this."
Mrs Ngozi Ozoemena, chairperson of Umuogbu Women's Association who spoke to journalists on behalf of other women who received the donation said, "We are happy that we have a son who even though he lives in US still remember the plight of women at home and still supports them. The year 2020 was truly a trying one, and for some poor rural women, only gestures like those of Chibueze kept them alive to this day. We are happy that he remembered us, and we will continue to pray for him."