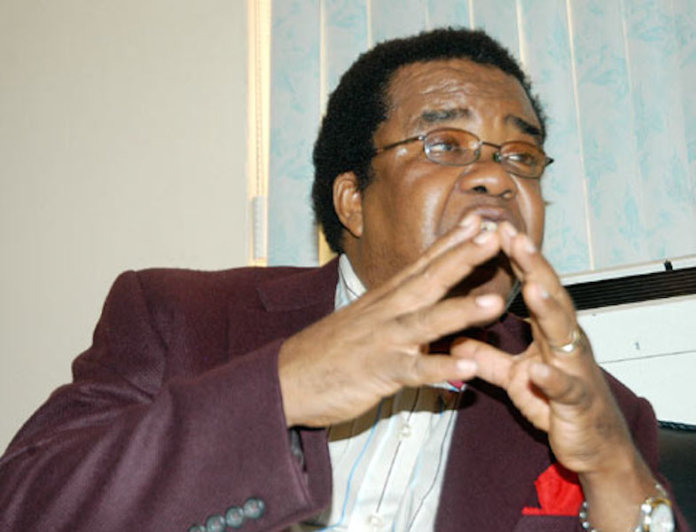 Dike Onwuamaeze writes that friends and associates of Nigeria's former External Affairs Minister, Professor Bolaji Akinyemi, used his 79th birthday to look back at his heydays in Nigeria's foreign policy initiation and implementation
Friends and associates of Nigeria's Former Minister of External Affairs and ex-Director General of the Nigeria Institute of Internal Affairs (NIIA) from 1975 to 1983, Professor Bolaji Akinyemi, have used the occasion his 79th birthday on January 4, 2021, to reminisce about his heydays as a bright and shining star that set and dictated the pace of Nigeria's diplomacy and international relations in the 1970s and mid-80s.
For them, his appointment to head the NIIA marked a rebirth and significant turning point in the activities of the institute that glued world's attention to it.
They also remembered his propagation of the concept of the Concert of Medium Powers, the Black Bomb that envisioned nuclear capabilities for Nigeria and the launching of the Technical Aid Corps (TAC) among the highlights of his achievements in the pursuit of Nigeria's foreign policy and diplomacy.
They also added that his appointment as the country's Minister of External Affairs in 1985 by the former Military President, General Ibrahim Babangida, brought new impetus and innovative ideas into the conduct of Nigeria's foreign relation, especially in the struggle to liberate South Africa from the shackles of apartheid policy that held black South Africans under the bondage of the White supremacists.
The passion Akinyemi brought to the fight against the apartheid regime in South Africa earned Nigeria the honourary status of a 'frontline state.'
The Founder of the Value in Leadership, Professor Pat Utomi, held the view that Akinyemi had made significant impact on Nigeria's foreign policy by drawing out the best from foreign affairs officers and injecting intellect and competence into the process of foreign policy making. "In bringing thinkers together to synthesise ideas and drawing serving officers into the loop of policy thinking, Akinyemi set a tone that had profound impact," Utomi said.
Also, a former Director General of the NIIA, Professor Bola Akinterinwa, pointed that a look at Akinyemi's personality, his creativity, his character and what he stands for is important in understanding the contributions he made to the growth and development of the Nigerian foreign policy. Adding that without them one might not be able to know, appreciate or understand whatever that might be called his achievements.
He noted that Akinyemi is a man of many parts who should be seen as an academic, a core academic who is both a Professor of Political Science and a Professor of International Relations, which defined "my perception of him as an academic."
He also pointed out that Akinyemi should be categorised as an academic diplomat for having served Nigeria as its Minister of External Affairs, which meant that "he was able to reconcile the art of theory and practice of international relations."
Akinterinwa also stated Akinyemi should also be viewed from the angle of a diplomatic tactician and diplomatic strategist. These attributes of him manifested with his propagation of the Concert of Medium Power and the idea of the Black Bomb, which simply pushed for Nigeria's acquisition of nuclear capabilities so that other countries should stop "looking down on us. That of course is because he is a strategist. It is also simply because he is a tactician."
He also saw the manifestation of a tactical politician in Akinyemi's involvement in the NADECO, a group that fought against military dictatorship and is currently advocating for the emergence of true federalism and a better Nigeria that is completely freed from political and institutional corruptions.
He said: "The NIIA under his watch was an internationally recognised institution in International Relations. In this case he focused the international community's attention on the institute. He came up with international programmes for research fellows to attend international seminars regularly.
"If you read his 'Farewell to Diplomacy,' you will see all these achievements there. He also came up with the idea of consultation doctrine when he was the minister of External Affairs. According to this doctrine, any country that desired the support of Nigeria must consult with Nigeria beforehand."
Akinterinwa also shared the view that Akinyemi had all the qualities and attributes to be the National Security Adviser (NSA) of Nigeria if not for the country's myopic view that only serving or retired generals and police chiefs are fit for the post.
"Myopic because the concept of national security had been redefined by scholars to mean human security. The emphasis is no longer on state security but human security. And Akinyemi would have been a better, if not the best, Nigeria's NSA because I have told you that he is a strategist. He is a tactician. You need a superb intellectual to be able to analyse and identify threats to national security. There is no big deal in reserving the position for military generals. But as I have said our security approach is very myopic. We don't adopt a collective approach to it, which should be the normal thing," he said.
Speaking in the same vein, a former Director General of the NIIA and Nigeria's Ex-Ambassador to the United States of America, Professor George Obiozor, stated that Akinyemi is an icon in the field of international relations in Nigeria and probably among the first five Nigerians to get their Ph.D. in International Affairs.
Obiozor argued that under the watch of Akinyemi the NIIA gained the cooperation of the Ministry of Foreign Affairs and the Presidency, which enabled the institute to become the think tank of the Foreign Affairs' ministry and dictate the country's diplomacy and foreign policy postures.
"Bolaji is outstanding. I must confess that under Akinyemi, the NIIA attained its highest publicity and place of relivance in determining Nigeria's foreign policy. He is clearly a personal compendium of Nigeria's foreign policy both in its conception and implementation in a serious partnership with the Ministry of Foreign Affairs and of course the Presidency during the military administrations of General Murtala Mohammed and General Olusegun Obasanjo. It was very, very wonderful," Obiozor said.
He credited to Akinyemi the prominence the institute attained with the hosting of the Annual Patron's Dinner (APD) event where the Nigeria's Head of State, who is also the patron of the institute, would give an annual lecture on the foreign policy direction of the country.
The APD, according to Obiozor, helped a lot because all prominent Nigerian political actors, foreign diplomats and institutions in Nigeria, members of the Nigerian cabinets, including prominent businessmen, foreign and domestic investors were invited and attended.
He also agreed that Akinyemi had all it takes to emerge as the country's NSA in the same way Professor Henry Kissinger and Ms. Condoleezza Rice served in the USA without having a military background simply because they were distinguished scholars.
"The whole truth is that in this country security is defined around the military and para-military officials and officers. But in countries that are advanced like the USA, the NSA can come from scholars on subjects of international affairs. Kissinger and Rice were all academicians like Akinyemi and some of us. But everything about government's appointment depends on the personality of who is the country's President or the Head of State.
"Definitely he would have served anywhere competently as he had served exceptionally well at the NIIA," Obiozor said, adding that "it seemed recently that there is what I may call an incremental decline of the importance and influence of the institute. The institute was one of the most respected custodians of research materials and issues on foreign relation in Nigeria."
Similarly, a Professor of Political Science and Distinguished Fellow at the Centre of Democracy and Development, Professor Ebere Onwudiwe, saw Akinyemi as a great Nigerian optimist who believed in the country's greatness, adding that Akinyemi was a true diplomat who used his time in office to promote and elevate Nigeria in the world of powers.
Ebere said: "His record as foreign minister shows some good features of a great diplomat including a temperament that is analytical. Before embarking on the Concert of Medium Powers project for example, he got 50 Nigerian scholars to deliberate on the idea.
"This shows that the Professor was not disposed to take things at face value. He was guided by facts and reason not mere opinion to back his decisions. This is very important in international relations.
"His fluency in Nigeria's language of diplomacy is legendary. This is in part due to his stellar education and exposure, two important ingredients for good diplomacy; but it also seems to come naturally to Prof. Akinyemi. To this day, he listens to your opinion intensely before reaching his own conclusion in a very concise and effective language.
"And to this day, the man is a consummate diplomat and always smooth and neat. All you got to do is watch his occasional appearances on Arise TV.
"He has a mind as sharp as a razor. He was a thinking minister, and now a national institution; and I wish him many more years."
Akinyemi, according to the former Chief Executive Officer of Newswatch Communications Limited, Mr. Ray Ekpu, made notable contributions to the development of Nigeria's foreign policy and orientation as foreign affairs minister, director general of the NIIA and a lecturer at the Department of Political Science, University of Lagos.
Ekpu stated that Akinyemi is a well-read man of ideas who was one of the champions of the Concert of Medium Powers that was meant to position some medium countries to be a counter voice to the main powers in world affairs. He also championed what he called the black bomb that would have enabled Nigeria to acquire nuclear capabilities but could not go far with the idea because a number of people opposed it.
Ekpu, however, recalled that the issue of Nigeria's membership of the Organisation of Islamic Conference (OIC) was a difficult time for Akinyemi because "he was working for people who thought that there was nothing in the OIC that Nigeria's government shouldn't participate in and believed that people who opposed it didn't understand what OIC was all about and how it can benefit Nigeria as a country."
Ekpu also added that the Technical Aid Corp (TAC) scheme was Akinyemi's idea which helped a number of countries and also helped a number of Nigerians because a lot of Nigerians were posted to foreign countries, particularly the Caribbean, to render useful services to those countries. "It is a legacy that can be put down in his favour. I do not know if it is still on now but it was something that he thought of and worked to realise," Ekpu said.
For the Director General of the Nigerian Association of Chambers of Commerce, Industry, Mines and Agriculture (NACCIMA), Ambassador Ayo Olukanni, Akinyemi made his mark in Nigeria's national life in various positions he held, starting from his time as a university lecturer in reputable universities at home and abroad in his field of expertise International Relations and Diplomacy.
Akinyemi also distinguished himself at the NIIA by bringing in a lot of innovations to the work and operations of the institute, which provided robust intellectual backbone and inputs into the articulation and implementation of Nigeria's foreign policies and pursuit.
Olukanni stated that the appointment of Akinyemi as Nigeria's External Affairs Minister in 1985 provided him the opportunity to bring into practice his long years of intellectual and academic work in the field of international relations.
He said: "As a former Nigerian foreign service officer and young career diplomat in the 1980s, many of us worked with him and saw him at close quarters as he worked and injected fresh ideas into Nigeria's foreign policy. Among this was his idea of the Concert of Medium Powers, an initiative designed to bring Nigeria together with other "medium powers" across the world to influence decisions and direction of international politics.
"Another significant foreign Policy initiative was the TAC scheme, an initiative funded by Nigeria under which Nigerian professional, medical doctors, pharmacists, nurses, other health professionals, university teachers, engineers, agriculturists, etc. are recruited and sent to developing countries in the Africa, Caribbean and Pacific regions of the world to serve and work to assist the development process of these countries.
"That scheme also boosted Nigeria's image in these countries. I had cause as a Nigerian diplomat to see the TAC volunteers serve in some African countries and as far away as Fiji. They were indeed veritable work force in the development process in these countries. It can be said that apart from Nigeria's well known reputation as a major troop contributing country to the United Nations' peace keeping operations, the TAC scheme was indeed a major landmark foreign policy thrust, which positively impacted on Nigeria' standing and presence in the international arena. It was a visionary move by Akinyemi, who has certainly left his foot prints in his area of expertise in our country."
A popular columnist and public affairs commentator, who was also a Special Assistant to Akinyemi at the Ministry of Foreign Affairs, Dr. Femi Aribisala, noted that there is a part of Akinyemi that most Nigerians did not know of.
"He was my boss in the NIIA and I was his special adviser when he was the foreign minister. So I know him personally. He is a very compassionate, generous and honest person. But the most important aspect of him that people may not know is that Professor Bolaji Akinyemi is a Christian. He is not just an ordinary believer. His father was a reverend and his Christian belief also defined the man he became, his associations and how he related with people. It defines how he conducts himself," Aribisala said.
He stated that Akinyemi believed that Nigeria has a manifest destiny to fulfill in the leadership of Africa and demonstrate leadership responsibility to blacks in diaspora. "Akinyemi believed that the major currents in international relations should not be the exclusive preserve of the major powers; that even countries like Nigeria have a place in it. But he was not there to push the Concert of Medium Power to its logical conclusion before he his tenure ended as the foreign affairs minister.
"He really put Nigeria on the fore front as the foreign minister when the fight against apartheid was a hot issue. Then Nigeria was made a honourary frontline state even though it is not a Southern African country. Akinyemi was ready to go to all the southern African states that were involved in the struggle. We went to Mozambique. We went to Zimbabwe. We went to give them support. We even went to the border between Botswana and South Africa as a sign that Nigeria will support them," Aribisala said.
He, however, regretted that Nigeria has lost all those active fervour that made the country thick in the field of foreign policy and diplomacy so much that of recent people no longer remember the names of Nigeria's foreign affairs ministers.
Aribisala said: "But now nothing is happening and Nigeria is being called all kinds of funny names. We are in this state of decline in foreign policy not necessarily because the state of the fortunes of the country have changed since Nigerian status is something that is uniquely Nigeria's and cannot change.
"One out of every six black person in the world is a Nigerian. This cannot change whether the economy goes up or down. We have a manifest destiny to play in Africa which is not a function of our economic muscle but a function of the recognition of who we are and how we develop certain values that we should project on the international scene and, moreover, how we manage ourselves domestically."
A Professor of Political Science, Nnamdi Azikiwe University, Awka, Professor Godwin Onu, described Akinyemi as an authority in International Relations and Diplomacy who have published a lot of book and left behind a lot of resource materials for academicians, policy makers and researchers in international affairs, adding that his views on international affairs have always been pungent specially on issues that bothers on Nigeria's relationship with other countries and Nigeria's place in the world.
Onu said that in his capacity as the NIIA chief, Akinyemi made lot contributions through workshops that galvanised the views of experts in shaping Nigeria's relationship with the outside world, especially its West African neighbours.
QUOTE
He is clearly a personal compendium of Nigeria's foreign policy both in its conception and implementation in a serious partnership with the Ministry of Foreign Affairs and of course the Presidency during the military administrations of General Murtala Mohammed and General Olusegun Obasanjo. It was very, very wonderful," Obiozor said. He credited to Akinyemi the prominence the institute attained with the hosting of the Annual Patron's Dinner (APD) event where the Nigeria's Head of State, who is also the patron of the institute, would give an annual lecture on the foreign policy direction of the country