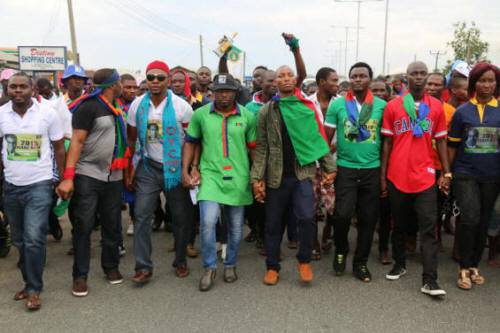 By Onungwe Obe
The Ijaw Youth Congress (IYC), the umbrella body of Ijaw youths, is presently divided over the appointment of a sole administrator to run the affairs of the Niger Delta Development Commission (NDDC).
The National President of IYC and his Deputy, Peter Igbifa and Saviour Olali resepectively, had fought for the removal of the former Interim Management Committee (IMC), which led to the appointment of Mr. Effiong Akwa as the sole administrator of the commission.
But other national executive members and the zonal leadership of the IYC have been protesting against the appointment of the sole administrator, and have instead called on President Muhammadu Buhari to increase funding to NDDC to implement the seven-point demand of the congress.
The zonal chairmen and chapter chairmen, after a meeting yesterday in Warri, Delta State, to review strategies for further agitation and protest to shut down the activities at the NDDC headquarters in Port Harcourt, Rivers State, passed a vote of no-confidence on the national president and deputy president of IYC.
According to the forum of zonal chairmen and chapter heads of the IYC, "The decision was informed by a plethora of unethical, unpatriotic and self-centered actions which run contrary to the founding principles and the core mandate and objectives of the congress."
Those at the meeting included Henry Oyobolo(Chairman, Lagos chapter); Tobin James (Chairman, Eastern Zone); Chief Frank Akiefa, (Chairman Western zone); Clever Osuma Inodu, (Chairman Central zone), and Chief Diplomat Adam Ogomugo Marbo (Chairman Abuja chapter).