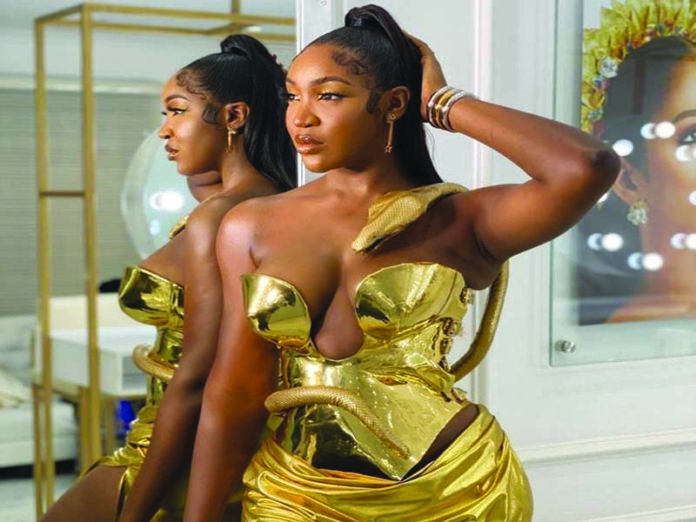 She is a television news anchor, model, philanthropist, fashion and lifestyle host. That's Idia Aisien. She is passionate about giving back to the society, not only in Nigeria, but also across Africa. Born in Lagos to a Nigerian father and a Cameroonian mother, Idia landed her first modelling job at the tender age of 15. A graduate of Journalism and Business Administration from the American University of Washington DC, she went on to get a Master degree in International Public Relations and global Corporate Communications from the New York University, while working with the United Nations. She has shot and modelled for huge brands, both home and abroad. Idia shares her new journey into Nollywood, playing Nneka Agu in the blockbuster "Nneka the Pretty Serpent" with Azuka Ogujiuba
How has the level of education attained impacted on your work ethics?
I think my education has had a huge impact on the way I work and the number of things I am able to do at once. The universities we attended gave us the opportunity to use the world as our classroom and we would always learn from working with real companies under real circumstances. However, I think my parents have impacted my work ethic the most. I saw them work extremely hard, no matter how much or how little they had. Working hard, and working clean was the standard that they taught me.
Have you always wanted to be a journalist?
Ever since I was 12years old and I learned about the late Dele Giwa in high school, I admired the nobility of professions like journalism. Also, the idea that journalists can control and influence narratives have always excited me. I would watch CNN all the time with my dad and pray to grow up to be a successful journalist.
You had also worked with top media establishments in New York such as Discovery Communications and Fox 5 News amongst others, at what point did you decide to move back to Nigeria and why?
I secured a position with a private equity firm in New York and that job brought me to Nigeria. I had never planned to move back at the time, but after being offered a TV hosting job in media (which was my first love), I decided to stay.
Having worked in Nigeria for almost half a decade now, what do you think about journalism in Nigeria using television broadcasting as a focal point, in terms of content creation and how we tell our own stories?
I honestly think that we can do better. Though it's not easy, we are too dependent on the foreign media and Nigeria has everything it takes to effectively create, disseminate and influence its own narrative. We have shown this countless times and though the powers that be will sometimes try to limit the media; it is really the strongest tool we have in Nigeria. Technological advances across the world have given people access to 'create' information. Basically, we are all journalists, but we need to use these platforms the right way. Rather than spreading misinformation, we need to tell more stories of Nigerians who are changing the African narrative for the better; bright minds who prove that progress is possible.
You started the International Development Initiative in Africa, which is a platform dedicated to showcasing Africa from a more positive perspective, as well as tackling issues around poverty, education and empowerment. How has this journey been so far?
Launching the initiative in Africa was a long-term goal that I had not planned to start until I was ready to focus solely on African development and community building. However, I was already so involved with a few educational, charity and empowerment projects that I realised I was already laying the foundation. Due to the unpredictability of year 2020, things have been slow; but hopefully in the New Year, we can finish our pending programme and announce them.
You starred in your first movie as the lead actress in the remake of Nneka the Pretty Serpent. How were you casted for the lead role?
I got a phone call at 2am, telling me there was a photo I posted on Instagram that a casting crew liked, and that they wanted me to audition at 8am that day for Nneka the Pretty Serpent. I watched both part 1 and 2 of NTPS that morning, then I attended the audition. I was also asked to send in three audition videos, and come for three more auditions and the rest is history.
How were you able to manage the Igbo part of the script? You spoke the language fluently despite not being an Igbo person?
Learning to speak Igbo for the movie was the most challenging and special thing about my role as 'Nneka Agu'. It definitely wasn't easy but I had a dedicated coach that helped me for months prior to shooting.
What was your experience like, being your first film? More so, acting alongside the Ndidi Obi, who took on same role 28 years ago as well as other renowned actors such as Ramsey Noah, Zack Orji etc?
I had a few months of training prior to shooting Nneka the Pretty Serpent, but it was definitely very challenging acting alongside people that are renowned in the industry. I went in with a mindset to listen and learn as much as I could. It was also very important to have a great relationship with the other actors and I thank God that amazing people whom I look up to like Ndidi Obi, Jennifer Awazie, Keppy Ekpeyoung, Chioma Akpotha, Bovi, waje and more, were more than willing to share their knowledge and cheer me on.
How did you meet Charles Okpaleke and how did you get signed into his Play Network management?
I met Charles Okpaleke four years ago, as he had run a business with my sister since 2014. Last year, I called asking if he would be my manager and he said yes.
When your family saw this scary role you took, how did they react?
My family honestly didn't find out I was Nneka until a few days before I was revealed. We are all generally scared of snakes but they always support me and were very proud. My mother has been praying ever since. Lol
Has this experience changed any notion you had about actors or acting generally?
I have a new found respect for actors. Acting is not easy. It really takes a lot of time, focus and serious mindedness. I never understood how hard it was; you definitely need to have talent to pull it off successfully!
Tell us about your formative years?
I have 11 siblings and I am the last child in my family. Growing up, we had a full house and there was always so much playing and laughter. I think when I was born my parents were older, and hence, more lenient so I got everything I wanted from them and my siblings.
Give us more insight into your educational background and career?
I went to Atlantic Hall secondary school and graduated at 15 in 2006. At 16 I moved to the states for my first degree in Journalism and international business from American University in Washington DC. While in school, I concurrently worked with Discovery Communications and also at Fox 5 News. At age 20, I moved to New York City for my Masters in International Public Relations and Corporate Communications, and I worked for the Peace-building Commission in the UN, which focuses on counties coming out of conflict. After graduating in May 2014, I landed a job as a research associate for a Private Equity firm in NYC until I moved to Nigeria in 2015 and started working with Spice TV shortly after. After three years at spice TV, I became the Business anchor for The Global Business Report on Arise News and in the same year of 2018, I launched the International Development Initiative in Africa (The IDIA Project).
Can we say you were born with a silver spoon?
Yes
How did your background shape your life?
I learned a lot about friendship from my seven sisters growing up. We are very close and I don't keep too many friends. My mum always told me that education was the most important thing, so I'm one of those people that really loved being in school and I still want to go back for my PhD. Also, I admire my family so much, because they always worked hard, and were never loud about what they have; I am exactly the same. My dad was very prudent and taught me a lot about how to save money. One of my sisters always told me to "never be desperate for anything, because when people are desperate they make mistakes." This is one of my biggest mantras.
What was the best gift you remember receiving as a child?
My older siblings lived in London when I was growing up, so in the Christmas of 1996, my first born sister and my eldest brother came home to Nigeria. That December, they got me a doll with a bicycle (and I was scared of bicycles in real life) and I took that doll everywhere because after they left, I still felt like I had them with me.
What was the most difficult thing that has ever happened to you in all your years and how did you overcome it?
I lost my dad in February last year and my whole world came crashing down. He was my biggest supporter and cheerleader. He was my number one in everything. I am finally able to drown myself with work and with focusing on my goals, but I don't think I could ever get over it.
What do you consider the biggest mistake you have ever made?
None. I have a friend in her mid-30s who taught me that "there is no right or wrong decision in life. You have to intelligently take a decision and make it right."
Are there things you still desire?
Absolutely! I really want to travel more, learn new languages, settle down, be the best in my career, buy a ranch or vineyard in Europe and much more!
What are some of the lessons life has taught you?
I think the greatest lesson I've learned is never take anything or anyone for granted. Things change very fast and a person you once looked down on can quickly become your superior. Also, a person you never paid attention to, could in the next moment pass on, so we need to be kinder and more present.
What are your future plans?
My immediate future plan is to become one of the biggest actresses out of Africa (by God's Grace), and I hope to use that influence to showcase the amazing progress taking place around Africa through the IDIAProject.
What's your biggest fear in life?
None. I only fear God.