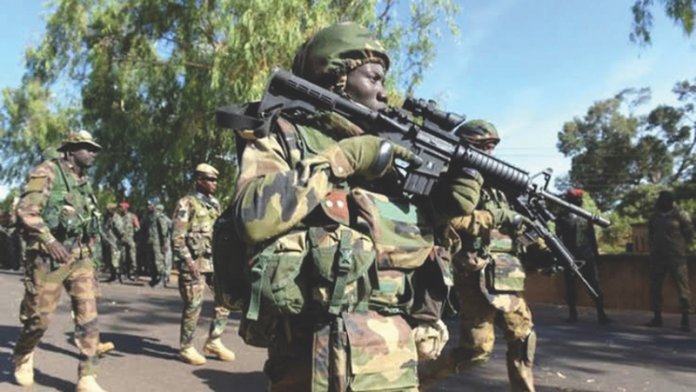 •ACF raises the alarm over weapon smuggling via Northern borders
By Kingsley Nwezeh in Abuja and John Shiklam in Kaduna
The military yesterday tendered its report card in the last one year, in the efforts to keep Nigeria safe, saying it killed 4,000 suspects, including terror commanders of ISWAP and Boko Haram, as well as seizing 80,000 rounds of ammunition, 234 assorted rifles and 45 grenades in 2020.
It also expressed the determination to adopt new operational tactics against Boko Haram terrorists and bandits in 2021.
According to it, the ammunition mopped up was part of the over one million arms and ammunition circulating in Nigeria while the bandits were killed between March and December.
Also yesterday, the Arewa Consultative Forum (ACF) raised the alarm over alleged smuggling of sophisticated weapons into the country through northern borders.
Reviewing the success recorded in the war against insurgency and armed banditry in 2020, the Coordinator of the Directorate of Defence Media Operations (DDMO), Major General John Enenche, during the weekly media briefing in Abuja, said a total of 1,385 rounds of ammunition, 45 grenades as well as 95 assorted rifles were recovered from Boko Haram and ISWAP fighters in the North-east.
"In addition, several gun trucks were captured, while some others were destroyed during air strikes," he said.
In the North-west, troops recovered a total of 6,951 rounds of ammunition and 120 assorted rifles from bandits.
In the North-central, a total of 105 assorted rifles as well as 513 rounds of ammunition were recovered.
Troops also arrested a total of 53 pirates and 25 trucks as well as recovered 23 rifles, 65,330 rounds of ammunition in the South-south.
In the South-west, troops of Operation Awatse, recovered a total of 3,594 rounds of ammunition and 14 assorted rifles.
"Within the period under review, a cumulative total of 8,890,300 litres of stolen Automotive Gas Oil (AGO) and 33,516,00 litres of DPK were impounded by troops of Operation Delta Safe.
"In the same vein, the gallant troops immobilised a total of 185 illegal refining sites, 85 dugout pits and 163 metal storage tanks within the period. "Troops impounded a cumulative total of 31,236.8 barrels of stolen crude oil as well as 12,272,652 litres of stolen PMS from oil thieves in the zone," he added.
Giving further details on the killing of suspected insurgents and bandits, Eneche stated that the 4,000 criminal elements were killed in combined ground and aerial assaults.
"In summary, the Armed Forces of Nigeria from 18 March to 30 December 2020, neutralised 2,403 criminal elements across the country.
"This is in addition to scores of other terrorists and armed bandits killed during air strikes.
"Equally, 1,805 insurgents and terrorists, including commanders, were killed by the troops aside scores killed by air raids and attacks", he said.
The military also listed the rescuing of 344 pupils of Government Science Secondary School, Kankara, in Katsina State, as one of its major achievements within the year.
Troops also rescued a total of 864 kidnapped victims nationwide while a total of 1,250 other suspects, including family members of the Darul Salam sect, were arrested within the year.
According to him, within the period under review, troops engaged in series of land, maritime and air operations, involving both kinetic and non-kinetic activities nationwide.
"Others were maritime operations involving anti-piracy, anti-illegal bunkering, anti-crude oil theft and anti-pipeline vandalism operations as well as other duties such as anti-smuggling operations," he said.
He explained that a comprehensive air operations, including air patrols, intelligence surveillance reconnaissance missions, offensive air strikes, air interdictions, search and rescue operations as well as close air support and air cover for ground troops were part of the strategies adopted to in protecting the country and its people.
"The high command of the Nigerian military wishes to thank the general public for their support and further solicit their cooperation towards providing credible and timely information that will facilitate proactive engagements in our operations.
"The military high command also commends all the gallant troops of the armed forces and personnel of other security agencies involved in various operations across the country for their resilience, doggedness and commitment," he said.
Eneche, also spoke on plans by the military to change strategy in fighting Boko Haram and bandits in 2021.
However, hinted that the military will not continue with the current operational tactics against the Boko Haram terrorists and bandits in 2021.
Eneche said this number is outside those killed during various airstrikes, that were not documented.
ACF Warns of Weapon Smuggling Via Northern Borders
The Arewa Consultative Forum (ACF) has raised the alarm over alleged smuggling of sophisticated weapons into the country through northern borders.
In a statement yesterday in Kaduna, the forum alleged that camels were being used to bring into the country "Rocket Propelled Grenades (RPGs) and "anti-aircraft guns."
The statement, signed by the National Chairman of the forum and former and Minister of Agriculture, Chief Audu Ogbe, expressed fear that a time is coming when the criminals terrorising Nigeria will become better armed than the nation's security agencies, unless the situation is addressed.
According to him, kidnappers are building their armoury with ransom collected from victims.
He called on the authorities to act fast to deal with the situation.
He said: "At the last meeting of our National Executive Council, NEC, in October 2020, our members, particularly from Sokoto and Zamfara States, reported that large consignments of camels were crossing our borders into Nigeria with a lot of baggage on their backs on a daily basis. And they observed that nobody checks their baggage and nobody knows what is being brought into Nigeria.
"The question Arewa Consultative Forum would like to ask the security agencies is what are the camels carrying and where they are heading?
"The ACF is alarmed that this kind of situation should persist at a time when weapons of all kinds are coming into our country and worsening the climate of terror and national uncertainty.
"It is clear now from what we know that, as victims pay ransoms to the kidnappers the money is instantly converted to more sophisticated weapons and instruments of death by the kidnappers.
"The capacity of these terrorists is rising by the day and we are not far from the moment when the terrorist will become better armed than our accredited security agencies."
The ACF urged the federal government to ensure the security agencies deal with the situation urgently.