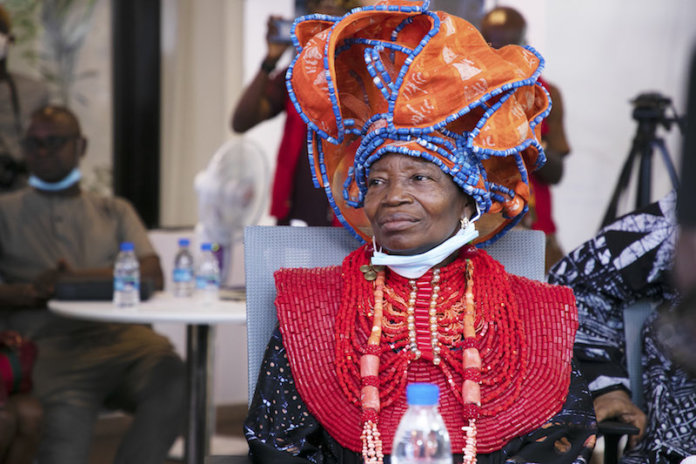 From being the founder of one of the most sought-after galleries in Nigeria to being a cultural ambassador to the world, Chief Nike Okundaye is an embodiment of native sophistication occasioned by a life of resilience and self-refinement. Yinka Olatunbosun reports on the launch of her memoir titled "Bata mi Adun Koko Ka."
In her characteristic headgear and charming smiles, Nigeria's textile art legend and founder, Nike Art Gallery, Chief Nike Davies Okundaye unveiled her book last weekend in CIG Motors Headquarters, Victoria Island Lagos to a small gathering of literati and leading artists. Traditional drums
The memoir's title drawn from Yoruba language is a reflection of Okundaye's totality- steeped in Yoruba cultural heritage. As a young child from a very humble background who lost her mother at the age of six, tertiary education was far from her reach. Instead, she sought after the non-formal education systems in her family and developed an enviable career that has earned global recognition.
In the 233 paged book published by Bookcraft Publishers Nigeria, the reader learns how art has shaped Okundaye's life. From joining a travelling theatre group to becoming a hands-on textile art artisan, Okundaye also known as Nike Twins Seven Seven has been a centrifugal force in the art community, evident in the high-calibre guest list. The absence of the Lagos State Governor, Babajide Sanwo-olu and the presence of masked guests were reminders of the pandemic situation which didn't stop the Nobel Laureate Prof. Wole Soyinka, foremost painter and sculptor, Bruce Onobrakpeya and CEO, Nigerian Stock Exchange, Oscar Onyema and others from attending.
Written by Kofo Adeleke, the memoir offers business and crafts industry insights with a foreword written by former US Ambassador to Nigeria, Dr Robin Renee Sanders. It chronicles her life from Ogidi-Ijumu, a small village in western Nigeria with no formal education to conquering the globe.
The Chief Launcher, Chief Diana Chen, the Chairman of CIG Motors, who described herself as a 'Nigerian' recounted how she met 'Mama Nike' when she relocated to Nigeria and needed to settle in. Nike Art Gallery was one of the first places that was recommended for her. The gallery has attracted members of the diplomatic community. "Your book represents the best of the spirits from this country,'' she said. "We recognize her for her unending talents, her alluring gallery and her impeccable style. We know about her, but hardly do we know her story. She has groomed thousands of talents throughout her life, but I believe that through her story, she'll inspire millions more."
The event was punctuated by some video clips from Okundaye's interview with Forbes Africa, her drum training programme for international visitors and tour of the gallery.
Soyinka, who is also a collector of art, described Okundaye as an "embodiment of Gbogbo nishe" meaning a multifaceted individual and added that she should be a subject of academic research.
"Nike is one of the most exceptional and unique artists I've ever met, not because she uses herself as her own model of expression, but because she's a walking piece of art that spreads joy all around. It's an honour to celebrate with you today."
For Prof. Onobrakpeya, Okundaye is a 'Nigerian ambassador.' "The best setting to discover a genius is in the informal educational setting rather than the academy,'' he added.
In his opening remarks, the Vice Chairman, CIG Group, Dr Linus Idahosa spoke about the historic support the company has for the creative industry.
"I would like to thank Kofo Adeleke for writing this book which reconstitutes a great document for Nigerian art."
The book reviewer, Jahman Anikulapo acknowledged the contribution of Okundaye to arts and culture, remarking that she is "an only tree that makes a forest.'' He tasked writers on the story of the 300 women that she mentored. Okundaye's pieces had been exported to world collections including The Smithsonian Gallery of Art, The Gallery of African Art, The British Library and the homes of high-profile personalities including former US Vice President, Walter Mondale. She has lectured at several universities in the US, UK and Canada- even without a University degree.
Famed collector and architect, Jess Castellote also observed her consistency in the world of arts for the past decades. "She has been very successful in that and I think we need to acknowledge that and support her. It's not only that she has trained people, she works in the gallery and has helped many others,'' he remarked.
Chief Chen emphasized the importance of chronicling the stories of Nigerian legends for its impact on the younger generations of Nigerians who need inspiration and guidance for their lives and careers. She urged every Nigerian to place a copy of the book on their coffee tables; starting with herself. She launched the book with 1000copies, 500 of which would be donated to top five Nigerian Universities.
The Consular General of Switzerland, Thomas Schneider spoke on the sense of camaraderie at Nike Art Gallery.
"I already call her Mama, because this is the feeling I get when I visit her gallery. I have visited many galleries around the world, but her gallery is a temple. When you leave Nike Art gallery it is like you are coming out of a dream,'' he said.