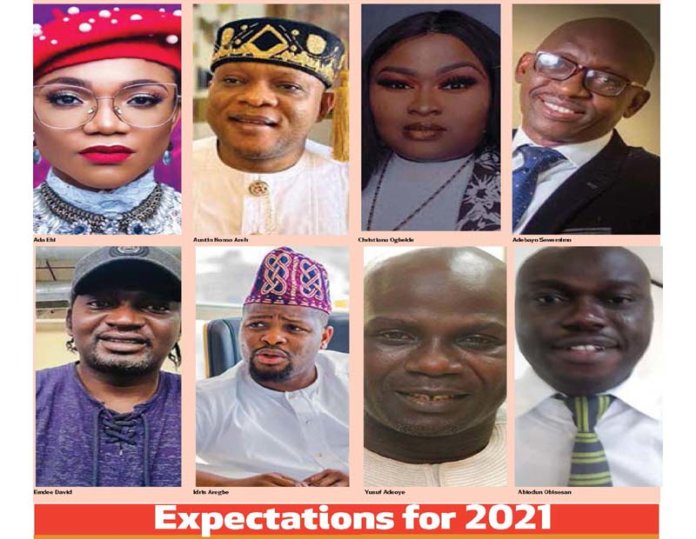 The New Year is always ushered in with fresh hopes, aspirations and resolutions. For most Nigerians, 2020 was a potpourri of blessings, sorrow and loss, especially with the COVID-19 pandemic. Mary Nnah, Rebecca Ejifoma, Chiamaka Ozulumba and Oluwabunmi Fache, sampled the opinion of some media and entertainment personalities on their expectations for year 2021
Ada Ehi: Gospel Artiste
My expectations for 2021 are that the lives of people everywhere will genuinely matter and people will be wealthy with accurate information and sound knowledge. Above all that people will have an absolute God-in-charge year.
Christiana Ogbeide: MC and Entertainer
I expect that the nation would beef up its security, and if not for anything, provide better means of survival and help increase the value of Naira for international business purposes. Nigeria is blessed with the most talented and innovative youths in the world. Encourage us by investing in the entertainment industry and also channel enough resources to our educational system. We all know the youth is the bedrock of any country. Also job employment is a major cry and we expect the government to do better.
Adebayo Sowemimo: ED, Media Communications
2020 has been an unforgettable year, which many could not wait to come to an end. This was mainly because of the devastating effect of the COVID-19 pandemic on the people, the world economy in general, and Nigeria in particular. The pandemic cancelled everything called normalcy, and gave the world a "new normal."
For us at Chenist PR, we have fully embraced the new normal and we are realistic in our expectations for 2021. We are aware that things will not change automatically in the New Year, so we are consciously stepping into 2021 with renewed hope for a better state of Nigeria's economy, improvement in our polity, and security architecture as well as a renewed energy and vision to accomplish greater success within the ambit of the laws of the land.
My expectations are that we shoot for the sky with high but measured optimism and hope for the best in all spheres of our lives.
Austin Nonso Areh: Managing Editor
InlandTown New Media
2020 was a year that a lot of words and phrases gained momentum starting from pandemic, social distancing, lockdown, shutdown, ventilator, quarantine, isolation centers, frontline, palliatives, and all sort of chilling nerve expressions thanks to COVID-19 that dealt with humanity, every sphere of human existence globally felt the impact.
We are still battling with which vaccines will be effective. Hopefully, the effect will bring positive energy to Nigeria in governance, security and our primary health care which have all decayed over time. I see hope for Nigeria.
EmdeeDavid: Writer and Media Strategist and President, Africa Entertainment Network
2020 was a tremendous year. It came with events below and above our expectations. We didn't expect COVID-19, which took more than half of the year from us. In fact, we didn't use the year 2020, from March, I mean. That said, I am grateful to have survived. And that alone gives me reason to hope for a better 2021. My expectations are based on what 2020 has taught me based on the lessons of COVID-19.
I expect to adjust more to the New Normal, as it concerns lifestyle and business. My business is media and entertainment. Our audience and methodology have been impactfully affected. With the switch, I expect massive production of movies, comedy skits and music for digital platforms. The conventional outlets may not be sidelined but digital platforms would excel more.
The #EndSARS movement has also shown us a new dimension to activism through entertainment. In fact, the slogan "Sorosoke" was inspired by a yoruba actor in a movie. And we could see many celebrities lending their voices to the protest both on social media and their physical presence at Lekki Tollgate in Lagos. Some songs actually came out afterwards, so did some comedy skits. I expect a movie by Nollywood to follow suit in 2021. I trust my people.
So this sorosoke generation is an audience that every brand would love to target. I expect wild and weird things in 2021. You would see adverts, music, movies, comedy to this effect. It would be a kind of revolution in media and entertainment. Banks and telecoms would definitely plug in to this, which would eventually boost Nigeria's digital economy.
Personally, I expect to make more money. I would be producing movies and some documentaries. 2021 would surely be a better year. It would be a year of recovery from the losses and set back of 2020. Happy New year to all Nigerians and my people in South Africa.
Idris Aregbe: APC Youth Organising secretary and CEO, No 1 Heritage Solutions
An improved economy as governments across the world gradually win the battle against COVID-19. A more optimistic political climate as projected the next dispensation and youth are becoming more informed and responsive to their strategic role in society as leaders of tomorrow.
Yusuf Adeoye: PR Consultant
Hoping for a virus free country, better economy; invest in other areas apart from my media work and above all good health and more religious.
Abiodun Obisesan: Media Manager Chenist Consulting Limited
We can no longer allow spineless political elites to ruin and blunder our national wealth. Nigeria must work and all hands must be on deck to fix the country. Most importantly, I look forward to living in a country that takes its leaders to account and are more deliberate in making progressive political decisions.