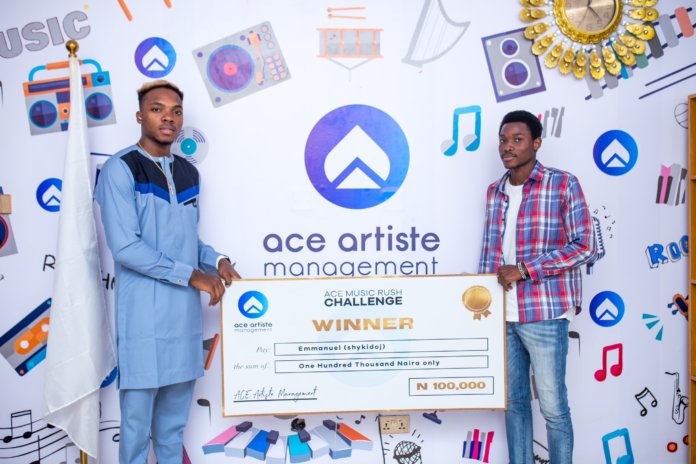 After several weeks of creating content and online promotion, 20-year-old singer, Shykidoj has emerged winner of the maiden edition of 'Ace Music Rush' Challenge put together by talent management company, Ace Artiste Management. His victory was announced via the company's social media page on Saturday, December 26th, 2020.
According to the official statement, Shykidoj was adjudged winner of the competition having met the criteria of the most engaging entry and rewarded the sum of N100,000. The University of Lagos singer whose real name is Emmanuel Ogiemwonyi Ojie described himself as an Afro Pop singer and songwriter with strong passion for the music industry.
His passion and love for making music he says, led him into remixing songs since 2017, 'My love for music is deeper than I can imagine. I have loved music right from childhood and because of that, I started by writing songs from age 17 at my final year in secondary school but was already posting freestyle videos on Instagram. To be very honest, I almost gave up on music because I wasn't really getting the encouragement I needed back then, but along the line I found myself doing it again and again so, I decided to continue no matter the circumstances.
When I got into the University of Lagos in 2018, I formed a group with two of my course mates called "TRIO and we made a refix of Davido's Wonder Woman which most people around us loved and appreciated. I am not just doing this music because I love it, I want my fans both home and abroad to love what I do too' he said.
Speaking about the competition, CEO of Ace Music, Solomon Idonije congratulated the winner and expressed gratitude to all the over 200 participants. He explained further that the idea of the competition which was to recognize and encourage young talented individuals and give them a platform to shine and earn, was achieved, 'We set out on this vision with only one thing on our mind, to give as many young acts the chance to shine and with the unveiling of the winner of our first competition, we are certain that we are on the right course.
For us at Ace ArtisteManagement, even though our business is primarily to manage the careers of established acts, we are also concerned about the growing ones because we understand the amount of potential they have and we are glad to be unveiling Shykidoj as winner of our first competition.
Ace Artiste Management is a Lagos based talent management agency with interest in helping musicians build a solid thriving career in the music industry, leveraging innovative strategies, constant promotion and the development of artistes. The company priotizes innovation, trust and excellence and has as its vision, the dream to become a reputable stakeholder in the music industry and a safe haven for artistes, helping them maximize their talents.