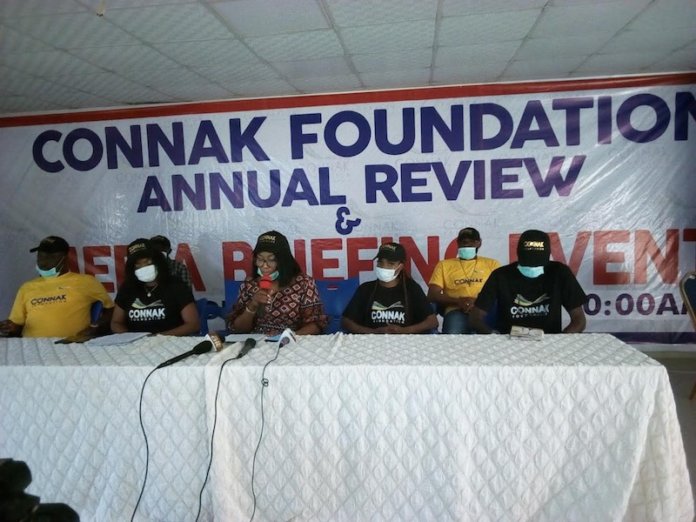 Emmanuel Ugwu in Umuahia
Connak Foundation has intensified its efforts to break the cycle of poverty in Abia State by supporting youths to start new businesses and grow already existing ones.
Already many youths have become entrepreneurs after taking advantage of the training and startup capital provided by the foundation over the years.
The Chief Executive Officer (CEO) of Connak Foundation, Mrs. Carole Emeka Sunday made this known at the annual review and press briefing held at the foundation's resource plcentre at Afugiri, Umuahia.
She said Connak has through its job creation and entrepreneurship programme trained 463 youths thereby making it possible for them to realise their dreams of becoming owners of startup businesses.
According to her, Connak Foundation has given out N63 million as grants to support 75 businesses that emerged winners in a business plan competition organised by the foundation in Abia to nurture startup businesses and provide funds to support already existing ones.
She explained that the grants given out for startup businesses were on trust that the beneficiaries would make good use of the money having been exposed to mentorship and "trained well enough to become successful entrepreneurs".
Mrs. Sunday stated that the foundation was also engaged in training of youths in ICT skills with 224 beneficiaries already graduated in the nine- month programme and supported with laptops and printers as startup kits.
She noted that the 435 youths, who were admitted into the ICT programme in 2020, including 200 youths admitted at the newly established resource centre at Aba, were still in training due to the disruption caused by COVID-19 pandemic.
The CEO emphasised the central role of ICT in every aspect of life in this 21st century hence "if you empower youths in ICT, you empower them for tomorrow".
"Our strategy to achieve economic empowerment has been to engage our children, youths and women in capacity building programmes such as educational development, ICT training. entrepreneurship development as well as vocational training and skill acquisitions," the CEO said.
To further achieve its objectives of empowering people and creating jobs Connak, according to the CEO, also partners organisations with similar goals, citing its partnership with Rotary Club of Umuahia which led to empowerment of 50 girls and women with vocational skills and also supported with startup capital.
She pointed out that the ultimate goal of Connak Foundation in its interventions is "to create opportunities for value addition and end poverty cycle in our communities".
To this end, the CEO said the foundation has broadened its scope and widened its teach to impact more people hence its activities have since gone beyond Ohuhu land, which was originally its catchment area.
"Our immense contributions, in the last eight years, to sustainable development in Abia State and the nation at large have produced laudable achievements resulting from strategic planning and meticulous execution of activities that were carefully budgeted for after due consultations with key stakeholders, sponsors and our international partners," she said.