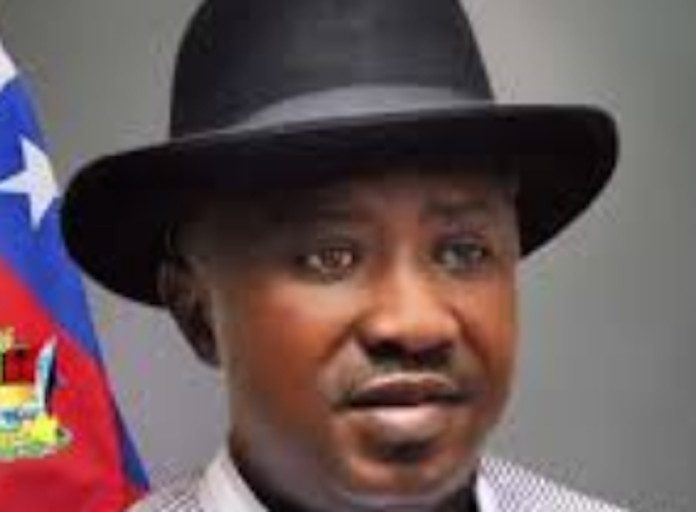 Hon. Gentle Emelah is the Bayelsa State Commissioner for Education. In this interview with Funmi Ogundare, he shared the government's plan to ensure that every community has a school where effective teaching and learning will take place, just as he stressed the need for collaboration among all stakeholders including parents, so as to ensure that education is on a sound footing and children are impacted. Excerpts:
What is your ministry's policy thrust for improving the literacy level in Bayelsa State in 2021?
Let me start by quoting a Chinese proverb that says if you are planning for a year you sow rice, if you are planning for a decade plant trees, if you are planning for a life time educate people. I think that sums it up. As a government that wants the best for its people, education is the key, education is vital, education is everything, and for this government I think if we can get it right educationally, every other sector will be better off. There is a policy that education is a right for every child. Every child is entitled to education just like the right to live, the right to move and the right to express yourself. That is how important education is, and as a government we cannot do less than that and that is why it is our focus and the agenda we are pursuing. As it is, our people are in every local government area, today we have conducted scholarship entrance examination into the Ijaw National Academy, so in all the eight local government headquarters, the entrance examination were recently conducted and marked, the scripts have also been graded so as to select those that will be qualified to be admitted into the state's schools. I stopped by at one of the centres and I was surprised to hear a report that some parents stopped their children from coming to write the entrance interview where government is going to take the sole responsibility of the child's education. We provided uniforms for them, we feed them, we keep them in boarding facility. I don't think that any society should expect less than what we are going to provide and more worrisome is the fact that in Brass as we speak, no child is seen at the centre. We went on air, we advertised, we sent messages to Brass Education Authority, communicated with the headmasters. But as I speak to you the reports I'm getting from Brass and Southern Ijaw is that nobody is at the centres, only my supervisors and examiners that are there. So that means there is a role government needs to play and the parents too need to augment. We are willing to take up that responsibility from you, give us the child and let us train him for you, and we will provide everything for him. I think that every reasonable parent should send their children for such programme.
What is the total population of the children you are looking at?
Concerning the total population we are looking at, it depends, because in euvery school across the state, we instructed that they should bring the four best from five and six for common entrance examination, so it depends on how well they will do in the exams because purely it's on merit, if you pass we will give you that admission into the schools.
Taking a statistical look, what is the strength of the Ijaw National Academy?
That is the most populated school in Bayelsa State that can accommodate. The facility is big enough to accommodate as much as we can.
How does your ministry intend to tackle the nagging problem of lack of knowledge in basic Mathematics, rhythms of reading and writing?
There is a phrase that says education for all is the responsibility of all, and that is the mantra of the Universal Basic Education (UBE) programme. Yes, education is the responsibility of government, education is the responsibility of the parents, education is the responsibility of pastor, and education is the responsibility of everybody including the child, so everybody has to be involved. Back in the days when we were in primary school, if you don't go to school not even your father, if your uncle meets you at home he will make sure that you go to school and your father will be happy with him. He may not even be your uncle, it can be any influential person in the community; they will ensure that you go to school. But today, the society is changing, if you see your neighbour's child not going to school and you want to be a good Samaritan and you try to compel that child to go to school, be ready that by the time the parents come back you may be in some trouble, but your intentions are very good. The way forward is for every hand to be on deck. Government alone cannot do it, government is to provide the enabling environment for children to learn and to provide those social amenities, and that is just what we are doing but just like what I told you now it is a bit disturbing. We are talking about a scholarship programme that will run for six years for your child and parents will withdraw their children from such programme, it is unthinkable.
Is it that they wanted government to also provide the transport needed to go to the interview centres?
I don't know but even at that, we have made provisions for the teachers that will come with your four children, there is also a little assistance for transportation so that could not be the problem.
What is the programme in place to encourage and promote gifted children especially the girl-child?
In as much as we are concerned, we are giving equal opportunity to every child as far as this government is concerned, whether you are a female or a male, the opportunities are equal for everyone to express or access. The society cannot be better off without educational programmes, without programmes in science and technology. For quite a long time, Bayelsa State had just one technical college at the state level located at Okaka, I know there is a federal one at Tungbo. But today, there are five new technical colleges we have posted teachers to, and as we speak now they are receiving orientation, so as to enable them train these children, we are equipping them for the task ahead of them. Any child that attends technical college, once they graduate, they can contribute to the society automatically and become employers of labour. That is one area that we have never really exploited, and if they want to stop at that point there is the opportunity for them to move further maybe to tertiary institutions and so on. We are emphasising on science, education and mathematics, and as a government, we want to ensure that we grow this sector. Worrisome is the fact that we have so many problems in the primary sector; the issue of teachers', non-conducive learning environment and these are issues that we are tackling headlong to ensure that we mop up teachers from wherever they are in the civil service and deploy them to these schools so that we can have effective teaching and learning system in our schools. As the number one education personnel in our state, I am worried about the situation we find our schools in. I know that we have done so much in education. Bayelsa State has done well to an extent that we are being reckoned with as a state that is doing well in terms of education. I think one of the factors that contribute to this is the modern schools that the former administration introduced. I remember that the former government declared a state of emergency on education and went ahead to introduce the boarding schools where students stay in the hostels and all what they are meant to do is academics, academics, academics. With that we have been able to move up to an extent, but the focus of this government is to ensure that every community in the state no matter how small it is, there should be a school, and not just having a school there but there should effective teaching and learning in the schools. So what we are interested in now is what happens right inside the classrooms. You may go somewhere and see a fantastic building, a good structure, well painted building and when you go inside you don't see anybody, no chairs, no teaching aids and in most cases you see broken bottles. What are those bottles doing there? It is to tell you that since learning is not taking place in those schools, some other persons have converted it for hideout and we want that to stop, and it can only stop when there is effective teaching and learning. These days, there are no watch guards in our schools so facilities are from time to time carted away by hoodlums and other criminals.
What is your office doing about it and are there no teachers in the schools?
There are teachers, but I think that issue is as a result of lack of security guards in our school building facilities and that is an aspect we are equally looking at to ensure that these schools are fully equipped. I have already talked about the issue of teachers before. The issue of teachers' welfare, maybe teachers' salary, like I had said earlier, teachers at the primary schools (the primary education is the responsibility of the local government and local government controls more percentage, that's why it is called the primary. The local government handles their salary and state government augments. Salary issue has been an issue, if you can remember during Governor Seriake's time, the state government stepped in and took over the responsibility and started paying teachers, but at a point when the burden of the state government became more, it had to return the responsibility to the local government. The local government has not been effectively managing that setting well, however, I am aware that salaries are been owed teachers and we had a meeting with the local government chairmen, education authorities, NUT and we resolved the way forward. As we speak, I know that deductions are being made for local government chairmen from the account to make sure that this backlog of salaries owed teachers are been paid, so that's an issue that I know that in no distant time it would be handled.
Law school students have written several letters to your office and to the governor, but they are yet to get law school grants that have been given to other law school students in other states, what is your office doing about it?
Before now, a representative from the law school students was in my office. I have seen the letter and we have written to the board to authenticate the names, that is what every government will do. I said these are students from your school, I asked them to confirm the names from their institution and since that time till now, we have not gotten feedback. It was last week that the representative came and told me that he has been able to get through to their Abuja Campus, so they will respond to the latter.
What effort is your adminstration making to motivate teachers in rural areas to stay in the villages?
There are schools that we have a masters and teachers quarters, even as we speak, more are to be built for some schools to benefit. You know you can't just get these facilities as the state is in distress and we are managing things gradually. Hopefully, by January, some of them will kick off.
Most parents prefer to send their children to private schools even when public schools offer free education, what is the cause of this and what is the state doing to improve the educational standard in public schools?
In the urban area, public schools are not enough for the teeming population especially in Yenagoa which is the capital of Bayelsa State. You can only find public schools along the Mbiama/Yenagoa Road while the city is expanding, so if they don't have enough of these schools, definitely parents will look for alternatives for their children. I wouldn't shy away from the truth, for me I believe that for you to be able to solve a problem you must identify the problem and its causes. But where you are not able to identify the problem, no matter how you do, you may not be able to solve it correctly. It is a fact that we lack teachers in public schools which equally contributes to the fact that some parents had to go to private schools instead of the public.
They say teachers' reward is in heaven. In fact, in Japan, there is a deliberate policy to engage first class graduates in the teaching profession at all levels and they are paid higher wages than other workers. Is the state attempting to make the teaching profession profitable and make teachers' salary more attractive and rewarding?
Teachers' reward is now here on earth, the dynamics have changed, in some other parts of the world teachers are paid better than other workers. Right now we are talking about how to solve the issue of salary payment, there is an extent to which funds will be paid, when there are funds, we will talk about better welfare package. The federal government made pronouncement about two months ago about teachers' welfare and we are adopting it. That is the starting point which points to the fact that teachers are important. The society cannot do without teachers, you cannot be a broadcaster without teachers, and you cannot be a medical doctor, a lawyer, an engineer without teachers.
What do you want to be remembered for?
What I feel I should be remembered for is that for me, it will be a thing of joy if we are able to set education on a sound footing, and what do I mean by that? Most callers have equally append that the primary sector is in dire need of teachers, and if we will be able to fix that, the secondary sector will benefit from it, the tertiary will benefit from it and I will love to see a situation where the basic which is the foundation in education is totally grounded.