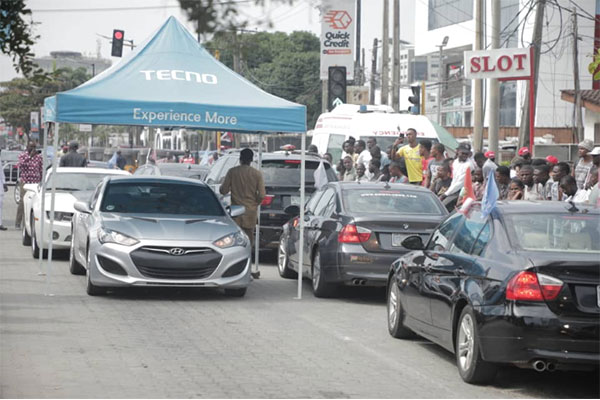 The 2020 edition of the Lagos Autofest, an event of the BMW Club Nigeria and Work and Play Motorsport Group, was concluded at the weekend with Stingray pointman, Antonio Sadouk crowned the King of Drift on Saturday at Tafawa Balewa Square in Lagos.
Sandouk who was returning to active racing after a break, said that he was very elated that the Motorsports community in Nigeria is growing exponentially.
"I am very happy to have won. I think we have great drifters here today and I foresee stiffer challenge in every category of the sports in the future. There are very young talented racers coming on board these days, and that is a sign of growth," the champion noted.
Argo Raak, multiple race champion, in the past, was the second best Drifter at the event. He beat Captain Awwal to the third spot.
Sandouk pocketed N500,000 as winner's prize money while Raak got N200, 000 as first runners up.
Diekola Alabi won the Time Attack and was rewarded with N200, 000 while Femi Dada came second to claim N100, 000 in the category.
This year's edition was also supported by BetKing, Fearless Energy Drink, Autochek, Heineken, Motul, AMC, Infinity Tires, Ace of Spades, Grandcru, Beat 99.9 FM, Coscharis Motors, JB Autos, SMT Volvo, Toyota and Elizade.
Adeoye Ojuoko, the President of Work and Play, one of the organizers of the event said that the event redefined possibilities in the Motorsports community as it was borne on the back of collaboration between his group and BMW Club Nigeria.
The one-day event that also included time-attack with outstanding parades from other Motorsports groups from different parts of the country.
Kennedy Njideoffor, President of the BMW Nigeria said, it was the club's dream to use the event to raise awareness for the sports and bring together car enthusiasts for common good.
"Beyond what happened at the Autofest 2020, it is the coming together of like minds that was our biggest achievement. Despite the pandemic ravaged economy, we are very positive that the synergy formed through Autofest here will propel the industry further," he concluded.