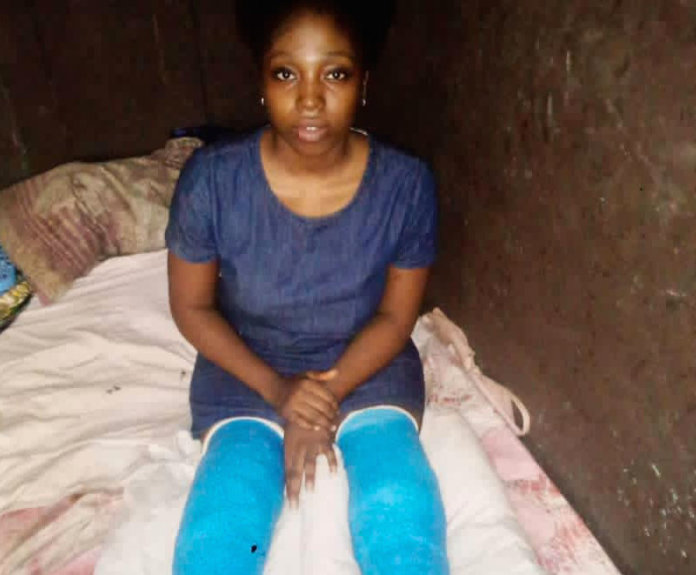 Godwin Ifijie
Miss Ijachi Blessing Maria, a lower limbs deformity patient, who had before now undergone two successful surgeries at the National Orthopaedic Hospital, Igbobi, Lagos in an effort to correct her severe bowing of both limbs and deformities, is in a precarious situation for lack of funds to continue with her treatment. Blessing had her first surgery at the hospital in August' 2019 in a bid to redress her situation, using Ring Fixator/Taylor Spatial Frame due to the grotesque nature of her deformities and a second surgery last July to effect some adjustments, arising from the first operation on the legs to make it possible for her to walk.
The 18-year old Benue State born Blessing, who was explicit in her gratitude to Nigerians and the media in particular for their love, support and financial contributions to her medical care so far while narrating the difficulty she was now faced with continuing with her treatment as she was completely without funds any more, pleaded for additional N750, 000 support to fully undergo her treatment, recover and become fit to live well.
Re-stating her appeal for assistance, Blessing struggled to continue in between tears: "I had the first operation on the first leg in August' 2019 and on the second, which was more severe, the following month. I was billed originally after the operations to undergo treatment for eight months but nine months after the surgeries, one of my legs became very bad, it was swollen and bent and my doctor said I would need to undergo another surgery to effect some adjustments, arising from the operation, if I am to ever walk on my legs.
"The doctor said I needed the surgery for adjustment of Tibia Joint Fibula (TJF) and bone gratting to rectify some arisen anomalies in the course of my treatment.
"I experienced severe pains from both limbs and was placed on painkillers, which I took regularly to reduce the pains as I was later told that I had a slight gap between my right limb and the joint while the limb of my left leg was said to have been disconnected from the joint. To make matters worse, I couldn't go to the hospital to see the doctor again due to the COVID-19 lockdown, I just kept turning the Ring Fixators/Taylor Spatial Frame on the legs as instructed, then my left limp shifted slightly out of the knee joint and got swollen and flappy, just as I developed a gap between my right limp and the knee joint, it required another surgery to correct them and I cried out to Nigerians again and they came and supported me to have it done, the people have been so good to me, but with about N3million raised for me by the media from the public already expended in trying to get me treated, I am appealing that it does not end there if they have to ensure that I get through with it completely and realise the essence of those contributions.
"Now, the Fixator/Taylor Spatial Frames on my legs have been removed, there are deep injuries on the legs, I have to nurse and treat them for some time to come, the legs are not balanced either, one is a little bit short, making them unequal and may probably take another surgery to correct. I am seeing the doctor fortnightly for medications, medical tests, x-rays and treatment, I need a whole lot of money, over N750, 000 outside the cost of medications, as it stands now, I have no option but to go public again to beg for help, I have nothing on my own, I am appealing that they kindly do this for me once more, provide me in the name of God with the money to complete the treatment and ensure that the huge sum already committed on me is not wasted.
"Donors should please in the name of God make their contributions to my account, John Blessing Maria, GT Bank Account No. 0468466784 to save my life, I can't afford not to continue and get fully through with it to get off the ground, halting the treatment at this stage for lack of money would be very bad for me, I won't survive it as I stand to be worse hit and not able to move anymore."
Blessing experienced a 12-year unabating harsh pains from severe bowing of both limbs and dropped out of school in the Senior Secondary School (SSS) Form 1 in 2016 as she could not walk to and fro to school any longer.
She developed problems with her legs at age two and half and was taken to the General Hospital, Ikeja, from where she was first referred to the National Orthopaedic Hospital, Igbobi, Lagos.
"Igbobi prescribed a surgery for me at that age, my dad was to raise the money for the operation but he became sick and died. We couldn't get the money for the surgery after my dad's death, so, it became impossible for us to go back to Igbobi for the operation," Blessing said the mother told her of the beginning of what has become a threat to deform and make her life meaningless.
She managed to go through elementary school and then Junior Secondary School (JSS) at the Ikeja Junior Secondary School, Oshodi, Lagos. But with the pains and her level of deformity worsening as she grew older, it became impossible for her to walk to school daily, sit all through in the class and walk back home.
Described by her teachers as good and brilliant, Blessing painfully dropped out of school in Form 1 at the Ikeja Senior Secondary School in 2016.
"It was a very painful end to the education of a most academically promising child," one of her teachers then, remarked of Blessing, who remains committed to returning to school once she fully recovers and confirmed okay.
The hope-raising medical report for Blessing signed by Dr. Izuagba Emeka B., Consultant Orthopaedic Surgeon, Padiatric Orthopaedics and Limb Reconstruction Unit, NOHIL, dated March 26, 2019 and entitled: Re: Medical Report on Ijachi Blessing Maria/ Female/17years, Hospital No. 639273, reads: "The Above named patient of our hospital was first seen on 17/09/2018 with complaints of severe bowing of both limbs of 12years duration. There is associated knee pains, difficulty in walking or running.
"She initially presented to the hospital 7 years ago for treatment but defaulted as she could not afford the cost of the required surgery. The deformities have since progressively worsened up to the present state. "On presentation, she was thoroughly re-examined and a diagnosis of severe Bilateral Infantile Blounts disease to rule out skeletal dysplasia was made following clinical assessment and X-ray imaging studies.
"She requires a surgical treatment of gradual correction of lower limb deformities, using Ring Fixator/Taylor Spatial Frame due to the grotesque nature of the deformities.
"A surgical assessment has already been given to her detailing the cost estimates required for the surgery."
Now in her last stages of treatment, complaints of lack of funds are hampering her treatment.