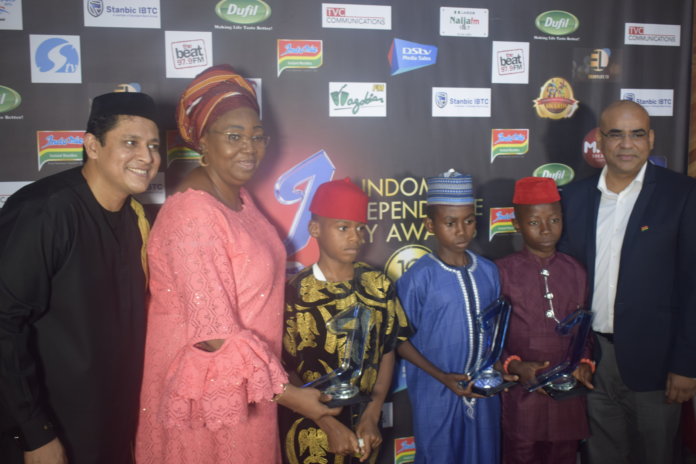 The annual global demand for instant noodles is estimated to be approximately 150 billion servings and a market value of $42.2 billion as at 2018. With a projected growth of immense proportion, Dufil Group, manufacturers of Indomie Noodles has continue to invest massively, tightening the reins of dominance in the instant noodles market, writes Eromosele Abiodun
The increasing urbanisation-induced fast-paced lifestyle of many societies around the world has necessitated the need for affordable quick meals. The constantly moving working population, in particular, look to foods that require minimal cooking to address their hunger needs. This reality has seen instant noodles become a staple meal in many Nigerian homes.
However, even before instant noodles found its way into our menu in these parts, it had established its roots and formed a part of the food culture in Asia. Originating in Japan in 1958, instant noodles have come a long way from the 'Chicken Ramen' invention by MomofukuAndo; finding its way into Europe, the Americas, and eventually, Africa.
With rising income levels in developing countries in the 1990s came a corresponding increase in the consumption of instant noodles.
The World Instant Noodles Association estimated annual global demand for instant noodles to be approximately 15 billion servings in 1990, growing to 50 billion servings in 2001, and exceeding the 100 billion servings mark in 2012.
As economies of the world and markets continue to evolve, seeking swifter ways to get things done, the instant noodles sub-sector has held its place as a non-negligible contributor to the demands of this new reality. Factors such as affordability, convenience, safety and hygiene, long shelf life, palatability, and versatility make instant noodles desirable for a significant chunk of the global population.
A survey conducted by Research and Markets revealed that the global Instant Noodles Market reached a value of $42.2 billion in 2018, registering a compound annual growth rate of 6.2 per cent during 2011-2018 while Globe Newswire in its Global Instant Noodles Industry Report predicted that the Global Instant Noodles Market will reach $32.1 billion by the year 2027.
In a related development, a 2016 report by Kantar World Panel also ranked Indomie Noodles 8th out of 50 in a global ranking of the most chosen consumer brands.
Noodles and pasta products are gaining increasing acceptance in Africa especially because of the continents massive young population who are more adventurous with food. And in many homes, instant noodles now make an appearance on the menu alongside (and in some cases, replacing) long-time staple foods such as rice, bread, and maize.
The International Pasta Organisation names Tunisia as the leading consumer of pasta per capita in Africa while the World Instant Noodles Association (WINA) reports that Nigeria consumes 1,540 million servings of instant noodles—the highest in Africa—while Egypt, South Africa, and Ethiopia follow at a distance with 200 million, 90 million, and 50 million servings respectively.
Nigeria also leads in the wave of investments that have resulted from the increasing demand and interest in pasta and noodles in Africa. One of the companies that diversified its product line to include instant noodles is Dufil Group.
Dufil Group are manufacturers of Indomie Noodles; the noodles brand of Indonesian origin has caught on with the populace and can now be found in many African countries including Kenya, Nigeria, and Ghana due to Dufil's substantial investment, having started by importing the brand into Nigeria.
From the dense suburbs of the south to the arid planes of the north, the ubiquitous meal in a packet is proof that Nigeria is not left out of the universal noodles bug.
Indomie Noodles has since evolved from the neophyte brand that made its way to Nigeria through export in 1988 to a household name that continues to hold its consumers by their tastebuds many years down the line, sweeping aside formidable competition in the process.
In Nigeria, indomie has become a synonym for instant noodles. "I want to eat Indomie" is the declaration when there's a craving for noodles or even pasta sometimes, and this is not a coincidence. It is what happens when a brand has cracked the code for brand recall and top of mind awareness among consumers.
Tina Joseph, an undergraduate of a higher institution in the eastern part of the country says, "Indomie is one of my favourite meals because it's easy to cook. With tight lecture schedules and hardly enough time for extracurricular activities, I find it convenient to simply pop a packet or two in hot water and have a fast meal rather than spend many hours cooking."
Similarly, Samuel Adejare, a young man in his mid-thirties debunks the notion that Indomie is a meal for kids and ladies. "I am a very busy IT executive, and many times when I get back home after a hectic workday, Indomie is my meal of choice for dinner because it is light," he said.
On her part, Blossom Idayi who has worked as a chef in one of the hotels in Lagos for almost a decade revealed that there's been a mild shift in the culinary preference of diners and clientele who visit the hotel. Unlike what obtained in the past when they ordered the regular staples, more and more of them request noodles—and by "noodles," they mean Indomie.
Managing Director, Dufil Prima Foods Plc, Adhi Nartoshed some light on what has made Indomie Noodles the brand to upstage in the sector.
According to him, Indomie's commitment to offering consistent quality through its unique taste and constant reinvention has kept its loyal customers coming back.
"We do not take our leadership position for granted, neither do we assume we have everything figured out in terms of how far we can go to improve our production standards. It is this knowledge that keeps us on our toes," Narto said.
Group Public Relations and Events Manager, DufilPrima Foods Plc, Tope Asiwaju noted that Indomie'sdedication to inclusion is one of the qualities that make the brand stand out.
"A school of thought believe that instant noodles is a meal for kids, but Indomie has proven that to be wrong. We are committed to ensuring everyone enjoys their Indomie just the way they want it and that's why we have evolved from the pack size and Chicken Flavour that was first introduced to the Nigerian market to more variety in form of the Indomitables—tailored towards kids, Standard Pack—for small hunger needs, Super Pack—a more mouth-filling pack size mostly for teenagers and young adults, Hungryman—a bigger, more satisfying size for those with a large appetite, Belleful—tagged the "Total Hunger Buster", Giant Pack—the biggest noodles size ever, created to bring people together, and Relish—a complete meal experience with two distinct variants. So, no matter who you are, your appetite requirements or how unique your dietary preference is, you'll find an Indomie that caters to your need," Asiwaju explained.
Indeed, no other noodles brand can boast of Indomie'svariety and versatility in terms of available sizes and flavours. These days, however, it's not enough for a brand to deliver on its core objective and responsibility; the most successful brands around the world engage their consumers beyond manufacturing quality products or offering excellent services. They demonstrate their creativity and altruism through stand out initiatives that impact positively on their target audience and society as a whole. Indomie Noodles has also succeeded in this regard.
Dufil Prima Food's Chief Operating Officer, Adesh Jain highlighted Indomie Fan Club (IFC) as one of the initiatives the brand developed to engage the thousands of children who love Indomie.
"We created IFC to educate and entertain young kids who are the future leaders of Nigeria. Some of the activities children who are members of IFC engage in include competitions, FRSC exercises, factory visits, birthday celebrations, Indomie day in schools, Children's Day celebrations, End of Year parties, and in-school activities. Schools get the opportunity to adopt IFC every first quarter of a new year with a minimum of 30 kids and students who register get a special package from Indomie," Jain explained.
Perhaps the most profound way Indomie has convinced that its commitment to Corporate Social Responsibility (CSR) is for the long haul is through the IndomieIndependence Day Award (IIDA) for Heroes in Nigeria which had its 12th Edition in 2019 and has held consistently since 2008.
Every year, IIDA identifies, recognises, celebrates, and rewards acts of bravery exhibited by children across the country.
According to the Group PR and Events Manager, Tope Asiwaju, IIDA was created to encourage acts of heroism displayed by children between 0 and 15 years who have made notable sacrifices at great risk to themselves and those who have fought to survive despite the unfavourable conditions they found themselves. Categories Awarded are Physical Bravery, Intellectual Bravery, and Social Bravery. 33 recipients have been recognised and celebrated across the categories over the years.
Indomie Noodles is by no means the only instant noodles manufacturer in the Nigerian market, but there's little to suggest this. Competition is almost non-existent for the noodle brand and became even more negligible in 2017 when Dufil Prima Foods Plc, known then as De United Foods Industries Limited made a huge statement of intent by acquiring Dangote Noodles Limited plants in Ikorodu, Lagos State and Calabar, Cross River State in a deal worth N3.75 billion.
In what was once a fiercely competitive sector with no clear leader, Indomie has consolidated its stakes and continues to tighten its grip on the market through diverse strategies and innovations that delight its consumers.
For now, the prognosis doesn't look different and there's nothing to suggest there will be a marked change in the status quo and a rival brand will knock Indomie off the top of the leader board anytime soon.