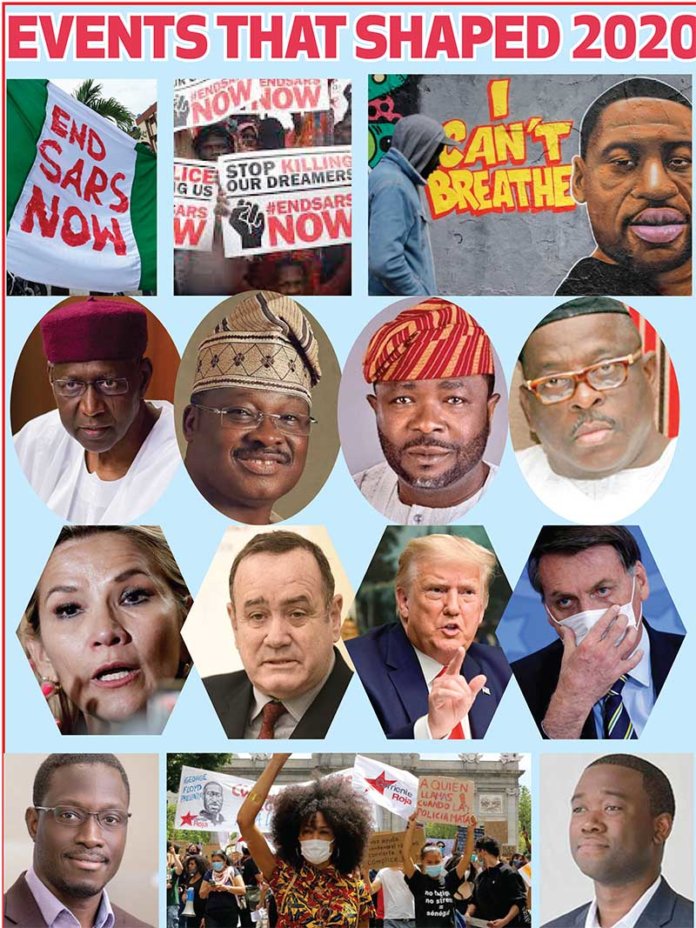 Bayo Akinloye
The facts of history confirm that 2020, in various ramifications, is unique, leading many to conclude that some things will never be the same again as global economies took a hit, humanity shown its fleeting mortal nature and human governments grappling to be in control of a world spiraling out of their grasp.
Historians in the future may well conclude that the year the world took ill was 2020: when an individual sneezed, the community caught a cold. There were agonising separations of parents from children, grandparents from grandchildren and the shared grief of the rich and poor, whose voices were silent in the ICU only punctuated by beeping equipment. Hugs, handshakes, friendly visits became taboos.
The news from Wuhan in China in the twilight of 2019 sounded like a distant echo. So were early warning signals. The world was delirious with merriment in December 2019 and by the start of 2020, every effort of individuals, organisations, and governments appeared too little, too late: COVID-19 was already crushing everything in its path.
There was some frenzy. The world went into a panic. Then, there were lockdowns as almost everyone froze in fear. Hunger, anger, and uncertainty momentarily took over. Amidst the conundrum of the coronavirus chaos, a light flickered in the dark, tumultuous tunnel. Vaccine.
Humanity has regained its strength and has become daring again. Well, even as the COVID-19 restrictions took its toll, many have 'rebelled' against government and health authorities' instructions, either wishing the virus away or caught between the devil and the deep blue sea: saving livelihood or life.
There are sub-plots to the year: the souls that received the mortal blows of COVID-19 and never survived and the survivors. There were the protests (from Hong Kong to Thailand; Lebanon to Lagos; Belarus to Brazil, et cetera). The President Donald Trump-former Vice President Joe Biden feisty election face-off; George Floyd's police killing that shook the world; the announcement that Nigeria has gone into a second recession, just to mention a few amid various dramas on the world stage.
A review of events below is by no means exhaustive but reflects the angst of the pandemic, the #EndSARS protests that engulfed Nigeria, Black Lives Matter protests, and other global upheavals, including the demise of the 'hand of God' hero, one of the world's greatest footballers, Diego Maradona.
The COVID-19 Crisis
On December 31, 2019, China alerted the World Health Organisation of 27 cases of "viral pneumonia" in the central city of Wuhan. Authorities shut down a wet market in Wuhan the next day, after discovering some patients were vendors or dealers.
By January 11, 2020, a 61-year-old man was reported as the first death and preliminary lab tests cited by Chinese state media pointed to a new type of coronavirus. By January 13, a Chinese woman was quarantined in Thailand, the first detection of the virus outside China.
Fast-forward to February 27, Nigeria recorded its first case of COVID-19, when an Italian tested positive for the virus. By March 9, a second case of the virus was reported in Ewekoro, Ogun State. He was a Nigerian, who had contact with the Italian. To date, almost 70,000 persons had caught coronavirus with over 1,000 fatalities.
Prominent Nigerians Killed By Covid-19
Senator Buruji Kashamu
On August 8, the icy hands of COVID-19 caught a maverick politician and governorship candidate in the 2019 gubernatorial election in Ogun State, Senator Buruji Kashamu. Prior to his death, he had represented Ogun East Senatorial District between 2015 and 2019. Born on May 19, 1958, the billionaire businessman and later politician was a subject of extradition between the United States and Nigeria.
Abba Kyari
Mallam Abba Kyari died of COVID-19 complications on April 17. He was aged 67. He was President Muhammadu Buhari's chief of staff and considered the most powerful person in the Presidency. He was, according to Buhari a true Nigerian patriot, loyal friend compatriot and the best of them.
Abiola Ajimobi
A former Oyo State governor, Abiola Ajimobi, 70, also died of coronavirus-related issues on 25 June. He served two terms in office as the governor of Oyo State. When the news of his death initially filtered out, those close to him described it as rumour. He will fondly be remembered for his "constituted authority" outburst against university students in his state.
Bayo Osinowo
Before his death, Bayo Osinowo was a senator representing Lagos East Senatorial District after many years in the Lagos State House of Assembly. He died on June 15, 2020. He was aged 64. A by-election was held in Lagos on December 5 to find a replacement for him and Mr. Tokunbo Abiru won.
Wahab Adegbenro
The Commissioner for Health in Ondo State, died on July 2, 2020. He was aged 65.
Suleiman Achimugu
Suleiman Achimugu, former Managing Director of PPMC, died on March 23, after contracting COVID-19 while battling multiple myeloma and diabetes at the same time.
Harry Akande
Nigeria's billionaire businessman and former presidential aspirant, Chief Harry Ayoade Akande, succumbed to COVID-19 last weekend, December 5. He was aged 77. His son, Olumide Akande, announced his passing in a statement and disclosed that the business magnate died after "a brief illness."
Public Officials Who Contracted Covid-19
There's a long list of public officials, who contracted the deadly virus. The list is not limited to the Governor of Abia State, Okezie Ikpeazu; Governor of Bauchi State, Bala Mohammed; Deputy Governor of Bauchi State, Baba Tela; former Benue State representative at the National Assembly, Rebecca Apedzan; Chief of Staff in Benue State, Terwase Orbunde; Head of Service of Benue State, Veronica Onyeke;
Secretary to the State Government, Benue State, Anthony Ijoho; Commissioner for Information in Delta State, Charles Aniagwu and Secretary to the State Government, Delta State, Chiedu Ebie. Also on the list were Governor of Ekiti State, Dr. Kayode Fayemi; Governor of Kaduna State, Nasir El-Rufai;
former Commissioner of Works and Infrastructural Development in Kano State, Muazu Magaji (sacked for celebrating the death of Abba Kyari); Governor of Ondo State, Rotimi Akeredolu; Secretary to the State Government, Osun State, Wole Oyebamiji; Governor of Oyo State, Seyi Makinde;
Yobe State House of Assembly lawmaker, Lawan Nguru and Nigeria's Foreign Minister, Geoffrey Onyeama, amongst others.
Global Leaders Who Caught Coronavirus
President Donald Trump
US President Donald Trump despite wishing COVID-19 away and refusing to wear a facemask as well as observe physical distancing, when necessary succumbed momentarily to the virus. In a couple of days, he was given a clean bill of health. Though in his 70s, the American president is considered a dogged fighter, mentally and physically.
Prime Minister Boris Johnson
British Prime Minister, Boris Johnson, 56, who in the early part of the pandemic resisted a lockdown and social distancing measures, contracted the virus in March. He was later hospitalised, spending three nights in an intensive care unit. He recovered.
President Jair Bolsonaro
Jair Bolsonaro, described as 'Brazilian Trump', was cavalier about coronavirus, calling it a "measly cold." Even as Brazil became one of the hardest hit by the pandemic, he attended political rallies, shook hands with supporters and went around without a facemask. He succumbed to the virus but recovered.
President Juan Orlando Hernández
Juan Hernández, 51, tested positive in June along with his wife and two aides. He was also treated for pneumonia. He initially vowed to keep working as he displayed mild symptoms, but his health quickly worsened. For days, he remained in a "delicate" situation, hospitalised, and needed oxygen. He did not die.
President Jeanine Añez
Jeanine Añez, 53, who took office as Bolivia's caretaker leader in January after the ouster of President Evo Morales, tested positive for coronavirus in July. She recovered that month
.
President Alejandro Giammattei
Giammattei, a former surgeon, who walks with crutches after suffering sclerosis in his youth, said his health condition made him a "high-risk" patient. "My symptoms are very mild. Up to now, I have body aches. It hurt more yesterday than today, like a bad cold," he had stated.
Guatemala's culture minister and four government officials also were infected.
Prince Albert II
Prince Albert, aged 62, was considered the first head of state to test positive for the virus when the diagnosis was disclosed in a statement from his office on March 19. The palace later reported that he emerged from a 14-day period of self-isolation "in good health."
Prince Charles
On March 25, 71-year-old Prince Charles was announced to have caught coronavirus, sparking fears about the health safety of his 94-year-old mother, Queen Elizabeth II. But there was nothing to fret about as the queen was allegedly in good shape.
Prime Minister Nikol Pashinyan
Forty-five-year-old Nikol Pashinyan, 45, went into self-isolation in June after he tested positive for coronavirus. A week later and after displaying no symptoms, he said he had tested negative.
Prime Minister Mikhail Mishustin
Mikhail Mishustin, who assumed office as Russia's prime minister in January, was hospitalised after testing positive for COVID-19 in April.
People and Events
Meghan Markle, Prince Harry Abandon Royalty
The couple's January announcement, that they no longer wanted to be treated as British royals, shocked the public and the royal family. Despite palatial intrigues to get them to change their minds, the couple was already on its way out to start a new, 'ordinary life'. That January news, perhaps, fitted into an unusual 2020. "After months of speculation from royal watchers in the know, Meghan Markle and Prince Harry announced their plan to step back from their roles as senior royals in a post on their now-defunct @SussexRoyal Instagram account.
"There had been plenty of reports that the couple wasn't happy, and in an October interview with Tom Bradby, their friend, and journalist with ITV, they both admitted that they had been struggling with the pressure that came along with being in the royal orbit. "Still, the abruptness and finality of their announcement came as a shock to nearly everyone involved, including the courtiers and aides at Buckingham Palace," Vanity Fair had reported.
US Election: Trump Loses, Biden Wins
The November 4 United States of America's presidential contest had the world gasping for breath as the election initially appeared too close to call between incumbent President Donald Trump and his opponent, former Vice President Joe Biden. The election, one like never before was characterised by melodramatic developments ranging from alleged voter fraud to conspiracies.
In the end, Biden won, Trump lost. But the president is not conceding yet, insisting there were widespread electoral frauds. Governmental authorities in charge of electoral matters, however, claimed that the 2020 election was the "most secure in American history."
Nevertheless, 'Stop the Steal' still reverberates in the States. After it became obvious that the election had been won and lost, the world finally heaved a sigh of relief. But Trump is not backing down yet and as they say, it's not over until it's over.
George Floyd Murder, BLM and Global Protests
"I can't breathe!" were some of the agonising final words that a black American man, George Floyd, managed to utter under mortal knee-on-neck choke by policeman Derek Chauvin. The chokehold lasted almost nine minutes. The man died. The town he lived in shortly thereafter was thrown into mourning, uproar, and destruction. There were protests across the US with an acrimonious chant, "I can't breathe!"
Both whites and blacks took to the street to protest not just the brutality against Floyd but also against other blacks in the country. Sooner, the protests took global forms and expressions.
In Lebanon, after a port explosion that killed 158, Lebanese protested against the country's political elite. Belarus Opposition supporters held a mass rally in the capital Minsk after a disputed election.
In Thailand, schoolchildren, wearing white ribbons and raising three fingers in the style of The Hunger Games, also took to the street. There were anti-government demonstrations in Zimbabwe to protest against corruption and economic hardship. In Brazil, 'Stop Bolsonaro' protests banged pots and pans, calling for the president to resign. In Hong Kong, hundreds of thousands demonstrated against Beijing's new security laws.
But something else was quietly brewing in Africa's most populous nation.
Nigeria's #EndSARS Protests
On October 8, 2020, nationwide protests, #EndSARS, engulfed Nigeria, Africa's most populous country. It was considered the culmination of the pent-up angst against police brutality in the country. Unlike previous protests in Nigeria, the protests were allegedly orchestrated mainly by the country's youths rather than politicians or politically exposed persons.
The initial images of the protests were idyllic and enchanting. After several days on the streets, creating barricades and sometimes grinding many cities to a halt, signs of violence began to emerge. What began as peaceful protests took another shape as new elements of unidentified persons began an orgy of violence: vandalism, burglary, arson, and looting took over.
Warehouses were attacked and looted. Homes of prominent politicians were attacked and burgled. Media organisations were also attacked.
Just in the thick of the protests at Lekki Toll Gate, the invitation of soldiers to disperse protesters at the place left a trail of shootings and alleged killings, sparking outrage and condemnation. A few days into the protests, the Special Anti-Robbery Squad was disbanded but a new tactical team was immediately established to the consternation of the protesters.
The federal government said it had acceded to the #EndSARS five-point request. Currently, many states of the federation have set up judicial panels for victims of police brutality to seek redress.
Nigeria Enters a Second Recession
Still grappling with the COVID-19-related economic shocks, Africa's biggest economy slipped into recession in November. It was the second time in five years. "Q3 2020 Real GDP contracted for the second consecutive quarter by -3.62 per cent. Cumulative GDP for the first 9 months of 2020, therefore, stood at -2.48," Yemi Kale had said.
The country had first gone into recession in 2016. Nigeria relies on crude sales for 90 per cent of foreign exchange earnings and had before the current recession said it expected the economy to contract by as much as 8.9 per cent this year in a worst-case scenario without stimulus.
The Supreme Court Magic
The Supreme Court put a smile on Senator Douye Diri in November, when it upheld his election as governor of Bayelsa State. The court, in a unanimous judgment, upheld the decision of the Court of Appeal, Abuja, which had earlier upturned the judgment of the election tribunal that sacked the governor and his deputy, Senator Lawrence Ewhrudjakpo.
The Supreme Court gave the verdict shortly after it dismissed six appeals seeking the nullification of the election of Diri and Ewhrudjakpo, following the withdrawal of the appeals by lawyers to the appellants.
Following the withdrawal of the appeals, the seven-member panel of the Supreme Court, led by Justice Sylvester Ngwuta, dismissed the appeals and affirmed the election of Diri. The Court of Appeal, in a judgment on October 2, had upturned the judgment of the Bayelsa State Governorship Election Petition Tribunal that nullified Diri's election.
The appellate court had in its decision by a five-man panel of justices, voided the majority judgment the tribunal delivered on August 17, which ordered the Independent National Electoral Commission (INEC) to conduct a fresh election in the state within 90 days.
Obaseki Secures Re-election
Disqualified from seeking reelection as the governor of Edo State by the All Progressives Congress, Governor Godwin Obaseki did not give up. Politically smart, he defected from APC to Peoples Democratic Party (PDP) to set up a grand finale with Pastor Osagie Ize-Iyamu. Both had squared up when Obaseki first sought to be the governor.
In the re-match, they swapped places (political parties). Against all political permutations and supposed federal might on the side of Ize-Iyamu, Obaseki brought his opponents to his knees and won the proxy political war launched by his former ally and ousted APC chairman, Adams Oshiomhole. The rest, they say, is history.
Umahi Joins APC
Ebonyi State Governor, Dave Umahi, is unabashedly an admirer of President Muhammadu Buhari. Prior to his defection to the APC, the former PDP governor was said to be sympathetic to the country's ruling party.
Accused of jumping the ship in the hope of clinching the 2023 presidential ticket, Umahi said, "Anybody saying I asked PDP for a presidential ticket is being mischievous, because, even if PDP promises anybody the presidential ticket, how does it work when over 8,000 delegates will be electing the person and such a promise cannot happen with more than 10 or 20 people?"
Curtain Closes on
Diego Maradona
His blistering, dribbling speed was mesmerising; his vertical limit was no impediment as he looked up, head raised to the heavens and hand matching the level of his head, in anticipation of an inadvertent pass, Argentina's Diego Maradona nailed the coffin of England in the 1986 World Cup.
"It was the 'hand' of God," he reportedly responded when asked if his goal was a handball (touching of the ball with the hand or arm, constituting a foul in football). So, the man died. Maradona died on November 25, 2020. He was born on October 30, 1960.
Nigerians Shine Abroad
It's not been all doom and gloom for the world especially, Nigeria as some of its citizens took centre stage abroad in a positive way.
Dr. Onyema Ogbuagu
Dr. Onyema Ogbuagu, a Nigerian-born medical doctor, led the Pfizer trial for the coronavirus vaccine in the United States. Ogbuagu is also director of the HIV Clinical Trials programme of the Yale AIDS Programme, Section of Infectious Diseases of the Yale School of Medicine, New Haven, New York City. Ogbuagu is part of a team of researchers for Pfizer, which jointly announced with BioNTech that a vaccine against COVID-19 had been developed with 95 per cent efficacy.
Adewale Adeyemo
US President-elect, Joe Biden picked Adewale Adeyemo as deputy treasury secretary of the US. If confirmed, Adeyemo would have risen to the Treasury's No. 2 spot from humble beginnings. Born in Nigeria, he migrated with his parents to the US, when he was a baby and settled in Southern California outside Los Angeles. His father was a teacher, his mother a nurse. Adeyemo, 39, and his younger brother and sister grew up sharing a room in a two-bedroom apartment.
He would be part of a history-making duo at Treasury and the first Black deputy at the Treasury, serving with the first female secretary, Janet L. Yellen.
Kelechi Madu
Kelechi Madu was appointed the Minister of Justice and Solicitor General, the Provincial Secretary and Keeper of the Great Seal of the Province of Albert by the Premiere of Alberta, Jason Kenney. He was serving as the minister of Municipal Affairs before his new appointment and made history, when he became the first Nigerian-born member of the Legislative Assembly of the Province of Alberta following elections in 2019. Madu graduated with a bachelor of law from the University of Lagos. He migrated to Canada in 2005.
Oshiomhole Lost His Chair
The National Chairman of the ruling All Pressives Party, APC Adams Oshiomhole finally lost his coveted seat as Charman. After many failed attempts to unseat him, those wanted him out at all cost used a purported suspension by his ward as a predicate to get a federal high court to order him out of office. In March, an effort to seek redress in court fell through. The court ruled that APC should strip Oshiomhole of his position pending the determination of the case. The final attempt to get him back into the party's hierarchy failed in June after the appellate court ruled there was no justifiable basis for an appeal against the court ruling suspending him.
Boko Haram, Technically Defeated, Murderously Unstoppable
Boko Haram. Those words inspire fear; then, outrage because the group appears to strike and kill at will. The 'degraded' terrorist group took their menace to new heights when they killed at least 76 farmers. Shekau, in a three-minute video, said they were killed because "the farmers arrested and handed one of its brothers to the Nigerian Army." "You thought you would apprehend our brethren and hand him over to the military and live in peace?" a Boko Haram jihadist said in the video.
Governor Babajide Sanwo-Olu's Sterling Leadership
Amidst the coronavirus chaos, there was an apparent absence of leadership at the national level. Unheralded, Lagos State Governor, Babajide Sanwo-Olu, stepped onto the stage to take charge of a situation that appeared to be spiralling out of control. In the eyes of many, he became the face of the fight against COVID-19 in Nigeria. An article in BusinessDay, 'Sanwo-Olu: Showing leadership during COVID-19 pandemic,' said: "Looking at the success rate of the state in addressing the pandemic, there is no doubt that Governor Sanwo-Olu has become a shining light and a beacon of hope by providing exceptional leadership in public office in the management of the COVID-19 pandemic, not only in Lagos but throughout Nigeria."
According to the piece, there seems to be a consensus among political pundits and public commentators that "if not for Sanwo-Olu's leadership in managing the COVID-19 index case" and others, coronavirus might have overwhelmed the country. Many though chastised President Muhammadu Buhari largely for his seeming taciturn and silence when the pandemic started playing out in the country.
NDDC Probe and The Comedy of Collapse
You want to get out of a scandalous situation and save face from probing eyes and questions of legislators? Public analysts have highly recommended this: roll your eyes, make them look dim, stare momentarily, and let your body down like you just don't care. It worked miracle when the acting Managing Director of the NDDC, Prof. Daniel Pondei, was faced with fire and fury of the National Assembly's public hearing committee on the financial frauds going on in the commission. Before he fainted, Pondei had said the commission spent N1.3 billion, and not N1.5 billion, which was earlier attributed to him, as COVID-19 palliative for members of staff. Recently, Nigeria's alleged pension fraud kingpin pulled one off during his court trial.
Godswill Apkabio and Joi Nunieh's Dirty Slap
Niger Delta, they say, 'no dey carry last!' From Pondei to Akpabio and Nunieh, it was a comedy of tragedy. The former NNDC boss, Joi Nunieh, summed it up: "Why did he not tell Mr. President what he did that I slapped him? I am the only Ogoni woman, Nigerian woman that has slapped his face. I slapped him because of his plan B…Why was he jealous that I was married for the 20th time – did he want to be my seventh husband? Even if I married 80 times… I did not even marry four times."
Sexual molestation? Was that the 'plan B'? Both parties had accused each other of financial recklessness and drama wore on as it reached the Nigerian denouement.
Akpabio, NDDC and The National Assembly 'Thieves'
In a self-indicting testimony last July, the Minister of Niger Delta Affairs, Godswill Akpabio, told the House of Representatives Committee on NDDC probing allegations of mismanagement and illegal spending by the commission that the agency under his watch parcelled several contracts for members of the National Assembly, contrary to the provisions of Code of Conduct for Public Officers.
He said: "Just look at your chairman, (Olubunmi Tunji-Ojo). I have records to show that most of the NDDC contracts were given out to the National Assembly members. The two chairmen of both committees can explain to you. Who are even the greatest beneficiaries of the contracts? It's you people at the National Assembly."
Not done, he added, "We have records to show that most of the contracts in NDDC are given out to members of the National Assembly but you don't know about it, the two chairmen can explain to you. I was a member of the NDDC committee. So, I know about it."
Prior to his appearance before th committee, Nunieh had said of Akpabio: "He told me, as he did to my predecessor, Mrs. Akwagaga, to change all the dollars – $120 million in the account of the NDDC at the time to pay for his contracts, the desilting contracts that he got, the water hyacinth and all."
The Looting of COVID-19 Palliatives' Warehouses
People said there was hunger in the land. The state governments said they stored palliatives in anticipation of a second wave of the coronavirus pandemic. But the rumbling, empty, hunger-stricken stomachs of the poor did not allow Nigeria's governments to sleep as images of heads carrying cartons of noodles, sacks of wheat, garri, and other foodstuffs went viral. It was a riotous crowd that demonstrated their hunger for palliatives and anger that they were "hoarded" by their governments. Nothing was spared in the warehouses. They were called looters but the people insisted they only took what belonged to them, saying the politicians are like the pot calling the kettle black.