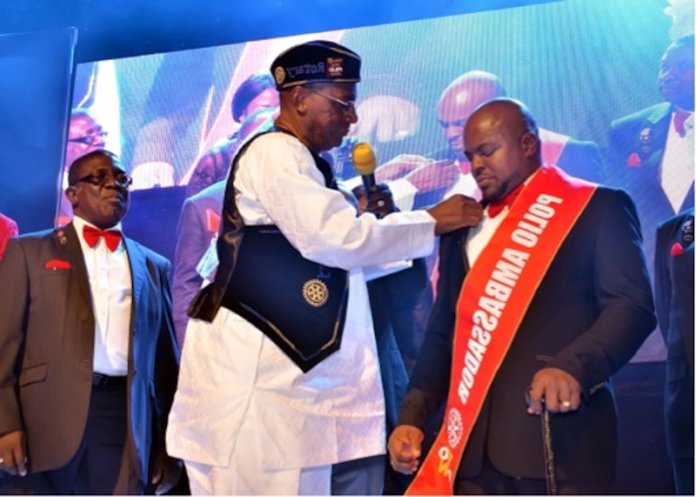 Selfless, noble, enterprising, committed, with love for humanity, the Managing Director of Shuga Entertainment, Akinloye Tofowomo, has paid the ultimate price to achieve fame and fortune. Convinced entertainment is etched in his DNA, investing in other enterprises has not dampened his passion for the industry. He shares with Adedayo Adejobi his lessons from Covid-19, the value of disposable income for an entertainer, among other things
"Sharing what I know and what I have is something I would not stop doing," said the Managing Director of Shuga Entertainment, Akinloye Tofowomo. The music maestro and astute businessman has risen from various travails to triumph: from squatting in friends' homes to owning his fair share of the finest things of life money can buy. Yet, he's not driven by money.
Talking to Tofowomo sandwiches you between nobility and commitment. For the Ile-Oluji, Ondo State native, Covid-19 has been more than an eye-opener, it has usurped people's way of life, which includes the daily earner to band owners like Shuga. At the moment, where live bands gigs have slimmed down for over eight months, events considerably picking up and money is tight in that circle, men like Tofomowo have found alternative sources of income to augment and carry on with the life of giving as best as they can.
Unlike many individuals and establishment who believe in downsizing, Shuga has all through the pandemic kept his 14-piece band members a notch tighter by ensuring they are well provided for during this pandemic. For associate and domestic staffs, negotiations were made to keep them on board, even if they have to go with a percentage of salary slash.
Entertainment has blessed Shuga with its fruits.
"Entertainment will forever be in my DNA," but his new baby is renewable energy. He wants to add his voice to the numerous voices clamouring for a change in the power sector with a focus on solar and renewable energy. Here is a man that wants to harvest from the gazillion solar power wasted in Nigeria every day. All of these thoughts, he revealed, crystallized during the lockdown.
For Tofowomo, money is not a source of motivation; focus is the key: the drive that continues to push him as far back as his days of little beginnings. Before he became a household name in the entertainment industry, Tofowomo sold firewood amongst other things to eke out a living. As big as he is now, he also wants to sell packaged plantain. Can you beat that?
As a people, the issue of trust came to the fore when he spoke about his business, drive, and passion. He reminisced on how he has been roughly dealt with by people he once trusted.
"Minding your business" is one mantra he lives by. Rather than look at Aliko Dangote's wealth, he strongly believes in looking deeper within himself and advised others to find that strength to look inwardly from time to time.
''The actual goldmine is in your mind,'' Tofowomo said.
Speaking about the COVID-19 pandemic, he stated that "an entertainer without a disposable income is useless." Instead of wasting time on social media like Instagram, Twitter, Facebook, etc, Shuga advised young people to take time to mediate.
Speaking of spirituality and spiritual gates, he remembered with nostalgia how his father taught him Psalms 23, 51, and 91.
"My father made me recite it every day," he said. According to him, his father made him understand there's a limit to which he can protect him as a man but with God, his protection is always available.
"Let us examine this scenario," he said. "My father told me humans are like a radio set. Like every radio set, there's a frequency through which they pick up the frequency of the radio waves with the right conditions."
"He said because we don't tune in to God's airwaves as his radio, that's why we don't hear from him." Tofowomo believes there's an architect responsible for the creation of all things. From being a vegetarian of about six years, he has come to the knowledge of light and sound.
Talking of Association of Band Owners of Nigeria (AMBON), his brainchild, Tofowomo recalled his mentor, John Kellogg, who used to be a member of the American music group, Cameo, who is now a business professor. He said his mentor chose him after reading his profile.
"How did you make up all of these things without any proper business training?" was the first question Prof. John Kellogg asked.
Kellogg was interested in making Tofowomo better. He taught him about the music business. Tofowomo was able to use his God-given wisdom to build peace and unity between two rival groups and other bands in Nigeria.
"Can a band play all the live shows in a week?" he wondered.
With that in mind, he's in the process of revamping the industry with professional codes and regulations. To this end, he noted that they need the help of the government to help with regulatory measures. Tofowomo sees this effort as a double-edged sword, even if it comes off as an afterthought. Like every other thing Nigerian, implementation of the process is where he expressed true fears of a likelihood of having the process hijacked or thwarted. A quick reference to the erstwhile President's creative industry fund running into millions of dollars that flew through the windows of powers that be drove his point home.
Tofowomo highlighted technological problems and how bad network services are the bane in giving consumers of his service a near-live experience with the epileptic nature of paid-for services.