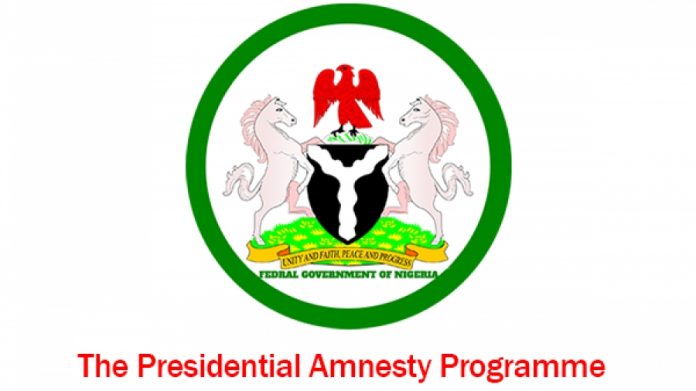 Trained beneficiaries under the Presidential Amnesty Programme, their families and friends have threatened to embark on a 30-day peaceful protest at the entrances and exits of the Amnesty office over refusal to pay them after they were reabsorbed on completion of their programme since 2007.
The nine out of 10 affected repentant ex-agitators according to a petition to the Director General of Directorate of State Security Services have applied to the outfit to give them protection while they carried out the protest starting from December 15, 2020, to have their salaries paid since they were issued letters of employment.
According to a letter from the office of Granville Aribo and Company, solicitors to the petitioners, Gauranwei Pere Pere-Uge, Simon Ebizimor, Andrew Daubry, Usen Osasere Stelios, Ikiriko Ibiwari, Appah Micheal Oyinprebi, Alagha Ebinidenge Emmanuel, Odili Esther Ebimoboere and Ugochukwu Bon Nwakama were the affected beneficiaries.
They claimed that they were chosen for a Train-the Trainers programme at TTe Group, Middleborough, United Kingdom, organised by the Office of the Special Adviser to the President on the Niger Delta and Coordinator of the Niger Delta Amnesty Programme on conclusion of which they were employed by the office and issued letters of employment.
"Upon acceptance of the offer of employment, our clients were further compelled to sign an undertaking/letter of commitment, guaranteeing that our client shall return back to Nigeria after their training in the UK and must remain under the employment of the Office for a minimum of 4 years.
"To put the records straight, our clients are law abiding and loyal employees of the Office since 2017 to date, as the Office still retains custody of our clients' certificates from the training in the UK. That our client has not received any salaries/ remuneration as agreed upon in their employment letter, despite several demands made by our client," they claimed.
They said the alleged refusal to pay them salaries resulted in a lot of hardship to their clients and warned that continuing to deny them their sources of living could lead to social disorder
"We therefore urge you to graciously protect our clients, their dependents, family members and friends as they commence a Peaceful Protest on the 15th day of December, 2020, at all entrances and exit to the Office of the Special Adviser to the President on the Niger Delta and Coordinator of the Niger Delta Amnesty Programme in FCT, Abuja, for a minimum of 30 days.
"Our client do undertake to be peaceful during the protest since protesters are majorly drawn from their respective families and friends (not less than 500)," they stated.
Contacted, spokesperson of the Amnesty office, Mrs. Florence Eke said she was aware of the petition and inquiry and had escalated same to the legal department since it contained legal issues.
Calls to the Special Adviser to the President on Amnesty, Dixon Dikio rang out while text message to his line on the issue did not draw any response.