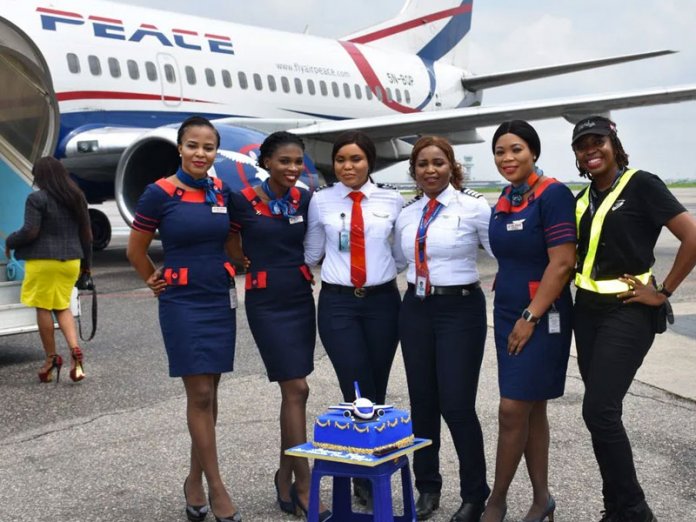 The Eagle is undoubtedly the king of the skies. One of the sterling and unparalleled qualities of this quintessential creature is its ability to ride the storms, soaring to great heights where other less endowed birds cannot contemplate. It is fearless, energetic, tenacious, and nurtures its young.
It is not a coincidence, therefore, that the leading ingenious airline in West Africa, Air Peace, has the image of an eagle as part of its logo. As other airlines, Air Peace has been in the storm created by Covid-19 in the aviation industry, but like the eagle, Airp Peace is riding the storm.
There is no other better way to explain these milestones being achieved by the Airline when the aviation industry is being pummelled by economic crisis orchestrated by the coronavirus pandemic. When other airlines are contracting in terms of number of routes and aircraft, Air Peace is expanding; a perfect analogue of when the going gets tough, the tough gets moving. And this can only be possible when right, purposeful and determined leadership is in place. This is what Allen Onyema-led management of the Airline represents.
On 7th December, 2020, an aircraft belonging to the king of the Nigerian skies landed on the soil of Benue State, the Food Basket of the nation. It was the inaugural flight of the Airline into Markudi, the capital of Benue State. This historic flight originated from domestic wing of Murtala Mohammed International Airport, Lagos. It marked the beginning of commercial flights from the stable of Air Peace, connecting the agriculturally savvy State, to both economic capital (Lagos) and political capital (Abuja) of the country.
Currently, no airline—except Air Peace, makes commercial flights to Markudi route. Coming when our road network has deteriorated, and insecurity on the road has exacerbated, one can imagine the sighs of relief for Benue residents, who have been provided much-needed alternative and safer means of transportation. The obviously elated Governor Samuel Ortom expectedly showered encomiums on Air Peace, for incorporating Markudi into its new destinations for commercial flights operations, promising to provide the enabling environment vis-a-vis support that would make this feat long-lasting and mutually beneficial.
When Nigeria is confronted with huge threat of food security, and increasingly calls for diversification in the face of fading crude oil usefulness in the global economy, a food reservoir like Benue State should be given a special attention. This is exactly what leadership of Air Peace ably led by Chief Allen Onyema is doing and should be well commended. Some people may view this milestone from the parochial prism of business alone, but I see here a sense of patriotism embedded in business quest—where business decisions are complimenting government's efforts to birth developments and make life easier for the populace.
When airlines are struggling to stay afloat, it is a patriotically driven airline like Air Peace that will put economic growth of the nation side-by-side its business considerations. The new route of Markudi by the Airline will assist in attracting investors to the state. In a commercially-food-producing state like Benue, that is neither linked to Abuja and Lagos by good road network nor standardized railway, a viable domestic flight route to the state, becomes a necessity not a luxury.
One of the enablers of commercial agriculture is efficient and reliable transportation system. When the interstate roads and rail lines are in deplorable state—where it is in existence at all, air transportation via cargoes, provides the needed stimuli for transfer of farm produce in commercial quantities to the cities. But before cargo air operations, passengers—which represent investors and traders of agricultural products, should be given unhinged access to the state capital via air transport.
Beyond insecurity and bad road network, not every investor or trader have the luxury of time to spend hours on the road before getting to its business destinations. Connecting Markudi to Nigeria's economic hub—Lagos and political melting pot—Abuja via commercial flights, will definitely improve the economic well being of Benue State. Its Internally Generated Revenue (IGR) will feel the positive impact of this new route started by Air Peace. Beyond agriculturally related transactions, other businesses in the state will benefit from this new route.
With commercial flights route in place, more non-residents on tourism exploration will be spurred to visit the state, which will rub off on tourism industry in the capital and boost the image of the state. This is tantamount to reconnecting Benue State to the aviation world with the commensurate benefits that come with it. At this juncture, I can say categorically that this new Lagos-Makurdi and Abuja-Markurdi route initiated by Air Peace will open up the floodgates of investment opportunities in the state, because money follows people; it goes where people go.
Beyond Benue State, the Airline has achieved similar feats in other routes where other airlines thought economically unwise to fly to. Currently it has indicated its noble plan to roll out multiple flights schedules for Enugu, Owerri, Asaba, and other key destinations to easy transportation during Christmas/New Year holiday season.
Chief Allen Onyema, Chairman, Air Peace Airlines let the cat out of the bag: "By God's grace, we shall be deploying several of our planes to the South East during this period to help our people perform their annual trip back home. We are not unaware of the importance of our people coming home this period.
Most community projects and developments are addressed and implemented during this period hence our resolve to flood the East with multiple flight frequencies. We can do it. We shall, as usual, deploy five flights from Lagos to Owerri from December 20 till the end of the year while Enugu shall, from the same period receive four flights daily from Lagos. Asaba shall receive three flights daily from Lagos. We shall deploy two flights daily out of Lagos to Calabar and Uyo respectively.
Port Harcourt shall receive three flights from Lagos. We shall equally deploy three flights daily from Abuja – Owerri from the 21st of December till the end of the year. Same number of flights from Abuja to Enugu while two shall be deployed from Abuja to Asaba. We shall during the period deploy a bigger aircraft on the Calabar and Uyo routes respectively. We shall introduce Enugu-Kano-Enugu from the 22nd of December. Owerri-Kano-Owerri shall follow from the 23rd"
This is possible as a result of arrival of some of the Airline's planes that had gone for servicing abroad. The Airline has more aircraft in its hub to ease aviation traffic. In the Air Peace's hierarchy of priorities, safety of lives and properties of its passengers are at the top of the list. Indeed with Air Peace, the skies look good for Nigeria.
Nwobodo writes from Abuja