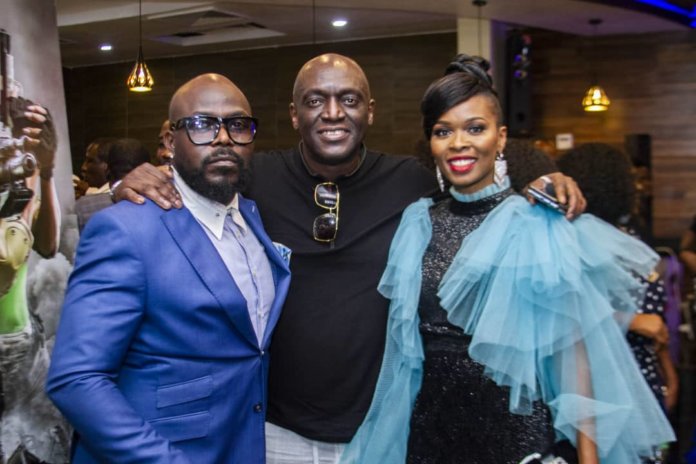 Yinka Olatunbosun
Heart-thumping music vibrated wall-to-wall inside the City Mall building where the Blue Pictures Cinema auditorium sits. Throngs of movie buffs arrived at the venue last Sunday to experience the birth of the cinema that replaces a defunct one.
In an effort to bring back the cinema culture while respecting the guidelines for social distancing, the Managing Director and CEO, Blue Pictures Films and Distribution, Joy Efe Odiete launched this cinematic experience amidst glitz and glamour.
"Blue Pictures Cinema is a dream that has finally come true 14 years after it was conceived. I remember the day I mentioned this dream to someone who was dear and near, a friend and colleague of mine back then. He laughed out so loud at the impossibility of me owning a cinema of my own one day. After all, I was just a small, invisible but dedicated officer working in a film distribution company. With the help of God, elaborate research, dogged determination especially in a male-dominated industry, relentless hard work and smart work, the right support system, and great commitment, I nursed this dream into a vision and then to reality,'' she said.
The grand 'reopening' day saw the screening of a first feature film by Blue Pictures titled, "Gone" starring Sam Dede, Gabriel Afolayan, Bimbo Manuel, Stella Damasus and more. Compered by Nollywood actor, Gideon Okeke, with some comical vibes from Acapela, the 130-seater capacity auditorium was half-filled in adherence to the Covid-19 regulations on physical distancing.
Known for curating varied content including kiddies content as well as short and feature films, the cinemas will have four screens in the next six months. The red-carpet event was sponsored by Heineken and Amstel Malta.
Ajiri Onowotu, the Relationship Manager, Access Bank, opened up on why the bank supported the cinema project.
"Joy had been having an account with us while doing distribution. She came with the idea, which is the dream that has come true. As a bank, we want to associate with customers with inspiring ideas,'' he said.
In her remarks, the Founder/CEO, EbonyLife TV, Mo Abodu congratulated Odiete, expressing her delight at seeing the milestones reached by women in the film industry.
"We need to see more women do what we are doing. It's wonderful to be a role model and it's wonderful joining the sector as another woman. And as you know, there is EbonyLife down the road.
"There is an eco-system based on wherever you are in Lagos. It's just wonderful to see an industry that we can call our own. This Christmas is a Nollywood Christmas. There are so many releases. We need all your support this Christmas,'' she said.