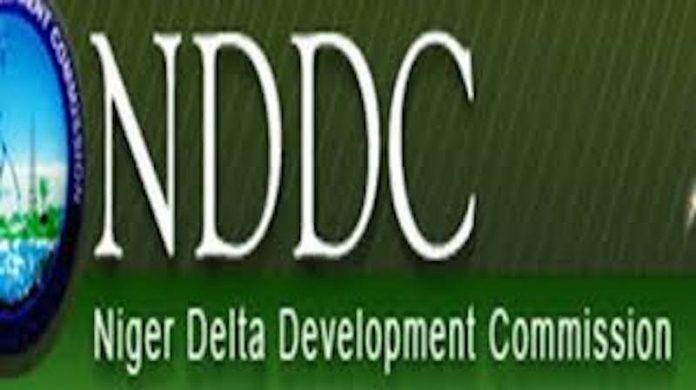 The South-south Reawakening Group (SRG), has urged President Muhammadu Buhari not to contemplate extending the tenure of the current Interim Management (IMC) of the Niger Delta Development Commission (NDDC) which expires this month.
In a statement by the coalition's convener, Mr. Joseph Ambakederimo, the SRG said it was aware of various moves by the current IMC to ensure the renewal of the committee's term beyond December.
The group added that having been indicted by both chambers of the national assembly and being heavily investigated by both the Economic and Financial Crimes Commission (EFCC) and the Independent Corrupt Practices and Other Related Offences Commission (ICPC) , it would be wrong to retain the services of the IMC.
It stated: "We issue this statement in anticipation of the coming to an end of the interim Management Committee (IMC) of the NDDC this month of December, 2020. This IMC must not be granted one minute of tenure extension.
"One trick in the books being deployed by the IMC is the late commencement of the field audit to surreptitiously put forward as the reason for the extension of their tenure when in the actual fact the substantive board is better positioned to oversee this forensic audit that was ordered by the president.
"As of now the IMC is deeply enmeshed in many scandals of which the two chambers of the national assembly have indicted them while all of them are presently being investigated by the ICPC and EFCC. The question to ask is will the report of the forensic audit capture all of the dealings of the IMC even when it has been indicted by government institutions?
The Niger Delta group alleged that the damage done to the NDDC would become irreversible if the lobby for extension of their tenure is granted.
"Therefore, the president should be weary and be watchful of his aides and not to give in to any such pressure for approval for a tenure extension of this illegal contraption.
"The president needs to feel the anger of the people of the region and inaugurate the substantive board of the NDDC to give the establishment a breath of fresh air.
"For us in the South-south Reawakening Group, we have seen through this IMC scheme as a medium to syphon the resources of the commission for personal gains."
"The wrong of instituting the IMC in the first place must be corrected by way of the president walking a fine line to ensure the inauguration of the substantive board that will usher in a breath of fresh air," the group argued.