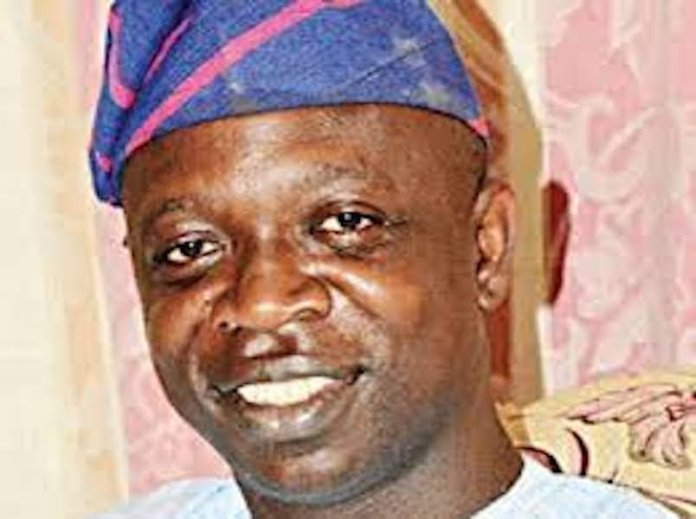 Olatunbosun Oyintiloye, a former Osun State House of Assembly member representing Obokun State Constituency, who currently serves as Special Adviser to Osun State Governor Adegboyega Oyetola on Civic Engagement bares his mind on the impressive score card of the governor to Yinka Kolawole
How would you appraise the personality of Governor Adegboyega Oyetola?
As it is widely known, character and competence are two major qualities that drive good leadership; the former would enable a leader to deliver with the fear of God while the later will enable him to discharge his responsibilities effectively. This is the true posture of Governor Oyetola's personality.
Alhaji Isiaka Adegboyega Oyetola is commonly regarded as a quintessential servant leader whose humility, character and high pedigree is second to none. He is a man of proven integrity who is known for his personality moulded with patience, hospitality and high sense of service to humanity
He is a unique, endowed and topnotch leader with touch of excellence and pre-eminence as well as a rare gem. As opined by an average resident of Osun, he is a listening and calm leader who is committed to service to humanity.
Oyetola is a financial expert of uncommon sagacity, a social engineer redefining public administration, a pace setter setting Osun on the right path of sustainable development. He is a helmsman who is replete with knowledge and experience about public administration and financial management with which has been piloting the state's affairs in an exceptional way.
Oyetola's administration has been described by some people as a very considerable one in terms of peoples welfare while some believe that it is unfair. What is your view on this?
In every society where liberty has its full force, divergence of opinionn is bound to occur because it is a dialectical mechanism which permeates every human endeavour but the truism is that "minority will have their say but majority will have their way". This is why in a democratic setting everyone is entitled to his/her opinion whether genuine or otherwise but the position of the majority will always have an iota of truth. Stating the obvious, the administration of Governor Adegboyega Oyetola has been considerable not only in formulating policies which positively impact lives but also take government back to the people in form of feedback mechanism.
Governor Oyetola has committed his administration to making policies and programmes for improved citizen's welfare. Upon assumption of office, he took it as a first point of duty to implement priorities which directly touch lives having considered the demands of the people during his "thank you tour" and as encapsulated in the DFID Citizen-Based Assessment Report. Based on the aforesaid, he made sure he restored prompt and full payment of workers' salary which has been a point of agitation by the state workforce. As a responsible government that cares about people's wellbeing, Oyetola's administration embarked on massive upgrade of 332 primary health centres (PHC's), some selected comprehensive health centres and all general hospitals across the state to give proximate advantage to people in a bid to access quality health facilities at all levels. I will state it emphatically that, there is no ward you will get to in the state that you won't find a fully upgraded health centre (at a focal point) with necessary medications, equipment and manpower.
As a considerable government which drives its policies along people's demands, Oyetola's administration has taken a bold step to review the state education policy in a bid to return the state education structure to the national standard based on the yearnings and aspirations of the masses.
With the foregoing efforts of Governor Oyetola, it is crystal clear that his administration is charitable and anyone who holds contrary opinion adduces it to his or her sentiment as against the obtainable fact.
What is Oyetola's administration doing to improve infrastructural n the state?
Infrastructural development is a fulcrum around which economic sustainability is hinged. This is why Oyetola's administration has left no stone unturned in ensuring massive investment inn infrastructure.
Under his administration, many road networks have been constructed or ongoing within two years in office. Among the roads are Alekuwodo/Akinlade in Osogbo, Ede-Ara_Ejigbo, Kelebe-Iragbiji, Ada-Igbajo, Moro-Akinlalu, Famia (Modakeke township), Ilesha township, Ede township, and Aagba township.
In addition to the numerous infrastructural projects which Oyetola's administration has executed across the nooks and crannies of the state, plan is underway to give more deliveries for the betterment of the state. In a bid to commit his administration to massive infrastructural development for the socioeconomic boost, Governor Oyetola has perfected the plan to embark on the construction and rehabilitation of some strategic roads across the state. The roads include Ejigbo township, Ido-Osun township, Gbongan, Ile-Ife township, Kuta township, GOF-Ori-Oke Pure Water, Osogbo; Halelluyah Estate, Osogbo; Inisha township, Ila Orangun and Ikirun township among others.
To reduce the hardship and difficulties being experienced by the motorist as a result of traffic jam around Olaiya Junction in Osogbo, Mr. Governor has captured the construction of a flyover bridge in 2021 budget with a view to significantly eradicating traffic hassles and make the lives of the citizens more secured.
In addition to the aforesaid, other major towns will soon start enjoying "light Osun up" project which the state government has embarked on which is in a bid to secure lives and property from the unrepentant evil perpetrators who hide under darkness to unleash their orchestrated plans.
How is commerce and economy faring under Oyetola's administration?
Without mincing words, Oyetola-led administration is massively revamping the economy through industrialization and commercialization by the establishment of Osun Ethanol Bio-Refinery factory as well as the International Trade Centre/Industrial Hub and Inland Port, which are projected to create massive job opportunities to not less than 10,000 people respectively.
There is no deny saying that Oyetola's administration has fully committed itself to the plenary development of commercial and economic activities through empowerments, vocational trainings, giving of loans and grant for business startups among others done under the bipartite efforts of both Ministry of Human Resources and Capacity Building and Ministry of Commerce and Industry.
What achievements can you ascribe to Governor Adegboyega Oyetola in the agricultural sector?
It has been the central focus of Oyetola's administration to ensure an improvement in food security and its sufficiency for the benefits of all. Meanwhile, it is a work in progress but the resolute steps of Governor Oyetola in achieving agro economic development in the state is yielding positive result.
The Osun Broilers' Out Grower Production Scheme continues to wax stronger under Governor Oyetola's administration. The Scheme which started with 12 farmers at the pilot phase has now turned to a large programme with 106 participating farmers.
In the same vein, Oyetola's administration continues to support our farmers with requisite inputs supply such as fertilizers, agro-chemicals, seeds, cassava stems, among others. Governor Oyetola has equally sustained provision of high yielding, early maturing and disease resistant seedlings of cocoa, cashew, oil palm, etc. at subsidized rate.
Is there anything happening in the Environment and Sanitation Sector under Governor Adegoyega Oyetola?
A lot is really happening in the aspect of environment and sanitation. Governor Oyetola has taken a life-saving step in a bid to avert possible loss of lives and property which could have been perhaps caused by environment hazards. He has embarked on massive dredging and channelization of rivers, streams and waterways in 17 critical areas that were identified across major strategic communities of the state which are known to be prone to flooding and other related environmental degradation. In addition to that, other flash points such rivers, drainages and streams which were not part of regular dredging routine had been incorporated by Oyetola's administration. This singular proactive step was to ensure that state is free from any form of flood disaster in the light of the Annual Flood Outlook of the Nigeria Hydrological Services Agency (NHSA) and the report of the National Emergency Management Agency (NEMA) which listed Osun state among the 28 states with highly probable flood risk areas. The responsive and agressive intervention of Governor Oyetola prevented the state from hazardous effect of the heavy rainfall which it experienced recently as no issue of flooding as well as its attendant loss of lives and property was recorded.
In the last two years, Oyetola's administration has made the health of the citizens its topmost priority through the huge investment in the health sector where environmental sanitation is inclusive.
Equally, daily environment sanitation has been a routine in the state as the government is resolute on ensuring a clean environment where healthy living is the hallmark. Even this is why Osun is spending less on health servicing as they say "cleanliness is next to godliness".
This has greatly manifested in the success recorded in revamping and repositioning the sector which had attracted a commendation from the federal government. In addition to that, Osun was also presented the award of certificate as Open Defecation Free (ODF) state by United Nations Children's Fund (UNICEF) as validated by the National Task Group on Sanitation (NTGS).
With all these impeccable achievements recorded in the sector, it is obvious to a "doubting Thomas" that environment and sanitation sector of the state is much alive and productive under the leadership of Governor Adegboyega Oyetola.
What step is Oyetola's administration taking to revamp the tourism sector for socioeconomic development?
It is a known fact that Osun state is highly enriched in cultural heritage and values with over 70 tourist sites located within it. This is why Osun has been rated as one of the promoters of cultural values in the world and given global attention to name "Osun Osogbo" site as a world heritage.
As an helmsman who wants the development of every sector, Governor Oyetola had already inaugurated two strategic plans to revive the state tourism sector namely: Culture and Tourism for Sustainable Economy (CUTOSEC) and Osun-Sterling Tourism Vision 30-30 (OSTOV30-30) which are both aimed at developing the culture and tourism sector of the state.
The CUTOSEC master plan for state culture and tourism centres on the key issues of development in the state, as OSTOV30-30 was also designed in collaboration with Sterling Bank and aims to develop 30 essential tourism promotion projects, to commemorate the 30th anniversary of the creation of the state next year.
It will interest you to know that OSOTOV30-30 will give adequate attention to the development of major tourism sites in the state such as Olumirin Waterfall in Oriade Local Government, Ayikunnugba Waterfall in Ifedayo Local Government; Owala Rivers in Olorunda Local Governemnt; Igila in Olaoluwa Local Government; Kiriji war sites in Boluwaduro and Obokun Local Governments, among others.
It is worthy of note that the two initiatives as unveiled are non-debt creating initiatives of Oyetola's administration, and have received the blessings of African Union Economic and Socio-Cultural Council and notable tourism professionals both in Nigeria and abroad.
Oyetola has reviewed education policy which was formulated by the last administration.
How do you think the residents of the state received the review?
Speaking unequivocally, the review was wholeheartedly received by the people of the state with a lot embraces and joy since it was a resultant effect of their demands and aspirations. We made the former education policy as a government but the people have then sought for a review of what we did. That is the beauty of democracy. We must be responsible and responsive to the people who bring us to power because it is on their mandate we are driving the governance.
Our last administration thought the policy was the best for the people bearing in mind the new progressive developments it was bringing but the people said they were not ready for that radical change in the education system. Oyetola's administration tilted to the opinion of people and took necessary measures expected of a people-oriented government.
Worthy of the note is the fact that, the review was not unilaterally done by the lone conviction of the government but it was a result of the productive deliberations of all critical stakeholders in the state education sector. A high powered panel led by a renowned educationist, Prof. Olu Aina was setup with the mandate to consider the demands and yearnings of the people as well as give adequate recommendations which will inform the corresponding decision of the government.
How well will a policy review done along the opinions and tenets of the people be received, if not with undiluted pleasure and unreserved acceptability? Osun people have spoken in unison, the government has considered their position and they are delighted about the modifications made in the education policy
How can you describe the relationship that exists between Oyetola's administration and civil servants?
Putting the fact straight, there is no gainsaying the fact that, the relationship has been productive, cordial and awesome. Without mincing words, one of the hallmarks of Oyetola's administration is improved workers' welfare which both the workers and populace appreciate unreservedly.
Osun being a state, whose economy revolves around the workers' welfare, Oyetola did not miss the step of putting smiles on the face of the workers. Upon assuming office, he took it as a first point of duty to restore prompt full salary payment to the workers as promised during the electioneering period. He did not stop at that, as effected all necessary benefits due to the workers in the state.
This is the more reason why he is subtly referred to as "Ore awon osise" meaning, workers' friend.
What measure is Oyetola's administration putting in place to deal with children and women-related issues?
Social menace against women and children is a serious concern, with its costs at multiple levels of society. Although, this is a threat to everyone, women and children are particularly vulnerable to victimization and violence because they often lack appropriate means of protection. They face social challenges like rapism, trafficking, abuse, child mutilation, among other social vices.
As a responsible government, Mr. Gboyega Oyetola's administration has developed a number of initiatives to curb and prevent all forms of violation against women and children in the state through the ministry of women, children and social affairs as well as the IleriOluwa Development Initiative; an organization under the supervision of the first lady, Alhaja Kafayat Oyetola.
Through bipartite efforts of the two institutions, the state government has successively launched productive programmes to tackle the challenges within women and children cluster. A community outreach is continuously being used to engage stakeholders at every community on the need to campaign against women and children abuse as well as take responsibility in reporting the fugitives of women violence to the appropriate quarters where necessary and decisive legal actions will be taken.
Equally, the state government has launched women's clinic designed for giving psychological supports to women in the society. This is one of the many other programmes of governor Oyetola's administration to cater for women in the society. The initiative is meant to lending shoulder and helping hand to women who have issues with family, marriage, career, children truancy, teenage or midlife crises and other emotional or life challenges through counseling and giving necessary supports.
What is the mandate of your civic engagement office in the state?
Civic engagement is a government establishment which is borne out of Governor Oyetola's conviction that the governed should be the arrowhead in decision making. As the first of its kind in the state, civic engagement is saddled with the mandate to bridge the gap between the government and the people as a means to engender inclusive and participatory governance. Under the scope of civic engagement office, we interface with the people across all social strata with a view to getting them involved in governance process, feel their pulse towards government policies and programmes as affecting them; and get the feedbacks which will equally inform the decisions and policy formulations.
In adding values to both the people and the government, civic engagement promotes democratic ideals and affords the citizens the opportunities to communicate with public office holders. Equally, it strengthens citizen's voices, facilitates social cohesion and support citizen participation in democratic processes. Also, it offers both the citizens and government a better understanding of problems and needs, opinions and priorities as well as promotes community representation in decision making. As citizens are involved in decision through our effective and productive government-citizen engagement, we are facilitating an open and more accountable leadership that builds citizens' trust in government.
It should be known however, that under civic engagement office, there are levels of engagement which include; engagement with Informal Workers, Traders Union, Traditional Councils, Community Leaders, Religious Bodies, Formal Workers, Civil Societies, Youths and Women, Political Institutions, Opinion Moulders (media, interest groups, etc.); among others.