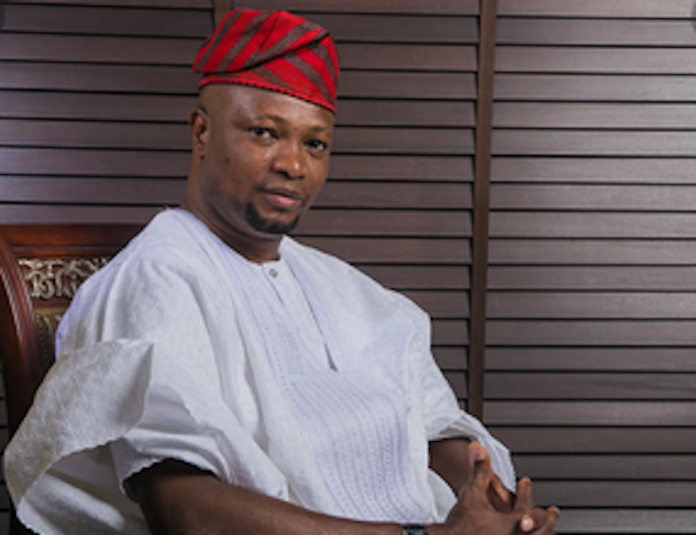 Vanessa Obioha appraises the chances of Mr. Abdul-Azeez Olajide Adediran, a privileged member of the All Progressives Congress in Lagos State who has set for himself the daunting task of whittling down the influence of Senator Bola Ahmed Tinubu in the state
Abdul-Azeez Olajide Adediran is tired and angry. You can tell from the tone of his voice and the forcefulness of his words. But that tiredness and anger are not stirring from a place of bitterness or weakness, rather they come from a place of determination and resilience. He is exasperated by the state of political affairs in Lagos state and the perceived autonomous control of the executive seat since Nigeria returned to democratic rule in 1999. Without mincing words, he declared his intention to obliterate the erected walls of one man politics in Lagos state which in his assertion is the handwork of the National Leader of the ruling party All Progressives Congress (APC) Senator Bola Tinubu.
The Chairman of Core Media Group demands a Lagos for all. A Lagos that works for everyone and not for a selected few. He argued that most people residing in Lagos feel disenfranchised because of the seeming monopoly of politics.
"If you look at the election result from 1999, the voting number has continued to dwindle. You see that people are dropping off. People are no longer interested in voting. The registered number of voters has continued to shrink," he said, citing the last governorship in Lagos state.
"There are over two million registered APC members, over six million registered voters, but Babajide Sanwo-Olu won with only 739, 000 votes."
The waning interest in the election is a good pointer to Adediran's belief that the state is due for a change.
To change this mindset, Adediran who hails from Aworiland, Ojo local government area of the state, to be specific is poised to contest in the 2023 elections and rewrite the history of Lagos. In other words, he is throwing everything in the ring to wrestle power from Tinubu.
His brazenness is mocked and lauded. To those who are familiar with the intricacies of power play in Lagos state politics, Adediran's effrontery is mere barks. The odds are highly stacked against him despite his stance in emerging the next governor of Lagos state. Though a liberal Muslim, he conjures the image of the Biblical David who confronted the Philistine giant, Goliath. His critics doubt if he has enough stones and his sling long enough to bring down the Goliath in Lagos state.
If Adediran is deterred by the scathing comments, he does a good job of ignoring them. He believes he holds the four aces.
He started the groundwork for his emergence almost a decade ago. Through his Jandor Foundation, Adediran carries out grassroots engagement as a way of reviving interest in electoral voting as well as alleviating poverty in poor communities. He also kicked off the Lagos4Lagos initiative which seeks to unite everyone in Lagos and make it livable for anyone who shares in the Lagos dream.
He's been able to achieve this by setting up structures that address each target group. There is the Ibile-Eko group which addresses the needs of the core indigenes of Lagos state. Team Jandor is the central group that draws everyone who shares in the Lagos dream irrespective of their tribe or religion. Therefore, he has on his team representatives of the Hausa and Igbo ethnic groups as well as minority ethnic groups.
Having observed the elites' nonchalance in electoral affairs, Adediran created the Eko United platform to woo them to cast votes in elections.
"We want to sensitise them to take their future in their own hands by deciding who governs them. They should not allow thugs, area boys or the downtrodden who collect sugar, a few cups of rice and other handouts to mortgage their future."
He also disclosed that he has registered presence in every ward in the state, a strategy he said will work in his favour.
"We have seen for ourselves the challenges of the people; how they live, what they want," he said.
Despite the grassroots engagement, Adediran will still need financial backing to achieve his ambition. At the moment, he is not losing sleep over it. It is a bridge that will be crossed as the need arises. Right now, he emphasized, he is focused on sensitising people for 2023.
"We have been doing our campaign for a long while. Some thought that we were preparing for 2019 elections when they heard about us. That's to show you how serious we are about this. It's a game for us to win. If we decide to throw it away, it's our choice. If it's not ordained, it can't happen."
To be sure, Adediran clarified that his mission is not just to occupy the office of the First Citizen in the state, but to use it effectively to better the lives of Lagosians. He believes that it is only the executive power that can make this possible.
He still maintained that he is not interested in engaging in the nepotism game of godfatherism, even if quite a few see him as a puppet for rivals of Tinubu. He didn't deny the affiliations but emphasized that none is engaged in his project and he has no intention to seek the blessings — either spiritual or financial — of anyone to achieve his ambition.
A card-carrying member of APC, Adediran predicts a realignment of political parties in Nigeria due to the current tension in the political space. Again, he is unfazed. He knows he is unlikely to pick up the governorship ticket in his party "but I know that many things will still happen before the election. So, it is naive for me to be frightened and stop my idea."
Notwithstanding, Adediran revealed that his tenacity is already unravelling some politicians who feel threatened by his audacious moves. Whether they will join his campaign or not, he is yet to ascertain. But one thing he is optimistic about is that he's been able to get the grassroots to buy into his Lagos4Lagos initiative.
QUOTE
He started the groundwork for his emergence almost a decade ago. Through his Jandor Foundation, Adediran carries out grassroots engagement as a way of reviving interest in electoral voting as well as alleviating poverty in poor communities. He also kicked off the Lagos4Lagos initiative which seeks to unite everyone in Lagos and make it livable for anyone who shares in the Lagos dream. He's been able to achieve this by setting up structures that address each target group. There is the Ibile-Eko group which addresses the needs of the core indigenes of Lagos state. Team Jandor is the central group that draws everyone who shares in the Lagos dream irrespective of their tribe or religion. Therefore, he has on his team representatives of the Hausa and Igbo ethnic groups as well as minority ethnic groups