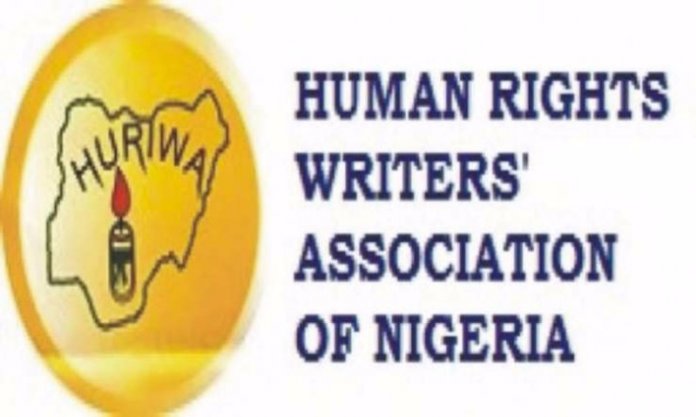 By Tobi Soniyi
The Human Rights Writers Association of Nigeria has called on the heads of security forces not to allow the Ebonyi State governor, David Umahi themselves to use them to witch hunt People's Democratic Party's leaders in the state.
HURIWA in a statement accused Umahi of playing political pranks with serious national security issues by attempting to rope in PDP chieftains into a phantom allegation of funding cultists to torment crisis in his state simply because they refused to defect to APC with him.
The group spoke against the backdrop of claims by Umahi against some PDP leaders in Ebonyi state including National Assembly members elected on the platform of the PDP who refused to defect to the All Progressives Congress with him.
The statement said: "The Ebonyi State governor should not be allowed to drag the heads of the nation's armed forces into partisan politics and thereby scuttling their professional and institutional pride of place.
"Umahi can not be the judge and prosecutor in his own case. He can't be allowed to use what he even admitted to be fake news to accuse innocent Nigerians of sponsoring armed cultists to destabilize peace in Ebonyi State."
Umahi had last Friday alleged that one of his predecessors, Senator Sam Egwu, the former Secretary to the Government of the Federation (SGF), Senator Pius Anyim, and National Assembly members from his state who failed to cross over into APC with him were allegedly plotting to unsettle the peaceful atmosphere in the state.
The human rights organisation said the governor should be arrested after the expiration of his immunity for making false allegations against those who refused to defect to the APC with him in exercise of their constitutional guaranteed freedom of association.
"HURIWA is calling on the Nigeria Police Force to keep Mr. Dave Umahi on its watch list so he is taken in to defend why he had to frame allegations as weighty as sponsorship of armed cultists against persons who refused to defect with him to his newly found political family. These allegations even by his own admission were not credible."