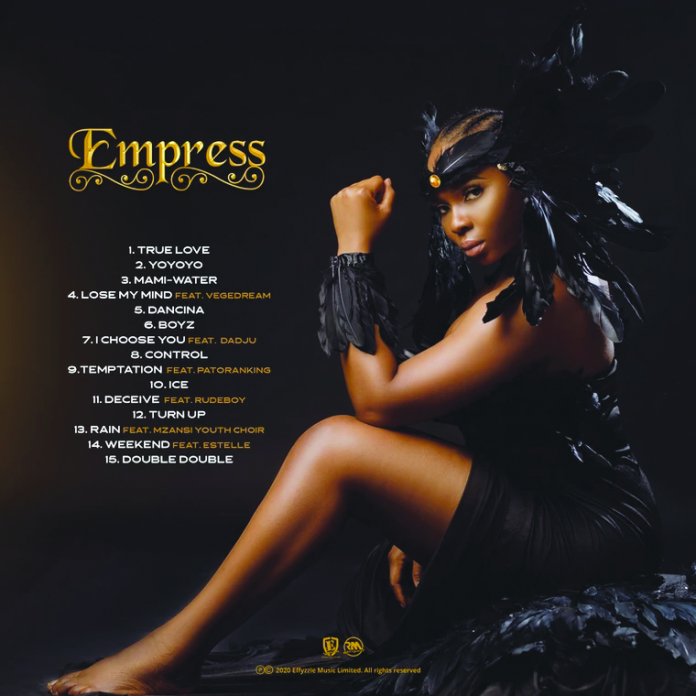 Yemi Alade's latest album, "Empress", is dominating the airwaves. Just eight days after the release, songs from the album are sitting atop several music streaming platforms and charts, writes Ferdinand Ekechukwu
Afropop singer/songwriter, Yemi Alade released her latest LP titled, 'Empress' on November 20, and set the music scene aglow.
Just eight days old, 'Empress' is already sitting atop most music streaming platforms and charts. The new body of work recorded majorly in Amsterdam, is Alade's fifth studio album, following her 2019 acclaimed "Woman of Steel" album, which birthed the global 'Shekere', featuring multiple Grammy award winner Angelique Kidjo. The 31 year-old-singer took to her social media page to announce the release of her fifth album, days after she unveiled the tracklist: "My Album #Empress Out Now on all digital platforms," she wrote.
Fans are already singing her praise on the social media. The songstress had earlier taken to her social media handles hours before the release to tease her fans with the cover which has a photo of her in a carnival styled headpiece. The 15-track album, which houses command collaboration with French music superstars Dadju, Vegedream, and an infectious pop duet with Rudeboy, includes tracks like 'True Love', 'Yoyoyo', 'Mami-Water', 'Lose My Mind', 'Dancina', 'I Chose You', 'Control', 'Turn Up', and 'Temptation'.
Others are 'Boyz', 'Ice', 'Deceive', 'Rain', 'Weekend' and 'Doubledouble'. Among the artistes featured on the album include dancehall titan Patoranking, British rapper, Estelle, and Mzansi Youth Choir. The Album is released by Effyzzie Music Limited. The album also features songwriting and production contributions from Vtek Da Awesome, Egarboi, Jimmy Huru, Yung Felix, among others. Empress is spun from the grand themes of African royalty and sensibilities that Yemi has immersed herself in, considering projects like 'Black Magic' and 'Mama Africa'.
In a message post Empress album's release, Yemi said: "If there is one thing that we have learnt this year, it's the power of love & inner strength. Love for God, self, service and for one another coupled with the strength to fight injustice and to carry on regardless of the circumstances. Love and inner strength kept the world moving through the dark clouds of 2020. With that in mind, I was blessed to create my fifth album titled Empress."
In 2019, Yemi Alade's Woman of Steel album was considered for an award at the 2020 Grammys.
Following her feature on 'Black is King', Beyonce's 2019 album which is sound tracked 'The Lion King, Yemi signed a licensing deal with Universal Music Group (UMG) Africa as an exclusive worldwide record music partner with Effyzzie Music Group, her label.
"If someone had told me a few years ago that I was going to be asked to collaborate with Beyonce, I would have said, 'Girl, dream on,'" she revealed in a recent interview as she released "Empress."
That experience was somehow remarkable that upon meeting the American star, Yemi hugged and "said to her, 'Oh my God, y'all see my heart is beating so fast." And Beyonce replied: "Oh, that's all right. That's the same way I felt when I met Michelle Obama."
Rising to superstardom after 'Johnny', her 2014 single which catapulted her to African musical fame, Yemi Alade never looked back. It was her breakout hit song. With its catchy hook and cheeky lyrics about tracking down a flaky lover, the song caught on easily as a fun track that light-heartedly spoke from the ladies' point of view – an answer to all the songs that already did so from a man's perspective, like Wizkid's Caro.
Since then, the songstress has gained prominence in the music industry, won multiple awards over the years, and embarked on world tours consecutively for her albums.
A little over a decade ago, the singer made her debut as the first-ever winner of Nigeria's Peak Talent Show. It marked the beginning of her music career, but visibility came after she released her debut album, King of Queens in 2014. The album won Yemi the Best Female Artiste at the MTV Africa Awards in 2015. She followed that up with another record titled Mama Africa in 2016, and in 2017 with Black Magic; both standout in their own rights.
King of Queens had collaborations with seasoned musicians and sound engineers that doctored the musical work to taste. Yemi attempted to correct the flaws of 'Mama Africa' in 'Mama Afrique' EP, before releasing the 63-minutes long 2017 project 'Black Magic', which served as her third studio album. Alade's second studio album, Mama Africa, was supported by six singles: Na Gode, Do As I Do, Ferrari, Kom Kom, Africa and Tumbum.
Applauded for her flexibility, creative and overwhelming stage performances, fashion and music video, Yemi gained immense recognition and rewarded at the MTV African Music Awards. She was honoured with the Best Female Artiste in 2015 and 2016 consecutively, and nominated for Artiste of the Year in 2015, making her the first female to win MAMA's Best Female Artiste consecutively twice and nominated for Artiste of the Year. In 2015, she became the first Nigerian female to be nominated for the MTV Europe Music Awards (EMAs) for Best African Act and was nominated for the BET awards for Best International Act: Africa in 2015 and 2016. She won The Headies award for Best Performer consecutively, 2018 and 2019.
Yemi's music has been of influence in many African countries and the world as she is acclaimed 'Mama Africa' for her versatility in using different African languages Igbo, Yoruba, Pidgin, Swahili and French, as well as attires in her songs and music videos. 2020 has been an amazing year for the Johnny crooner.
On 9 June 2020, Yemi was mentioned among the forefront artistes/musicians from across the world to perform at The Global Goal: Unite for our future sponsored by the Global Citizen aimed at delivering COVID-19 tests and treatments especially in the most remote places in Africa and across the world.
On 27 June 2020, Yemi performed in the Global Goal: Unite for Our future alongside Miley Cyrus, Shakira, J Balvin, Jennifer Hudson, Coldplay, Usher, Justin Bieber and Quavo, Christine and the Queens and Chloe X Halle. And now she crowns the year with her fifth studio album, a celebration of her culture, full of infectious tribal dance rhythms and exuberant beats.
The Yoruba-Igbo girl Yemi Eberechi Alade was born in Abia State, to James Alade and Helen Uzoma. Her father was from Ondo State while her mother is of Ibo descent. The fifth born of seven children, Yemi studied Geography at the University and unpredictably began her musical journey with an all-girl group name 'Noty Spices' in 2005. Her first single Fimisile was released under the Jus' Kiddin' label. Yemi then signed onto the music label, Effyzie Music Group in 2012, and release her single Ghen Ghen Love. The following year 2013, July, Yemi released the video for her Afro-R&B song Bamboo, produced by Fliptyce.