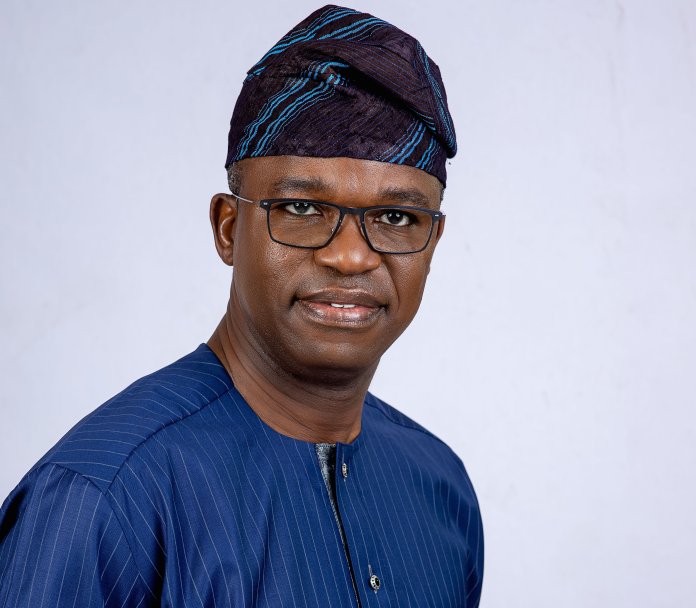 Tokunbo Abiru, the APC senatorial candidate for Lagos East, has a track record of performance, writes Chima Nnodim
Ahead of the bye-election for the Lagos East Senatorial seat, campaigns have reached fever pitch. So have subterfuge, mischief, and mudslinging – the greatest weapons in the hands of those without cogent message for the people – which tends to confirm the maxim, "He that is down fears no fall."
The unique feature of the looming poll is the natural separation its campaign process has seemed to create between competence, epitomised by Mr. Adetokunbo Mukail Abiru, and incompetence, symbolised by the others in the race. This leaves the voters with a clear choice between the candidate of the All Progressives Congress (APC), Abiru, a man with the agenda of hope for Lagos East, and the naysayers and complainants, who have simply come to squirm and writhe, either comically or in fury, just to hide their lack of message for the people. Even though the candidate of the Peoples Democratic Party (PDP), Babatunde Gbadamosi made some unsubstantiated claims ranging from voter registration issues to financial fraud, it's been an interesting contest between fact and fiction, the serious and the unserious. Abiru is in this race to win, and he will win because of his popular acceptance. A man of high moral rectitude, he has never been involved in or indicted for any act of criminality. As a lawful citizen, he has done what is expected of him. He has written to the Inspector-General of Police, through his lawyers, "to cause a very detailed investigation into the allegations to ascertain the veracity of same and culpability of anyone involved in such actions."
He is a man of good repute and sterling professional and political attainments, who has distinguished himself in both public and private lives over the last decade. In 2011, Abiru was appointed Lagos State Commissioner of Finance, from where he resigned to become an Executive Director in First Bank of Nigeria until 2016, when he was appointed Managing Director/Chief Executive Officer of Skye Bank Plc. Based on his excellent record of performance, Abiru was retained by the Central Bank of Nigeria (CBN) and the Nigeria Deposit Insurance Corporation (NDIC) as Chief Executive Officer of Polaris Bank, which took over Skye Bank. He held the position till his retirement this year.
As Commissioner for Finance, Abiru oversaw a far-reaching transformation of the Lagos State revenue generation system. His tenure saw the widening of the state's tax net, with the inclusion of over five million eligible taxpayers that were not previously captured. This resulted in an exponential increase in the state's internally generated revenue.
On his watch, also, Lagos State bagged serial financial competency recognitions, including the Europe, Middle East, and Africa Best Local Currency Bond Award, after successfully floating an N80 billion bond.
In the private sector, Polaris Bank witnessed increased market share and massive transformation under Abiru as Chief Executive Officer. He was given a specific mandate to restructure and reposition the bank, which he achieved, leading to the renewal of his tenure.
Abiru has served as non-executive director at Airtel Mobile Networks Limited, FBN Capital Limited, and FBN Sierra Leone Limited. His wealth of experience and knowledge stood him out wherever he worked, either in the public service or in the private sector. Unsurprisingly, APC picked Abiru as standard-bearer in the Lagos East senatorial by-poll.
Abiru, a man at peace with his party and his constituency, has remained focused and refused to be distracted. He comes to the race with a lot of value under his belt.
"In the professional space, I have reached the peak," he says, adding, "I have always had the desire to serve my people and state. I think this is the right time. I can bring a lot of value to public space, taking into account my experience in the private sector, as the Commissioner for Finance in Lagos State, and my familiarity with Lagos East Senatorial District."
Besides his knowledge and experience, Abiru's legislative agenda conduces to the needs of the times. He says if elected into the senate, he would be "preoccupied with issues of banking and finance, technology in banking, improving the efficiency of our financial system, boosting fiscal policy for national economic growth, especially revenue generation at the federal level, and bringing succour to our people."
Nigeria is at a difficult juncture in its journey to economic development. The economy is struggling, unemployment is high, and incomes are too low to give many who are employed a decent living. The anger on the streets is all too obvious.
Nigeria, more than ever before, needs creative, knowledgeable, well-prepared, and accomplished persons in leadership, especially at the highest legislative chamber in the land. Abiru fits the bill perfectly. Back home, he says he would prioritise the actualisation of the long desired special status for Lagos State, completion of the Lagos-Ibadan expressway, and the reconstruction of the Ikorodu-Sagamu road and Ikorodu-Epe-Ijebu-Ode highway.
Abiru, certainly, guarantees quality representation for Lagos East, Lagos State, and Nigeria. He is out to reclaim the streets for the young, the old, and all the good people of Lagos East Senatorial District. Those close to the political and social pulse at the grassroots confirm this. As one resident put it, "The difference is clear between the man who is campaigning with his record and those only trying to ride to power on the back of unfounded aspersions."
Nnodim wrote from Somolu