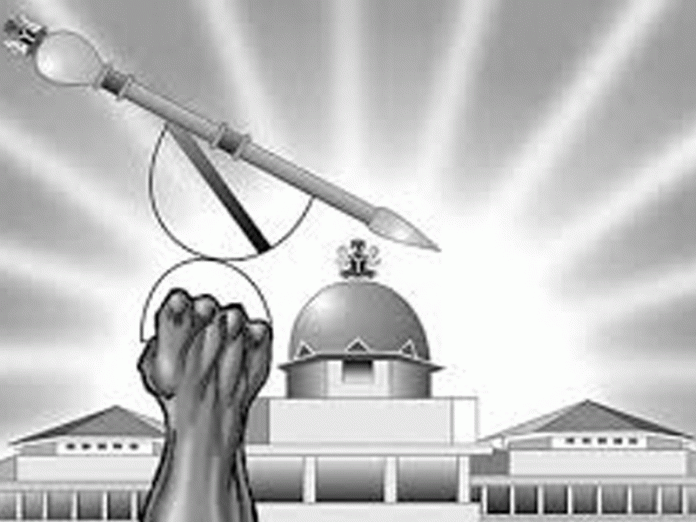 The essence of democracy is to give room to all citizens to participate in the process of governance through representation. Nigeria operates a representative democracy in which government constitutes three arms namely, the executive, judiciary and legislature. The legislature is the institution which differentiates a democracy from a dictatorship. It constitutes elected senators for the Upper Chamber and elected representatives for the Lower Chamber as it is with the presidential system.
Legislators have the onus to stand for their constituents to check the excesses of the executive arm, make laws and facilitate in bringing dividends of democracy to their constituencies. The process of the workings at the National Assembly is done through bill, which may be sponsored by a member or come as either an executive or a private bill. Before a bill becomes a law, it has to pass through three readings at the legislature and get a presidential assent.
It can therefore be inferred at this junction that the legislature is of so much democratic importance whereas Abraham Lincoln would vehemently agree, the people get to own the government, have it for themselves all by themselves.
Thus, if the purpose of having the legislature as an institution of democracy is to be achieved, only conscious, concerned and well-meaning politicians deserve to be elected to serve in either of the hallowed chambers of the NASS. Else, politicians without capacity will go there only to constitute nuisance to the democratic process, waste tax payers' money and mar rather than make their constituents and constituencies.
Such is the scenario in Misau/Dambam federal constituency where in more than one year of stay at the NASS, Honorable Ibrahim Makama has sponsored zero bills. In fact, the member is yet to second a moved motion. This is in spite of the fact that his constituents are facing a plethora of challenges which if nothing is done, we will continue to perceive the miasma of hopelessness in such a manner as to keep us in permanent state of despair.
And as if to inflict more pains to the injuries Misau/Dambam is sustaining, courtesy of the honorable member's absolute low performance at the Green Chamber, Hon. Makama cannot be traced and located by any of his constituents. He has no Constituency Office and even at that, no one can tell the last time he was sighted for instance, in either Tofu Ward in Misau Local Government or Yanda Ward in Dambam Local Government.
.
Mukhtar Jarmajo, Misau Town, Misau LGA, Bauchi State