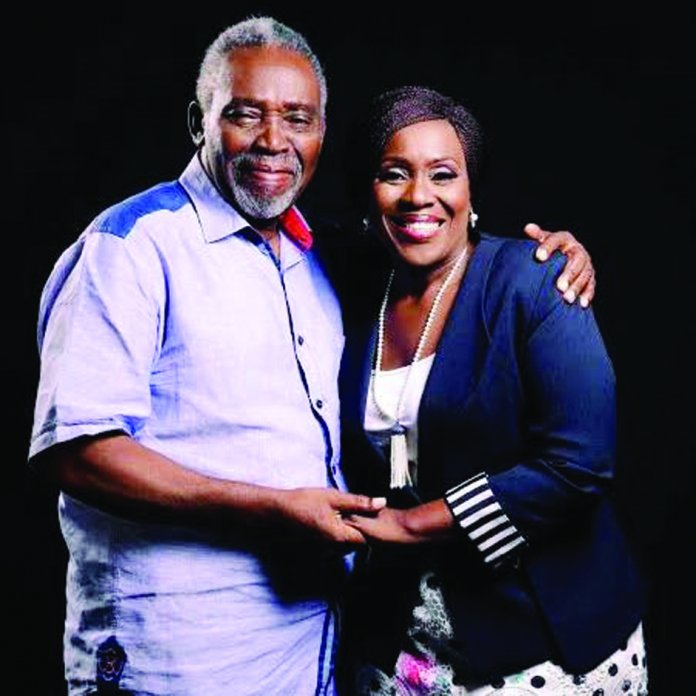 Two Nollywood stars, Joke Silva and Olu Jacobs, spent most of this week celebrating 35 years of matrimony. Joke and her "Omoboy" have had a journey full of good and inspiring stories, writes Ferdinand Ekechukwu
Nollywood stars, Joke Silva and Olu Jacobs enjoy being together as a couple many years down the line despite their stardom and individual roles. That togetherness has taken them far as best friends and life partners for 35 years. It's a thing of enormous joy as such to see both iconic duo win together as thespians and as husband and wife on all fronts. To mark their 35th wedding anniversary last Monday, Joke took to her verified Instagram account to celebrate their union, tagging her husband, Olu, that she nearly forgot it was their wedding anniversary.
"Maybe not forgot but overwhelmed," Joke wrote, recalling that their marital journey had taken three decades and a half. The highly respected and award-winning actress, who fondly calls her man "Omoboy" shared a photo of herself and her husband, thanked God for the years she had spent with her sweetheart and wished the two of them many more years to come. Wearing traditionally-designed African print with their faces full of smiles, Joke wrote: "Totally forgot. 35 years together. Thank you, Lord. Here is to many more years. Happy wedding anniversary Omo boy @_olujacobs."
Blessed with two male children, the celebrated couple have stood the test of time in their marriage and a shining example for many in the institution of marriage. Also together, they have charted the path and blazed the trail for today's generation of filmmakers and actors – on stage and on the screen. A story goes that Olu Jacobs and Joke Silva met in 1981 and it has been a journey full of good and inspiring stories. According to Olu, who is now demure with age @ 78, gentled by the years, he met Joke during the pre-production of a stage play in Nigeria a year after he arrived from England. He saw her and had a connection as he got attracted by her look instantly and declared his intention to marry her openly.
Olu said that the moment he set his eyes on Joke, he knew she was his wife. He said, "We were having a management meeting for a play, Wole Soyinka's Jero Metamorphosis when a young lady walked in. Immediately she walked in, something inside me told me that she was going to be my wife and I told the people around me that I was going to marry her. That was in 1981. In 1986, we got married. I was not in a relationship. I had a disappointment that kept me away and I never wanted any serious commitment because the wound was still raw but when I met her, we talked and played a lot and it surprised people a lot.
"We travelled together a lot as well. When the time came, I did not hesitate and it was as if she was waiting for the question as well. I proposed to her in Tunisia because we were shooting a film, Ashanti. She came to join me there on her way to England and I asked her to marry me."
So far, the journey has been incredible and extremely interesting for both. It has also been one of learning. Once speaking on their marriage, Joke said: "I don't think anybody can ever prepare anyone for marriage. I had friends who were married until one partner died or death did them part and well over 40 years we're each other's friends. They had their challenges and they weathered the storm. Those were my role models. Knowing full well that there will be storm, I soon realised that my storms were totally different from their own storms. I wasn't prepared for my own storms.
"When my own storms too came, it was also a learning curve for both sides (my husband and I). We both had to learn to forgive each other. I learnt that marriage is not a destination; it's a continuous journey, and somehow, it seems like the enemy knows that, so he says, 'So, you weathered this storm, let me throw another one, let me see whether you will weather this one.' But, I think when you know the person you are married to, when you like the person you are in relationship with, when you do have respect for each other, you learn. At least for me, for my husband, he always wanted what was best for me. I had to also learn what was best for him but I finally got. It differs from person to person and it all depends on what your background is."
Amid the storms and perceived rollercoaster journey of their sweet matrimony, there were times when it almost hit a brick wall. Joke said: "It happened a lot. I recall a particular incident that happened when we just had our first baby. It turned out to be a learning curve for me. Olu had just come back from set. Apparently, what happened was that he was still in that character that he had just played on set. So we were just talking and he just started shouting and I was like, 'Is it me you are talking to? Do you think I don't have a father?' So I packed my clothes and I dumped it in my car, carried my baby and I remember our landlady lived at the back of our compound.
"So, she (landlady) came out and started shouting, 'Joke, where are you going to?' I told her that I was going to my father's house. When I got home the first person I saw was my mum and she said, 'what are you doing here?' I began ranting and she said 'you don't have a house or a room here; you better pack your bags and go home.' My father sort of understood where I was coming from. Funnily, my husband called and asked, 'When are you coming home?' That was the first time, and I did it a couple of other times."
Pix: Olu Jacobs.jpg and Joke Silva.jpg