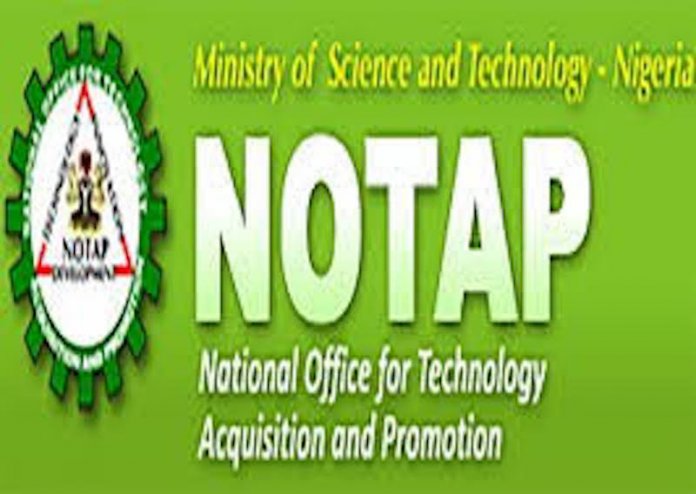 The National Office for Technology Acquisition and Promotion (NOTAP) is exploring partnership with the Trademark Registry of the Federal Ministry of Industry, Trade and Investment for national development.
Director General of NOTAP, Dr. DanAzumi Mohammed Ibrahim, gave this hint while hosting the Registrar, Trademark Registry, Barr. Shafiu Adamu Yauri.
Mr. Solomon Nshem, the Head of Media and Corporate Affairs of NOTAP, quoted Dr. Ibrahim, in a statement as explaining that the world is moving from resource to knowledge base and that the vibrancy of research and development in an economy determines the industrial and technological development of a nation, NOTAP would like to see products being developed by Nigerians.
He lamented that the pattern of consumption in Nigeria is import dependent with the resultant negative effect on the nation's foreign reserve noting that the only solution is to reduce foreign consumption, develop local substitutes and improve them for export.
The NOTAP boss added that for the Nigerian economy to improve at a sustainable level, the nation's research and development must translate into products and services.
Ibrahim disclosed that NOTAPs concentration for a long time had been on assisting researchers to patent technologies through filling forms, citing the claims and paying the patent fees at the Patent Registry.
He stressed that NOTAPs intervention in the area of patent promotion was yielding positive results with the attendant increase in patents secured by researchers through the Office over the years citing examples of the increase in patents from six in 2015 to sixteen in 2016 and from fifty in 2017 to fifty five in 2018 and fifty seven in 2019.
The DG said with the collective goals of enhancing the development of the nation that both organizations share, available windows for partnership with the Trademark Registry would be fully explored.
Earlier, the Registrar, Trademark Registry, Yauri stated that the visit is to seek partnership because of the crucial role trademark plays in commercialization which is intertwined with the statutory functions of NOTAP.
He added that the Trademark Registry desired to also ensure that it embeds the function and essential role of trademarks in NOTAPs projects and activities not only to sensitize and educate but to establish a relationship that will make it easy for scientists and researchers to protect their trademarks in the Trademark Registry.
The Registrar said that the Trademark Registry is the gateway to the market and had decided that a desk officer from NOTAP would be needed at the Registry, to handle every trademark application from the Office efficiently.
He advocated for a robust relationship between Ministries, Departments and Agencies (MDAs) of government to drive processes and complement each other in their activities.
The Registrar was accompanied on the visit by key officials of the Registry.