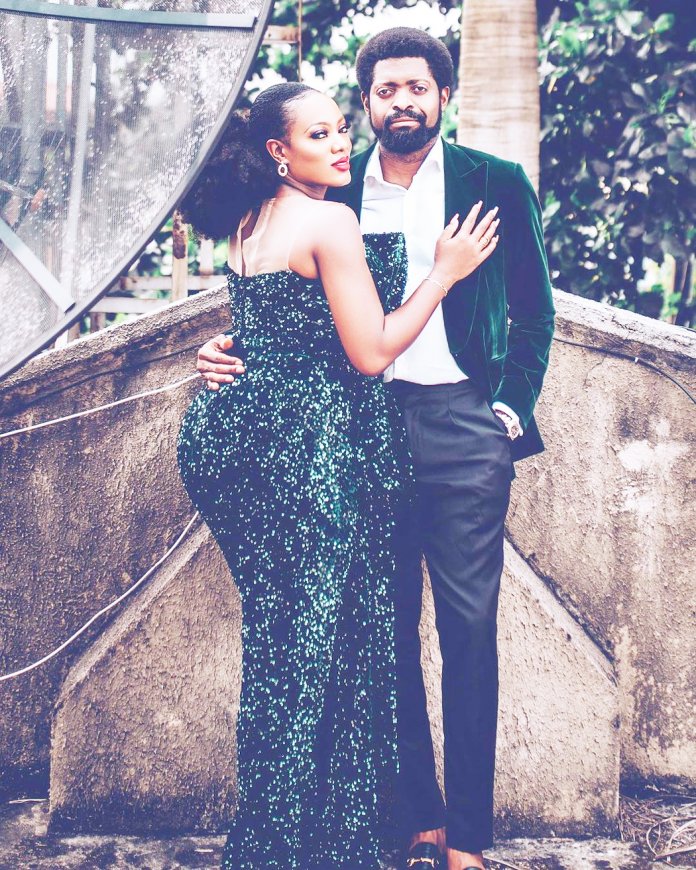 Ferdinand Ekechukwu
Ace comedian Bright Okpocha (aka Basketmouth) and his wife, Elsie days back celebrated a decade of conjugal bliss. The duo shared beautiful pictures and went back with sweet words on Instagram to commemorate the event with Elsie giving a little backstory as to how the relationship started. In her sweet to the star comedian, the fashion label owner disclosed that she had initially given her husband a wrong number when he came to her Unilag hostel 14 years ago.
Elsie revealed that she was grateful her husband didn't give up on her despite that bump in the road to their romance. Elsie shared this sweet note while celebrating their anniversary on her Instagram: "My happy place, my best friend, celebrating a milestone in marriage, 10 years!!!! Amazing!!!! I'm glad you came to my hostel in Unilag 14 years ago, and I'm so glad you didn't give up on me even after I gave you a wrong number. I want to grow so old and happy with you baby.
"I want to laugh and cry happily with you. And I want to celebrate forever more with you. Happy 10th anniversary sugar… My heart is beautiful because I have you in it @basketmouth." Basketmouth also shared a sweet message alongside the pictures he posted thus: "You may kiss the bride…. That was 10 years ago. Love you forever @elsieokpocha. 5 years before she said 'I Do'. That was 15 years ago….Love you forever @elsieokpocha."
The couple, blessed with two children, met sometime in 2003. She was a fresher then at the University of Lagos, where she read Creative Arts. Interestingly, nobody introduced her to Basketmouth, who she says is her favourite comedian. And it happened that she boldly told him so when she met him one beautiful day. "He has always been my favourite comedian, so that was it. I just wanted to say hi to him and I told him I am one of his biggest fans, and that was it. So, we met sometime later and it began that way."
With about 50 guests seated in a tent, Basketmouth didn't need a cathedral to formalize his marital union with Elsie. The minister-in-charge was actually flown from the UK to perform this task. He did everything all by himself, from the solemnization, prayers to sermon. His message centred on the need for the groom to take care of his wife, Elsie. He used the metaphor of the garden and the gardener to define the mystery of marriage, while urging the groom to transform his partner to a bride and excellent woman.
Basketmouth tied the nuptial knot with Elsie Ngowi Uzoma at Giwa Barracks, Falomo, Ikoyi, Lagos amidst pomp. The wedding, attended by family members, friends and colleagues of the couple was classy in many ways. From meeting each other at the University of Lagos, Elsie giving him the wrong number, their wedding seven years after and now ten years together! That they knew each other for almost eight years before tying the knot was something the popular comedian acknowledged in his speech during their wedding reception ceremony.
"As for my wife, Elsie, she is the main reason we are here today. She knows I love her. The only thing I didn't do was not marry her in time. I would have married you eight years ago. Elsie, I love you as far as you respect me," he said back then.