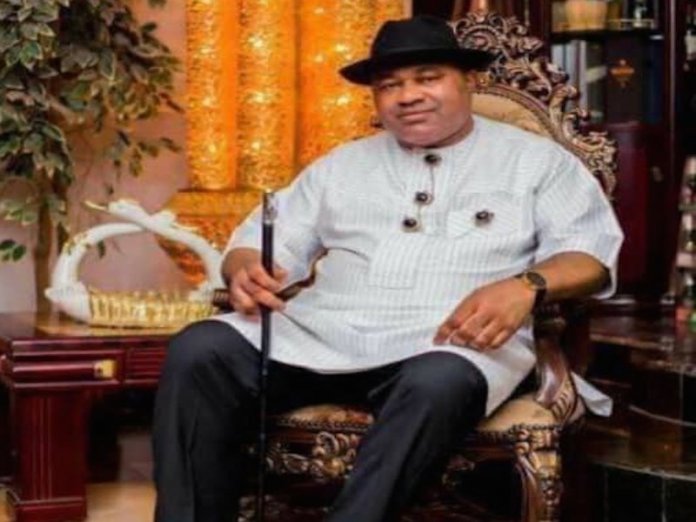 Rebecca Ejifoma writes on the grand celebration of the maritime giant, Chairman, Maritime Workers Union of Nigeria Advisory Council, Comrade Tony Nted, whose philanthropic works, undiluted acumen and giant strides echoed as he recently marked his 60th birthday
It was all sparkling white and gold in the mini marque mounted in the premises of the Corporate Estate, Festac Town Lagos on Thursday, October 1, this year. The occasion was the 60th birthday anniversary of Chairman, Maritime Workers Union of Nigeria Advisory Council, Comrade Tony Nted.
Set at 11am that morning, a handful of guests began to trickle in alongside family members. Several of them were key players and business magnets in the nation's maritime industry.
Some of them were Princess (Dr.) Vicky Haastrup as the Chairperson of the occasion; the DG of NIMASA, Dr. Bashir Jamoh represented by Deputy Director, Mrs. Irene; the Founder, Centre for Values in Leadership, Prof. Pat Utomi; and Staff Pastor, Nchekwube among others.
There were gists, exchange of pleasantries, hugs, handshakes, and reminiscence as the creme de la creme of the society thronged in to celebrate the maritime guru.
Expectedly, Nted was head over heels with their presence. He went from one guest to the other reminiscing about the good old days before COVID-19 came knocking. Everyone sure had something appealing to say about him. He is described as a renowned player in the maritime industry of the national economy.
With positive testaments to his leadership, there is no gainsaying then that Nted is the reflection of a man who has made giant strides in an industry fraught with industrial unrest, especially in the field of maritime labour where he has left indelible imprints in the lives and standards of thousands of Nigerian dockworkers.
For Nted, he heard of many things in his life, saw a handful of them and conquered several including education, which his father never embraced.
The comrade shared, "My father did not believe in education. He believed in fishing. He was one of the poorest men because he did not send me to school. I was seeing other children in the secondary school and in the university, but here I am being a fisherman. I said to myself, I cannot continue like this."
One day, he recounted, I saw some boats leaving from Forcados to Warri, I just jumped into one of them in search of education and better opportunities. "I had no money, no brother and no friend. When I landed at Warri waterside, I started menial jobs and later met somebody at the waterside doing the menial jobs.
"We became friends and I started living with him in one small room. Soon, I rented a place. There was no money to buy curtain, I used water proof to do curtain. I lived there and was doing the menial job, but my mind was set on going to school."
Afterwards, Nted registered with Bristol Commercial Centre. Although he could not juggle school and work, he said "I could not do full time because I had no money. I later got a job at K Challarams.
Soon, Nted got a job with Nigeria Ports Authority (NPA) as a dockworker; loading and off-loading. From there, his career in maritime gradually got off the ground.
"When we came to Lagos, that was the first time I saw Tin Can ports and Apapa Ports, we addressed the Dockworkers and went round. When we got back to Warri, we set up a caretaker committee, I was chosen as the Chairman of the committee.
That was how I started my union's career. When the time for elections came, they said they wanted me to contest as the zonal vice chairman. I contested the election, and by the grace of God, I won the election," he said.
From zonal vice chairman, Nted became the district chairman of the zone. He soon attained the position of branch president of the Dockworkers branch of the Maritime Workers Union of Nigeria and afterwards became the President-General of MWUN.
At the same time, he was the Vice President of Nigeria Labour Congress (NLC) during the first tenure of Abdulwaheed Omar.
Nted is the immediate past President-General of Maritime Workers Union of Nigeria, and former Vice President of Nigeria Labour Congress (NLC). Born and brought up in Forcados, Warri, Delta State, Nted's father was a proud fisherman, whom until his death was one of the richest fishermen around.
After saving some money, the comrade enrolled into another school in Warri, the Institute of Continuing Education, which he described as important.
He lent his voice, "From my experience in pursuit of education, I think the government should provide free education to every child. If the government cannot give free education to the citizens, they must subsidise the fees so that children of the poor can also get education."
He rightly noted that "What we are seeing today does not give anything to cheer. Those we thought could offer quality education to the children of the poor, like the churches, their schools are even more expensive than the private schools who are just interested in profit maximisation".
While describing it as excruciating, the labour leader hinted that in whatever situation, he expected the government to give free and quality education to the citizens and if they cannot, they must subsidise the fees.
He continued, "Many people run away from public schools, saying they are not functioning due to lack of infrastructure, lack of quality teachers, no chairs, among others. Hence, they opt for the private schools. In education, which to me is the easiest way to fight poverty and under development, the government has failed."
For his love and belief in education, Nted said as the president-general of the Maritime Workers Union of Nigeria, he did everything within his power to ensure that the dockworkers were educated both locally and internationally.
For the maritime guru, he has a mixed feeling sharing birthday with Nigeria. He is elated and sad.
"If I say I am not happy, it will sound as if I am not grateful. The truth is that I am growing, but Nigeria is not growing. One had expected Nigeria to be growing as I am growing, but Nigeria has remained static. I am happy that we are an independent nation, and I am happy that I was born on the day Nigeria got her independence," he outlined.
He made a sincere confession when he said the only reason he happy is that he is alive. "For the country, what has been going on year after year does not inspire hope. Leadership has remained the bane of the country development and growth. Is it not sad that for 60 years Nigeria cannot find solution to its leadership challenge?
"What it is to celebrate, a country that cannot give 12 hours of electricity to its citizens, a country that is one of the leading oil procuring countries in the world, yet imports petroleum products, a country that cannot provide motorable roads for its citizens, a country that cannot provide free and quality education to its citizens, a country that cannot feed its citizens, or a country that cannot protect its citizens?"
The sexagenarian has some questions for the nation. "Can people who have no job, no accommodation, no cheap and reliable transport system, no affordable and quality health services, or afford the basic necessities of life celebrate? The answer is no. It is only when these things are available and affordable for the citizens and the citizens are safe, their properties are secured, that people can think of celebration."
Nted, therefore, maintained that "we need leaders that have foresight, vision, energy, youthfulness among others. We need leaders that can on their own find out the true situations of things, what the masses are passing through and not what sycophants tell them".
Part of his ideal suggestions are that Nigeria needs strong and able leaders. "President Muhammadu Buhari is a very good president. He is not corrupt. But we cannot say so about those working with him. In a situation where you have people referred to as cabals who shield the president from the truth, from what the citizens are passing through and so on, there is a problem."
For Nted, the nation needs a president that is youthful and mobile that can decide on his own to wake up in the morning and decide to visit the ports, the factories, the road projects, slums or shanties where people are living, the schools and others to see the situations of things on his own.
"He can decide on his own to go and see the access roads to the ports, or go to Abakiliki, Aba, Ogoni, Southern Kaduna, Niger, Oshogbo, Isolo, industrial areas and other places to see what is happening not what sycophants tell him," he expressed.
When the president is strong and agile, Nted highlighted, he will be able to do these things. "In all, we also need a president like Buhari who will not steal, has the interest of the nation above family interest, believes in Nigeria, not sectional, tribal or religious bigot."
In her remarks on the heels of Nted's heartfelt yearnings, Haastrup could not restrict herself from expressing the true reflections of Nted.
"It is my joy to celebrate with my brother, Comrade Nted. The success of a man's life is not determined by how much he has, how many children he has, his status or where he comes from, but it is by his sense of character. Tony has the sense of character. "
Comrade Nted seems to mean many things to different people, a reality that got him many pet names like "Mr. Nigeria", Haastrup described him as a good man, a man of freedom, and a man of many parts.
"In 2006, we came in contact when I started operating in the maritime sector. Unionism is fighting for rights. He stood for the union. There is complete peace under his leadership.
Nted's cheerful acts and encouragement endeared me to him. Yes, I will give him a lot of encomium".
While listing that the celebrant reaches out to the downtrodden children, pays for hospital bills and house rents of some members, the DG trumped comrade Nted as a man of impeccable character, who loves and loves completely.
With three charming wives by his side, Nted's children – adults and babies – prayed endlessly for him, expressed naked love for his unflinching support, care and good equal life.
Praying for God's strength for him, his first wife, Mrs. Callista Anthony, lauded him, "My husband, my lord, my hero. He has been a source of joy to the family. He does not allow the family to shed tears. Before we call, he is there to help. He has been so good. No one around him goes out crying because God has planted him as a tree and as a sun that we depend on. God will continue to empower you. You will never lose faith. The strength of God will continue to be with you."
While she emptied her hearts of blessings on him, Nted's second and third wives, Evangeline Anthony and Susan Anthony chorused her words in different forms.
Indeed, with an emulative philosophy to build others, Nted has built an admirable castle in his heart big enough to go round.