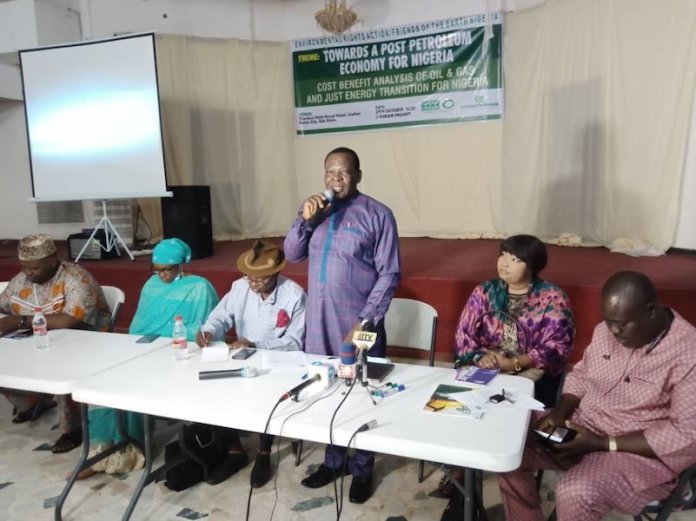 Addressing renewable and clean energy access for all in order to reduce Nigeria's carbon footprints in line with the Paris Agreement of 2015, was the thrust of two workshops organised by Environmental Rights Action/Friends of Earth Nigeria, writes Adibe Emenyonu
According to a study by the International Energy Agency (IEA), there is an established link between the availability of reliable and adequate energy supplies and economic growth and development. Based on this link, the same study assessed the potentials and challenges of the renewable energy sub-sector in addressing an energy deficit that has been identified as one of the obstacles hindering economic development in Nigeria.
Through the analysis of various documents, the researchers made two important findings: First, that Nigeria recognises and has analysed its potential in a variety of renewable energy sources for possible exploitation to diversify its energy mix. Second, that although there are policies to drive the renewable energy development projects, the lack of legislative backing and various systemic challenges are hindering the deep entrenchment of this thrust.
The research concludes that public and private policy coherence is critical for Nigeria to develop an economically and technically viable renewable energy sub-sector to supplement its current energy supply; as well as prepare for a post petroleum economy as the way to go.
The above is critical giving the fact that Nigeria as a country can only boast of a little above 5,000mwt of electricity generation since 1999. Secondly, that since the advanced economies have began diverting their attention to electrical powered automobiles, there is need for policy makers to start thinking of a post petroleum economy because the implications of any delayed action could be disastrous.
This was why some concerned individual gathered in Benin City, capital of Edo State, under the auspices of Environmental Rights Action/Friend of Earth Nigeria (ERA/FoEN), to opine that for Nigeria to have the energy requirements to meet its domestic consumption and industrial needs, renewable energy is the way to go in order to bridge the gap.
They were also spoke of the concern for a post petroleum economy for Nigeria, it's feasibility and implications of delayed action
Kicking off the discussion with the theme: "Youth Talent Hunt and Employment Programme, Executive Director of ERA/FoEN, Dr. Godwin Uyi Ojo, said the programme was aimed at addressing clean energy access for all in order to reduce the nation's carbon footprints in line with the Paris Agreement of 2015.
According to him, the programme is also meant to help provide opportunities and logistics support for the youths to lead in the production of innovative cleaner technologies to drive the renewable energy sector.
Dr. Ojo therefore, condemned in strong terms the unnecessary tax burdens that have characterised Nigeria's economic development thrust in recent times by the federal government of Nigeria.
"The sudden increase in the Value Added Tax (VAT) from five per cent to 7.5 percent, the increase in the pump price of petrol to N162.00 per litre and electricity tariff of over 100 per cent hike by the federal government can be counterproductive on the productive sector of the economy especially in the development of the nascent renewable energy sector", he said.
The ERA/FoEN boss, stated that the "tax burden are ill-timed as the federal government has carried on without due consultation with the civil society groups, labour unions and other stakeholders to gauge the mood of the people."
Describing the youths as catalyst of change, ERA/FoEN asserted that "they understand the need for clean energy transition to reduce the burden of oil dependency and unbearable tax regimes from the oil sector which is leading to harsh economic realities in Nigeria."
Also, the Assistant Director (Training), National Power Training Institute of Nigeria (NAPTIN), Abdullahi Aliyu, promised that his agency would always be available to offer the needed support to any youth who has an innovation to showcase.
The Co-founder/Chief Operating Officer, Ashdam Company Lid., Mrs. Damilola Asaleye, said Nigerians have to embrace renewable energy which includes provision of reliable power supply; to allow fuel diversification; to enhance energy security; to lower risk of fuel spills; help conserve the nation's natural resources and to mitigate climate change.
Concluding the roundtable session, discussants called on the federal government to halt the tax burden on renewable energy and other multiple taxes.
They also asked government to halt the tax burden on renewable energy and other multiple taxes, and immediate shelve the increase in petroleum pump price and electricity tariff because of its consequences on the average common man in the society.
Furthermore, the federal government was charged to diversify the nation's energy sources to encourage state and non-state actors in the development of mini-grid and off-grid solar power system.
The panelists also suggested that the country can achieve greater energy access by putting an end to fossil fuel and show committment to renewable energy options and grow to become a hub in West Africa.
Particularly, Dr Ojo asked the government to halt investments in oil and gas sector and channel public finance, loans and subsidies from oil and gas sector and divestment of such funds to renewable energy sector.
The Executive Director of ERA/FOEN called on "Nigeria's Green Bond, and the Bank of Industry (BOI) to support and step up investments to individuals and Community Energy Cooperatives in the renewable energy sector while encouraging the sector through subsidies, grants, and tax holidays including elimination or reduction of the Value Added Tax (VAT) from the current level of 7.5 per cent as a crucial step to encouraging the transition."
He affirmed that the government should "demonstrate political will and reduce corruption for renewable energy to thrive in Nigeria."
Ojo advocated for the "inclusion of renewable energy technologies and climate change in the school curriculum to empower the youths and make them solutions to the national energy poverty."
His words: "There is need for the inclusion of renewable energy technologies and climate change in the school curriculum to empower the youths and make them solutions to the national energy poverty.
"Increase advocacy and policy engagement with the government to embrace renewable energy and take action to put an end to oil and gas development.
"Encourage a national renewable energy policy that recognises state and non-state actors in a decentralised energy production system as crucial for realising the country's existing huge gaps in citizens' access to electricity.
"Demand federal, state and local governments' involvement in the provision of mini-grids and off-grids solar systems and other renewable energy options.
"Conduct practical demonstrations and cluster community energy projects in the communities to promote access to cleaner energies Communities."
Contributing to the discussion: "How Feasible is a Post Petroleum Economy for Nigeria?", Nurudeen Ogbara, former Chairman of Nigeria Bar Association (NBA), Ikorodu branch of Lagos, said the question posed above though appear simply but very complex to answer. He said "if you say yes, it is idealistic while in theoritic, it is simple."
Ogbara said the feasibility of a post petroleum can only come to fruition where there is a policy framework and selfless leadership to confront and combat what seems to many a huge problem, pointing out that from all indications, it required a leadership that is focused as a lack of this will make it impossible.
According to him, "we need a progressive and and conscious followership though the percentage is extremely low. A selfless leadership and leadership that is interested in collective wealth, protection of lives and property of its citizens; seamless and guided policy framework."
Unfortunately, he noted that since 1958 when Nigeria began to export oil and gas in commercial quantity, there are no policy frameworks to look at the issues of renewable energy till date, adding that even where there is any, there is no political will to execute such policy framework.
He therefore called for firm policy framework and the political will on the side of government, as well followership to avoid making the same mistakes all over again, noting that since the advent of the "black gold", it has been sorrow, tears and blood for the people and government; illegal gas falring where billion of dollars have been lost which has negetively affected Nigeria climate in addition.
"It is only when government take steps to address all these issues that we can confidently say post petroleum economy is feasible", he concluded.
In her submission, Habiba Ali, a Renewable Energy Entrepreneur from Kaduna, said the kind of leadership in a society depends on the led. In her opinion, there was life before crude oil. That life, she posited is agriculture which use to a very strong force in Nigeria before oil.
"So, we can go back to that aagriculture era when cocoa was, palm oil, groundnut, cashew, rubber constitute the mainstay of Nigeria economy. When we export rather than importing like we do today.
"We have so many natural resources buried in the Earth but agriculture is the best saviour because of its value chain. With this, we can have a life after the post petroleum economy", Ali declared.
She also predicted that by 2030, most of the country's resources will come from renewable energy sector, noting that oil has made Nigeria and its citizens mentally lazy especially among the leaders.
Ali also demanded that citizens should continue to challenge their leaders, pointing out that post petroleum economy is realistic if we have good leadership to drive the process.
Besides, she said the country will also need other resource opportunity in other sectors such as renewable energy that can power equipment.
The Executive Director, Foundation for Good Governance and Social Change, Mr. Austin Osakue, said a post petroleum economy is feasible and practicable.
He enjoined Nigeria elites to ensure that renewable energy is feasible as it is more friendly to the environment.
According to him, "any visionary leadership in Nigeria must overlook the inconvenience of today so as to have the convenience of tomorrow."
The panelists concluded that Nigeria is still the way it is because of elitist conspiracy concerning the proceeds from oil, mode of ownership which vested all legislative powers to a particular tier of government to the detriment of the other two.
They therefore demanded for collaboration amongst the three tiers of government, long-term planning by way of investment, a declarative and legislative backing, a visionary leadership who will overlook the conveniences of today and invest in the future knowing that one day, oil will dry up whether we like it or not.