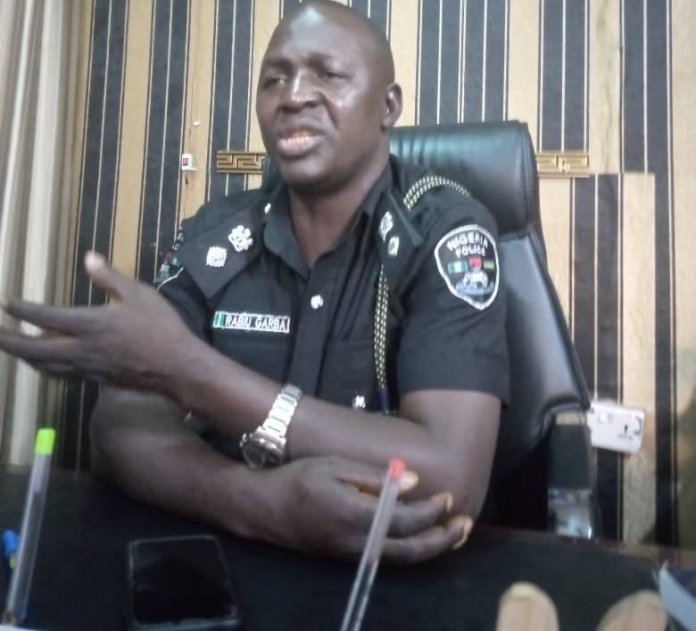 David-Chyddy Eleke profiles the DPO of Fegge Police Station in Onitsha, Anambra State, Rabiu Garba, a Chief Superintendent of Police, as one who stood out during the #EndSARS protest for successfully persuading rampaging youths, who were set out to burn the station, to down tools
Rabiu Garba, a Chief Superintendent of Police (CSP), is the DPO of Fegge Police Division in the very heart of Onitsha, Anambra State. On the fateful day when death came lurking during the days of the EndSARS protest, Garba, a Northerner from Bauchi, was able to successfully dissuade Igbo youths from carrying out their potentially destructive action.
This was at a point when many police stations in Anambra State had been burnt down, and many police officers killed. A very pathetic case is that of Ogidi Police Division where the protesters surged into the police station and set it ablaze. The irate mob did not stop there, they killed a police officer from the division and proceeded to behead him, throwing his body into the burning police facility, while they took his head away, brandishing it as a sign of victory.
The Anambra State Police Command who took stock after the protest had been quelled stated that no fewer than 21 police divisions were attacked by hoodlums, while seven of them were burnt. Police officers were also not spared.
On the day the mob surged into Fegge Police Division, the environment was already tensed, and it was expected that what had happened to many other police divisions would happen, but Garba seemed too sure of himself, because instead of escaping, or ordering his men to repel the surging crowd of youths with gunfire, he told them to drop their guns, while he stepped out to speak to them.
THISDAY met and spoke to CSP Rabiu Garba, who bared his mind on how he felt on that fateful day. He said, "What happened that day was a nationwide issue. Just like everywhere else in Nigeria, there was a protest in Onitsha, and the protesters were charging and coming towards us. But from our training, I know we must try to calm them down, instead of using force on them. It is the duty of the police to try to calm protesters down and not to start shooting them. So, I told my men not to shoot at anyone.
"I must tell you the truth that I was disturbed when they were coming, but I told myself that nothing like shooting of the people must happen. It must not be shooting because it would be like shooting my own family. I have very many people in Fegge who are my own friends, and some of them I saw among the protesters, but still I was disturbed because everywhere was already charged, but I came out and addressed the people, and instead of hostility, they started supporting me."
Words of Persuasion
On the fateful day, Garba who was not in his uniform, but dressed in a pair of blue jean trousers and black long sleeve shirt stepped on the back of a police patrol van which served as a podium to address the protesters.
He said, "My people, I welcome you all. We know it is your right to protest when you feel aggrieved about anything, even if it is about Garba himself. I sincerely appreciate your efforts to change Nigeria. The youths can not remain children forever. They used to say that the youths are the leaders of tommorrow, so we are the owners of tommorrow and must have to think of a way to change our country.
"You are right to protest, and the duty of the uniform people is to protect you and not to come and make people's life difficult for you. We are happy we don't have SARS here (Fegge Police Division), and we don't need them. I want to tell you that anytime there is a problem in this community, please come and speak to us. It is not only about SARS, but anytime there is police brutality or arrest of a brother, instead of another brother, please come and talk to me, and I will definitely pass it to the authorities to address it.
"Let me ask you, this issue of SARS, is it a crime for a young man to drive a good car? Is it only old men that must drive good cars? We used to pray that our children will be greater than us, so why will they be arresting young boys because they are driving good cars? This must stop. We don't have SARS here, and we do not want them."
Reaction
Immediately after Garba finished his speech, the irate mob who had with them all manner of dangerous weapons dropped them and carried the Chief Superintendent of Police shoulder high, chanting the song – we want Garba, we want Garba!
What Motivated the Feat?
Garba is a graduate of Sociology and Anthropology. He also holds a degree in Law. He believes that his background as a sociologist has helped him to mingle well with people. As for studying law, he stated that since he is a law enforcement officer, it was only wise for him to have a good knowledge of the law, so as to be able to function effectively.
"Knowledge is power and each of my training has helped me to be able to function in the position I see myself. First, I studied Sociology and Anthropology as a first degree. This has helped me to associate and feel the pulse of the people. My training teaches me to know that the community you are serving, you should be able to feel free with them, if you are really serving them.
"You have to be able to understudy them and also be able to know the service to give them. It is the duty of the state to render them service and definitely, for you to be able to render service, you must be humble. Humility must be there for you to be able to serve them. Police work is a right constitutionally, so I must not intimidate and brutalize people with the constitutional duties I have been bestowed with. I have to know where their challenges are and also bridge the gap through my service.
"I also studied law too because my duty is law enforcement and it is all about law, so I have to know where people's right start and where it ends, in the cause of enforcing law. And it made my job easier. Some people may say lawyers are arrogant, but there should not be. I think if you are arrogant to the people, you must not be. Anyone who is in anyway on to the law must be ready to be humble."
Relationship with the People
He said, "Everyone in this Fegge has my number. I always keep my door open, and it makes me to have vital information about this community, and by so doing, I am able to know what would happen here and I am able to take action quickly. I want to serve humanity through the police force, so I must serve the people within the period I am here and that is what I am doing.
"I am in Anambra today, I would not like to go to my state, Bauchi tommorrow and I will hear that women in my village were shot at, because they were protesting. So, you must do to the people where you are serving, the same way you want the people serving in your place to do to your people. To me, police brutality doesn't show signs of knowledge on the side of the officer that engages in it."
Choice to Become a Policeman
For Garba, being a policeman was a choice he made, without any form of coercion. "From discussions we had during our aluta days in the university, people see police as a negative organisation, but for me, there is a need to intervene where there is a shortfall. I took it as a challenge. We used to tell ourselves that why a particular organisation is considered bad is because the right people have not entered it. If you think a particular organisation is bad, why not go into it and try to effect the change that you can?
" Let me tell you, police is the easiest way to make heaven. This is an organisation where you are saddled with the responsibility of protecting the lives of people. It is one organisation where people appreciate you, even for routine duties, which is even something that is the basic duty of every policeman, they appreciate you for it.
"All on my own, I became a policeman. No one forced me, rather, I am here to make the change that I can. I usually tell my men, if you want to shoot someone, why not put the gun in your leg and fire it and test the bullet before you fire at other people?"
Garba got his appointment with the Nigeria Police in 2002 as a Cadet Assistant Superintendent of Police, with his first posting to Rivers State and Bauchi State for training, while also having the privilege of an overseas training. He hails from Bauchi State and is married with children.
"I was posted to Mopol 54 (in Onitsha) in 2009, and in 2014, I became the DPO Fegge (Onitsha). Since then, I have maintained a good relationship with people here, and I operate an open door policy. Almost everyone in this Fegge has my phone number because I feel my mission here is to serve the people."
Testimonial
A lawyer and human rights activist, Justus Ijeoma related the experience of his first meeting with Rabiu, very many years ago. He said, "On a particular day, 10 years ago, I was driving along New Market Road, Onitsha. Those who know Onitsha would know that New Market Road is "one way" (drive). So there was this Mobile Policemen in their van who were driving against traffic. They were breaking the law, and yet were harassing everyone. One of the officers used his gun butt to hit on the side of my car, inflicting a serious cut on my car. I couldn't take that so I trailed them to the bank where they were going, met the bank manager who told me that they were not his staff. The bank manager told me that they came from MoPol 54 Onitsha.
"I immediately went to their office at CPS and met their Oga who happened to be DSP Garba (as he then was) Garba was the 2ic at MoPol 54 then. After narrating the incident to him, Garba immediately summoned all the officers that went for the operation. And after listening to them, he not only reprimand them but he told them that they must repair the damage they caused, I wasn't sure whether he meant it.
"He asked me to call a panel beater and an auto painter to assess the cost for fixing the car. I did. And he told the officers involved to go and bring the money (about N18,000}. When I saw his genuineness and sincerity of intentions, I told him that I was not going to collect a dime as I was totally satisfied with his handling of the matter. At that time Garba did not know me but he just acted in good faith. He was only serving the course of justice."