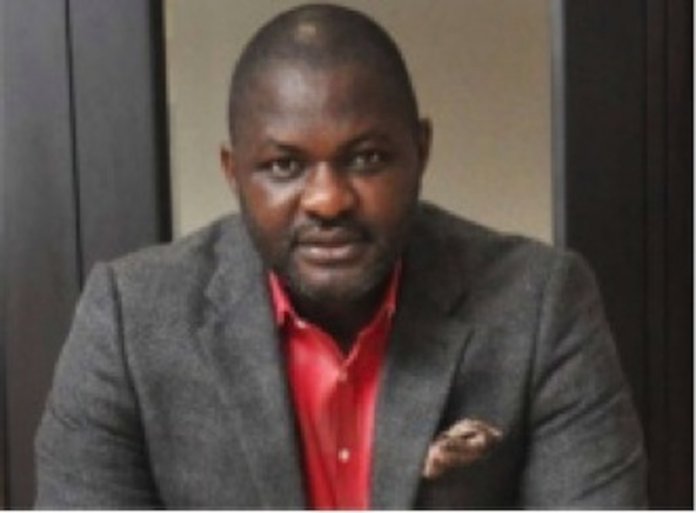 Fifty is the golden age, a period reckoned to be the true divider of humanity. Fortunate men and women reach and cross this age; the rest and the rest. As renowned oil merchant Scott Tommey reaches this divider in a few days, it is obvious that he is one of those with fortune on their side.
Folks are palpitating for what they have reported to be the boiling point of colourful celebrations, which is how they expect Scott Tommey to commemorate his 50th birthday. Judging from the man's convivial personality, this might just be what is awaiting those that will be invited—and the self-aware folks that have a different perspective on invitations.
When he clocked 40, Scott Tommey essentially commanded the front pages of newspapers all over the country. This is in spite of the fact that the party was not held in Nigeria, but in faraway Dubai. The novelty of that incident is based on the fact that Tommey was allegedly responsible for conveying his invited guests over there. But of course he can—he's Scott Tommey.
Leaving aside his many connections, Scott Tommey is known for his flourishing business within the oil and gas sector. He's the chairman of Osmoserve Global, which is an indigenous company that provides marine and engineering services to the oil and gas industry, state, and federal governments. And then his contributions to society.
Tommey's Osmoserve Global has greatly benefited the youth of the Niger Delta region. The company is reportedly responsible for the empowerment and employment of youths over there, not to mention infrastructural development.
All in all, there's nothing to be ashamed of from wanting clink glasses with Scott Tommey on his 50th anniversary. The man has done well—and continues to do well—for himself and for others. A fortunate man indeed is Scott Tommey.
Boardroom Titan, Otunba Olasubomi Balogun: An Aristocrat with Power, Opulence, Style
Today, it is a wonder that Otunba Olasubomi Balogun, almost two decades after retiring from active banking, still wields much influence in the nation's banking sector.
At 86, the former chairman and CEO of the first wholly-owned Nigerian merchant bank, FCMB, is showing no signs of slowing down.
Just as he has been making fortunes from his banking days, this stylish billionaire is also on the verge of becoming the richest property owner in Lagos. Some time ago, he was said to have envisioned a ritzy precinct of Ikoyi, Lagos, and the Ijebu-Ode-born wealthy entrepreneur recently delivered a new hallmark for sophisticated urban living with a choice of spacious luxury apartments, lavish duplexes, and penthouses somewhere right off the famous Bourdillon Road in Ikoyi.
A certain multibillionaire who was awed with the man of class' style of building disclosed to us that living in Otunba Subomi's new luxury high-rise is as exclusive as it gets. He confessed to having been dazed by the sheer opulence of the luxury apartments and had to find his way into the magnificent property to have a peek of the property. Wowed over by what he saw, the billionaire reputed to own a rich portfolio of epic properties in Lagos and London had to purchase two of the apartments each going for about $1.5 million from Otunba Subomi.
It was learnt that the new multibillion-naira luxury residential building came after his recently-completed Heritage Place, another magnificent structure occupying a pride of place on the skyline of Lagos Island.
The 13-storey plaza situated on Lugard Road by Alfred Rewane Road, Ikoyi, is not your conventional rentable space either. It is a world-class edifice with contemporary security and safety fittings.
Despite a fee of about $1000 per square metre for interested tenants, the tastefully designed and well-proportioned high-rise has seen an appreciable proportion of occupancy. Even now, many are still talking about how he had also turned his erstwhile Victoria Island mansion into another commercial abode.
It will be recalled that sometime in 2013, he moved out of that his popular Number 1, Sanusi Fafunwa Street's white mansion into a more sedated Ikoyi home.
Otunba had demolished the old mansion to give way for another magnificent masterpiece handled by construction giant, G-Cappa.
He designed his new imposing, palatial mansion sitting strategically at the junction of Milverton Road, Ikoyi to resemble that of the American seat of power, the White House.
Aside from these eye-popping properties in Lagos, Otunba Subomi also holds major London and New York real estate parcels in his portfolio swelling his bank account.
But he is not all about making money. He is also a philanthropist of note as he recently donated some properties for a worthy cause: his Otunba Tunwase National Pediatrics Centre worth about N5 billion, located at Ijebu-Ode in Ogun State was donated to the University of Ibadan, its College of Medicine and the University College Hospital (UCH), Ibadan, Oyo State.