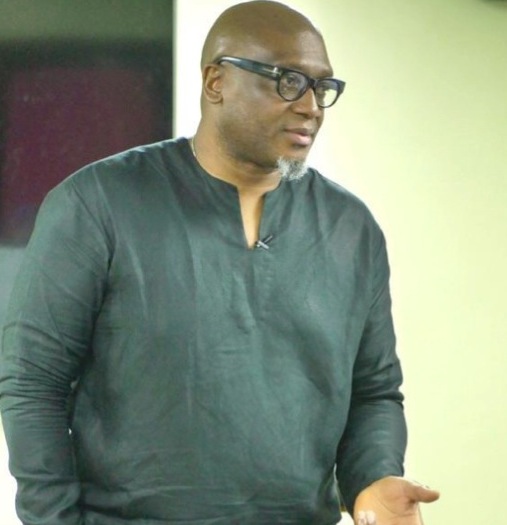 Filmmaker Mayowa Oluyeba is a man of few words but is keen on good storytelling and grooming the next generation of filmmakers, writes Vanessa Obioha
For someone who's been in front and behind the camera, Mayowa Oluyeba, is uncannily shy. He barely speaks in public unless in the company of friends. Even then, his words are not in streams, they are meticulously selected. Part of this may be because of his stutter but there is no mistaking the nimbus of tranquillity that surrounds him.
With a towering height and body build, the film producer paints the picture of a gentle giant.
As we digitally connect from the comfort of our homes, his gentle mien is conspicuous.
It's in the way he bends his head, almost in obeisance; the modest way he accompanies each answer with polite expressions, and the humble grin that spreads across the corners of his white-bearded mouth.
This matured visage contrasts sharply to the restless youth he was decades ago. Oluyeba comes from a conservative family. As a young man, he was groomed to follow the rules: behave properly, dress decently and study to become a lawyer, doctor, banker or an engineer. There was no room for the arts. In his case, he was to become a banker.
But the artist in him rebelled against the rules. He wore his hair in dreadlocks to the ire of an aunt who couldn't fathom why his father would allow him to wear his hair that way.
"She believed it was a taboo and considered dreadlock generally dirty even though mine was kept clean."
That encounter brings to mind the recent #EndSARS protest against police brutality. The scrapped Special Anti-Robbery Squad (SARS) were accused of the wrong profiling of young people as criminals because of their appearances. Oluyeba sees it as an age-old problem.
"The only people that wore dreads those days were reggae artistes and they were known with certain lifestyles. So, the general perception was that whoever had dreads must be living the same way," he explains.
The filmmaker argues that though the hairstyle is one of the ways to identify a creative person, it doesn't make them irresponsible.
"People find it hard to believe that an artist can be successful and an intellectual."The short dreadlocks have since been replaced with a clean shave. Oluyeba ended up bending to the rules by studying banking and finance in Kwara State Polytechnic. He even worked in the bank but not for long.
"I got tired of sitting down in one place. I was very restless."
That restlessness led him to become a modelling agent, working with companies that needed models for their TV commercials. Back then, the business was very lucrative.
"I had many female friends from university. If 30 models were needed, 25 of them would come from me," he reveals.
It was during this period that he met the late filmmaker Amaka Igwe. She pointed his direction to the film industry and Oluyeba has never looked back. Filmmaking, it turns out helped him to tame his restive mind. Nowadays, he channels that restlessness to creativity.
His first encounter into the make-believe world was with Solar Productions. He would later dabble into visual special effects by partnering with a friend to run a company Mega Visions. The company was responsible for the visual effects in home videos such as 'Haunted', and 'Oshodi Oke'. He also worked with Reuters News Agency and Bi-Communications. The film director owns the Phoenix Visions Limited – a company that offers consultancy services in the broadcast industry.
Today, he is recognised as a filmmaker, a broadcast technology consultant and a director.
Oluyeba acquired most of his filmmaking skills on the job by working with famed filmmakers like Tunde Kelani and Tade Ogidan. He is presently with Zuri24 Media, a production outfit owned by prolific filmmaker Femi Odugbemi. He served as the Series Producer for the critically acclaimed TV series 'Battleground'. The family drama series was recently adapted in French for the French-speaking world by Cote Quest Audiovisual. It was also dubbed in Yoruba and is reportedly garnering rave views.
Another successful production from the company is the recently concluded series 'Brethren', a daily crime show.
"Only 50 per cent of Battleground fans watched 'Brethren', the rest was an entirely new audience," he says.
A campaigner for good storytelling, Oluyeba points out that the Nigerian TV audience has "grown to a point where they understand what they want and they go for it. They want quality but good storytelling first. Good storytelling that they can relate with. They want to be able to identify a character in their neighbours or anyone they know."
"For instance," he continues, "it got to a point that people started thinking 'Brethren' was a Lagos story, but honestly, we didn't have that in mind. Everybody knows somebody that has a character in all of our shows. If you can do that to your audience, they will stick with you. It is equally important that you don't make the story too familiar because the audience is analytical. They always put us on the edge of creativity."
As 2020 presented unprecedented challenges with the global pandemic and the recent wave of protests against police brutality, the filmmaker sees more narratives woven from the experiences. He advises that filmmakers need to preserve the historical event by deliberately capturing as many perspectives as possible.
"Regarding #EndSARS protest, a good filmmaker will capture the protest from a personal perspective to the perspective of people that were in forefront of the protest; the perspective of government and policymakers, the perspective of families of people that were killed and many more. By the time people can produce documentaries and all sorts of content out of it, I am sure it will go a long way to preserve the event."
As much as he loves working with the camera, Oluyeba is also keen on grooming budding filmmakers. He takes pleasure in imparting knowledge of filmmaking on them. Perhaps, that is the only time you will see him divested of his shy nature.