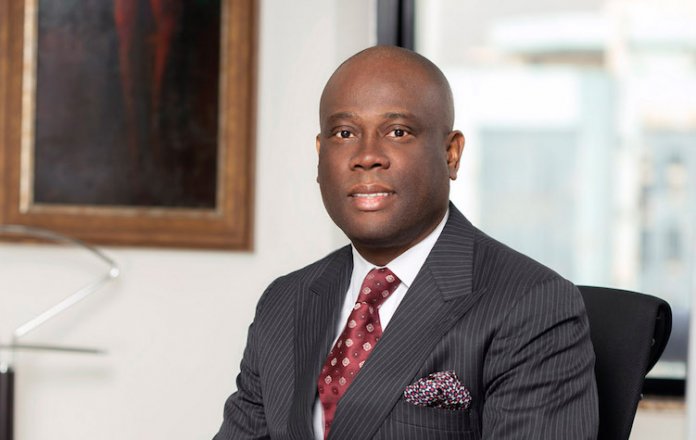 Business/ FOCUS
The Oniru axis of Victoria Island, leading up to Lekki, was beginning to wear a new look and was easing a breath of fresh air that characterises a new environment, particularly an upscale setting, until that mindless pillage that marred the peaceful #EndSARS protest. This refreshing rebirth that was introduced through a careful redevelopment, planned and executed by Access Bank Plc. It all came to ruin during the recent #EndSARS unfortunate mayhem. The bank suffered more than a distortion of its upscale corporate social responsibility (CSR) projects from activities of irate mobs. Bennett Oghifo writes
It is difficult to tell why a mob that stole livestock and even pets will resist temptation to break into a bank, hoping to score big. They tore into automated teller machines and broke into banking halls in search of cash and other valuables and what could not be removed was set ablaze by these committed arsonists.
When the smoke cleared, several top tier bank branches had been vandalised. Of the lot, close to 20 branches of Access Bank across the country were vandalised and looted and cars parked in the premises were also torched. Of particular note were the newly commissioned roads constructed by Access Bank few weeks ago, linking Yesufu Abiodun, Ligali Ayorinde, Akinbolagbe and Muri Okunola Extension, had their dressings (direction signs), street and traffic lights destroyed. Young trees, including ornamental palms that were planted to beautify the environment, as well as to help clean the air of carbon dioxide and cushion traffic noise, were uprooted with the vases broken, as if to kill any future growth.
"All the beautiful palm trees planted were removed. Flower pots used in lining the roads, as seen in developed economies, were destroyed, concrete pots, submersible pumps for watering flowers were all destroyed and removed by the hoodlums," an official of the bank said. Why did the protesters vent their anger on the beautification projects remains a thing of conjecture. It was appalling to see such beautiful enviroment created from the chaos destroyed by hoodlums hiding under the guise of protest.
It is the understanding of town and country planners that urban renewal recreates neighbourhoods and communities left behind due to demographic/population increase and economic change, by bringing back character and a sense of place.
Dilapidated areas can be reinvigorated, through land, building and infrastructure development, which allows cities to further their growth, as Access Bank Plc did on the Oniru, Victoria Island-Lekki axis of Lagos.
The Victoria Island and Lekki axis are two very busy commercial areas in Lagos State with huge exchange of economic activities daily, according to the bank. These areas easily provide employment opportunities for a large number of the people, explaining that this axis has close to 40 per cent of total employment opportunities within the formal sector.
The rejuvenation was undertaken after a careful and comprehensive study of the Victoria Island-Lekki area, including location of hubs that attract high traffic like hotels, estates, malls and banks, among others.
Interestingly, Access Bank has its Head Office on the Oniru axis and experienced the horrendous traffic first hand and this motivated them, as a problem-solving institution, to provide freedom in a hitherto chaotic environment.
The Access Bank intervention, known as Victoria Island-Lekki Traffic Circulation Project-Oniru Axis, was a step-by-step approach that had the unprecedented backing of the Lagos State government. It incorporated effective road expansion, including reconstruction of junctions and roundabouts, to improve traffic flow.
The Victoria Island – Lekki Circulation Solution was conceptualised by Planet Projects Limited (PPL) at the instance of Access Bank Plc., and its target was to eliminate noise and chaotic motor vehicle traffic that backup for kilometres, fueling man-hour loss to those caught in it, particularly business people and residents.
Access Bank considered the chaotic situation offensive to its status as a first-rate financial institution and its Managing Director, Chief Executive Officer, Mr. Herbert Wigwe thought it necessary to make it go away.
The project executor identified the challenges and proffered solution to each of them, setting goals like reduced traffic congestion; improved accessibility options for ingress and egress between Victoria Island and Lekki; improved traffic flow between both places; improved environment and living standard; and enhanced security and safety.
Lagos State continues to experience exponential growth in different areas, notably its population. "The population of Lagos offers the state a competitive advantage economically, however, on the down side, it creates challenges in terms of traffic congestions. Traffic congestion in cities typically occurs as more and more people travel to reach their desired destinations.
"Hence, there are a lot of people moving in and out of these areas in the mornings and evenings respectively. This generates a lot of traffic especially going across the critical zone that straddles these two areas, and thus leads to a lot of traffic congestion.
"The congestion is so severe, that vehicles sometimes spend close to one hour to navigate through this axis that is just about 2 km. This is mainly caused by the current travel pattern around this axis."
This project improved the traffic linkage and travel time between this highly economic and commercial axis of Lagos by reducing traffic congestion, experienced around this axis with huge productive man-hour loss.
Giving specific accounts of the challenges and solutions, the bank officials said at the areas identified as J1 – Sandfill Junction and J2 – Abila Abiodun, Oniru Junction, the existing issues were "traffic congestion at Sandfill and Abila Abiodun Oniru junctions caused by disruption of inflow of traffic due to left turn into Lekki– Epe Expressway and Abila Abiodun Oniru Street; poor pavement conditions and silted drains leading to flooded roads.
Solutions proffered were junction improvement works; restricting of left turns into Lekki – Epe Expressway and Abila Abiodun Oniru; roads and drain rehabilitation. They also turned Abila Abiodun Oniru into a one-way street and Yesufu Abiodun Oniru (up to Four Points by Sheraton Hotel). There is an option of U-turn before the Toll Gate on Lekki – Epe Expressway.
A business owner, Bamidele Olufemi, who commutes daily between Oniru and Victoria Garden City in Lekki, said the rejuvenation of the Oniru axis has improved his travel time remarkably. "I never expected the reconstruction work to have so much good effect on the chaotic traffic between Oniru here and Lekki. It is very easy now to join the main carriage way from the link roads because of the expansion and removal of obstructions."
A taxi driver stationed at Four Points By Sheraton, known simply as Mr. Suleimon, said, "Since the road was repaired, I have been able to move several times unlike before when the traffic was very bad."
A traffic warden, Dele said, "Apart from reckless driving by some people, the traffic is fine. We don't spend much time directing as we used to do."
The specific work done by Planet included easing of movement at Four Point By Sheraton Junction, where the existing issues were traffic congestion, caused by six conflict movements at the junction; poor pavement conditions and silted drains leading to flooded roads.
To solve this problem, they did junction improvement works, and implemented one-way street along Chief Yesufu Abiodun Way and Prince Alaba Oniru Road to nullify conflict movement at this junction. There is also restriction of left turns into Lekki – Epe Expressway and Abila Abiodun Oniru.14
The existing issues at Akinbolagbe Junction (Chicken Republic) were traffic Congestion at Four Point Sheraton junctions caused by faulty traffic signal, and poor pavement conditions and silted drains leading to flooded roads.
They performed junction improvement works to resolve this, in addition to installation of new traffic signals, adding that the expansion of Akinbolagbe Street will improve the efficiency of this junction.
The Muri Okunola Roundabout has existing issues such as traffic congestion and delay at the roundabout due to reduced road width, which is worsened by commercial activities and on-street parking. Road capacity is also constrained as there is only one-lane in both directions from the roundabout to Aboyade Cole Street. To resolve this, they removed roundabout and replaced with signalised junction; improved turning radius of the junction.
The Ligali Ayorinde/Akinbolagbe/Okene Road Junction has existing issues at the junction due to proximity of Akinbolagbe, Ajose Adeogun and Abdulrahman Okene junctions. There is also traffic congestion from Muri Okunola Roundabout, and the capacity of the junction is constrained due to 90 degrees corners, pavement failure and flooding.
They proffered solutions which included improvement of the Ligali Ayorinde /Akinbolagbe Junction to increase capacity. They made effort to prevent left turns from Abdulrahman Okene Close; installed traffic signals at the junction; dualized Ligali Ayorinde Street from Ajose Adeogun to Muri Okunola junctions.
Existing issues at Ajose Adeogun Junction include traffic congestion and delay at this junction, caused by dysfunctional traffic signals. There is also traffic congestion from Ligali/Akinbolagbe junction. They resolved this through installation of new traffic signal; and right turn flare lane to improve turning radius.
Another crucial area attended to was New Road Extension (Maroko), where the issue was that the existing path is used for various activities ranging from market to mechanic workshops
To resolve this, they constructed a new road from Muri Okunola Roundabout to Yesufu Abiodun Oniru Road, to increase capacity and provide another alternative.
At Akinbolagbe Street, the existing issues were major bottleneck between Oniru and Victoria Island due to insufficient road width (less than two lanes per direction) and high vehicular volumes – over 1,500 vehicles/hour) and 1,200 vehicles/hour, in the morning and afternoon peak periods. Also, pavement failure is widespread with silted drains all along the length of the road.
They solved this challenge by expanding Akinbolagbe Street to ensure there are two lanes per direction. They constructed drains along Akinbolagbe Street; installed traffic signals at both ends of the road.
To help traffic circulation, they proposed one-way streets such as Chief Yesufu Abiodun Way and other roads; Abila Abiodun Oniru Road; Yesufu Abiodun Oniru (up to Four Points); Elegba Festival Road and implementation of a one-way system on Prince Alaba Oniru Road.
During the ribbon-cutting event to inaugurate the project recently, the Chief Executive Officer of Access Bank Plc., Mr. Herbert Wigwe said the bank's desire was to offer more to its customers and host communities.
"Our track record speaks for itself," he said, referring to past projects like that in Oyin Jolayemi and Danmole Streets in Victoria Island. "Indeed, community and social impact have become enshrined parts of our DNA as a bank."
Wigwe specifically lauded the Lagos State Governor Sanwo-Olu "for the incredible support received during the execution of this project. Our commitment to facilitating a greater Lagos will not end here and I am truly excited about the infrastructural, technological and social advancements that our partnership will foster."
The governor, who cut the ribbon, said the roads network and improvement works provided by Access Bank would impact the lives of workers and commuters in the area, positively, stating "We achieved more than just creating a world-class road network. We have improved the drainage system of the community, reduced traffic and this has shown our drive to make the life of Lagosians easier.
"I am absolutely delighted with Access Bank as they have continued to support Lagos State Government and working with us on numerous projects across the State.
"Herbert Wigwe and his team have worked really hard to bring this project to life and have supported us on other projects like this. We appreciate the bank for its contribution to public infrastructure improvement."