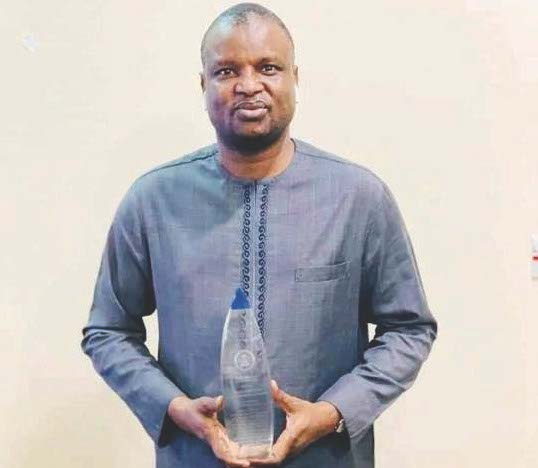 Until a begrudged businessman stepped onto the stage of the Lagos State (#EndSARS) Judicial Panel of Inquiry, there were only kudos for DCP Abba Kyari, the commander of the Inspector General of Police's Intelligence Response Team, setting the scene for the scrutiny of one of Nigeria's most decorated police officer, writes Bayo Akinloye
When a begrudged businessman, Afeez Mojeed, opened a can of worms in a petition to the Lagos State (#EndSARS) Judicial Panel of Inquiry that Nigeria's arguably most decorated policeman, Abba Kyari, extorted N41 million from him, it may seem easy to pronounce the cop guilty as charged.
Until that weighty allegation, Kyari – considered a super-cop and incorruptible – was viewed as one of the very few exemplary Nigerian policemen. He has records to back that up. From the Presidency to the House of Representatives, Kyari is held to the highest esteem.
A deputy commissioner of police, Kyari, is the commander of the Inspector General of Police's Intelligence Response Team. He has been credited with more than 80 high-profile arrests in Nigeria and is considered as the most decorated police officer in the country.
In 2016, President Muhammadu Buhari honoured him with the presidential medal for courage. A couple of years earlier, the Nigerian Police Force awarded Kyari the commendation medal for courage, three years in a row – 2012, 2013 and 2014. In 2011, 2012 and 2013, the Lagos State government honoured him with the Governor's Award for Gallantry, Leadership and Service Excellence.
Kyari is just 45 years old and considered one of the very few Nigerian policemen untainted by corruption and extrajudicial brutality but Mojeed's accusations against him are sordid; illustrating details as dark as a bad cop's thriller movie.
Kyari has denied the weighty allegation. His counsel, Barrister Hanzu Nuhu, said the businessman was playing the victim when, in fact, he is the culprit.
Nuhu explained, "Afeez Mojeed defrauded a victim of N94 million. He was arrested six years ago and N41 million was recovered from the proceeds of the crime which he voluntarily paid the victim back directly through the victim's account.
"He confessed on video and in writing that he bought Honda Account 2008 model and N7 million land from the N94 million he defrauded and that he has squandered the remaining N31 million on hotels and girlfriends.
"He submitted the car and land documents which were registered as exhibit before He was charged to court and after some years he was discharged not acquitted from court because the complainant was not coming to court as most Nigerians do."
Here is a snapshot of what Mojeed is accusing Kyari of: the businessman said the policeman while in charge of the publicly-dreaded but now disbanded Special Anti-Robbery Squad (SARS) extorted N41 million from him in 2014 and was detained for 14 days.
"It is our client's brief that on 18th October, 2014 at about 8.30 pm — 9.00 pm, he was at home his wife who was five months pregnant, his 18-month old son and his mother-in-law, when suddenly he heard a bang on his door and within minutes, the banging continued unabated and he started hearing loud noise screaming, 'Open the door now or you will hate yourself if we come in.'
"That our client and his people were confused as they did not know what was going on and who was after their lives. Before one could say 'Jack Robinson' the door had been pulled down and four impostors burst in with gun in their hands and asked them to lie face down and started ransacking the house.
"In the process, they forcefully took his wedding ring and that of his wife from them, opened their wardrobe and took the sum of N280, 000 (Two Hundred and Eighty Thousand Naira Only) and the sum of N50, 0OO (Fifty Thousand Naira only) was also taken from his car, after which the Honda Accord (2008) model car was seized and taken away to date."
According to Mojeed, the police seized from him "iPhone 5 worth N135,000; Airtel Phone — N7,000; Nokia Phone – 15,000; German invitation letter; landed properties documents; two shops documents; a set of wedding rings; dell laptop; Diamond Bank cheque book; Zenith Bank cheque book; and Zenith Bank ATM card. The petitioner said he was later arraigned on "trumped-up charges."
These allegations are reminiscent of a 2017 allegation against Kyari and his team. But it was dismissed by the police and it appeared nobody paid attention to it, largely because the accusation came from a discredited source.
Olukoya Ogungbeje, counsel for alleged kidnap kingpin, Chukwudumeme Onwuamadike (Evans), petitioned the Police Service Commission, calling for the probe of the policemen who handled the case of his client. In a petition dated October 13, 2017, it was alleged that members of the Inspector General of Police Intelligence Response Team extorted Evans.
The team, led by Kyari, was said to have "forcefully and corruptly extorted" from Evans cash in local and foreign currency as well as various items including phones, wrist watches, jewellery, television, cars and trucks; that the policemen took N50 million from Evans, while his wife was also forced to part with another N5 million; that $10,000, was also forcibly taken from the suspect by the police.
Other items allegedly taken from Evans by the police, according to the petition were a Brigade wristwatch, valued at $117; a pendant cross, worth $70,000; a necklace, worth $25,000; a Virtu phone, worth $30,000; a Virtu Signature phone, valued at $17,000; and five pieces of Saphono Ruccu diamond rings worth $100,000. Others included 85-inch Samsung TV, worth N6.5m in Evans' apartment; 25 Mack trucks; a Lexus 470 SUV; a Grand Cherokee jeep; a L400 Mitsubishi bus and a gold-coloured Toyota Highlander SUV.
Apart from Kyari, other policemen mentioned in the petition were ASP Phillip Rieninwa, who was specifically accused of obtaining $10,000 from the suspect; ASP Sunny Ubua; ASP Emmanuel Ali; Inspector Idowu Haruna; Inspector Egunjobi Segun and "other policemen attached to the IGP Intelligence Response Team." Kyari's team was also accused of sexually "molesting" and "abusing" Evans' girlfriend, Amaka Offor.
The police had denied any wrongdoing in the alleged extortion of Evans.
But there is the ring to the latest accusation against Kyari: extortion. Mojeed claimed in his petition that he was arraigned for stealing N97 million and for over one year that the matter was in court, the police did not show up or brought any witness, after several adjournments. The case was eventually struck out.
"It needs be pointed out that," stated the businessman's lawyer, "while in detention, the police under the supervision and threat by Abba Kyari (OC SARS) forced him (Mojeed) to sign three Zenith Bank cheques in the sum of N150,000 each making N450,000 in total on October 2-23, 2014 and gave same to One Alabi Olawale Nurudeen, who is also one of their cronies to withdraw.
"They also forcibly obtained the password to his ATM card of this same bank with which they withdrew from his account severally from 20 – 23 October, 2014 to the tune of N395,000. As if these were not enough, the police, led by one Inspector Fola, Corporal Bolu Corporal Akeem under the directive of Abba Kyari and J. Okeke (second-in-command of SARS) Ikeja then took our client to Diamond Bank, Ajah Branch, on 23 and 24 October, 2014 to forcefully transfer the sum of N41, 000, 000 and N800,000, respectively from his corporate account, M. Mateen Concepts, into the account of one Obinna Edward, whom our client had never seen or heard of before, after which they shared the money."
Not a few Nigerians will want Kyari, the apparent poster boy for Nigeria's police, to come out and clear his name. On the other hand, people may have to wait until the ongoing panel completes its hearing. Dirty cops, many Nigerians say, have had a field day in the country and noting that the public have only been able to have their say.
Will justice be served on this panel? Will Kyari be a scapegoat? Only time will tell.