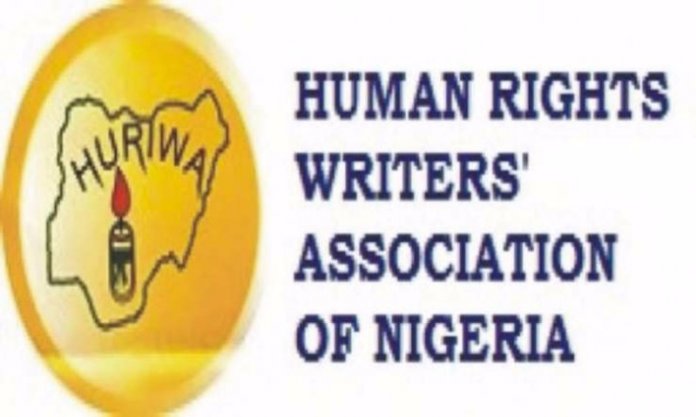 Human Rights group, Human Rights Writers Association of Nigeria (HURIWA) has called on President Muhammadu Buhari to intervene and stem the imminent job loss at Transcorp Hilton where the management was on the verge of sacking most of its work force.
The rights body which also called on the management to adopt other measures that would save the jobs as such action would not only impact negatively on the employees but will also impact negatively on their employment rights.
A statement by the Executive Director of HURIWA, Comrade Emma Onwubiko further charged the federal government to "drop the minister of state for labour Mr. Festus Keyamo (SAN) as a mediator in the brewing labour crises" alleging that Keyamo enjoyed "cosy relationship with the Chairman of Transcrop Hilton Mr. Tony Elumelu."
Onwubiko alleged that relationship it monitoredbetween Keyamo and some management staff of the hotel had clearly showed that the minister of state was no longer neutral, "neither is he the fit and proper government official to negotiate any kind of accord between the management and the organised labour force in the hotel.
"We are asking the minister of labour Mr. Chris Ngige to take up the task of resolving all the knotty discord between Transcorp Hilton management/owners and the staff so the entire labour related contractual rights of the workers are paid to them should Transcrop Hilton makes good the plan to disengage a large numbers of workforce.
For us, we think, the Nigerian government should do everything to stop Transcorp Hilton management from proceeding with the despicable plan to throw hundreds of Nigerians out of employment at a time of extreme financial hardships.
If on the other hand the management insists on proceeding with the job cuts, then those to be affected must be paid all their entitlements as captured under their employment contracts including redundancy, retirement and service charges' benefits so that those who still have fifteen years to reach the statutory retirement age of 55 years can as well find other means of livehood.
"We are surprise to hear GM in one of our meeting informing us of the intention of management/ owners to downsize 80% of the workforce with payment of 20% of accrued severance benefit thereby neglecting the provision of our Condition of Service."