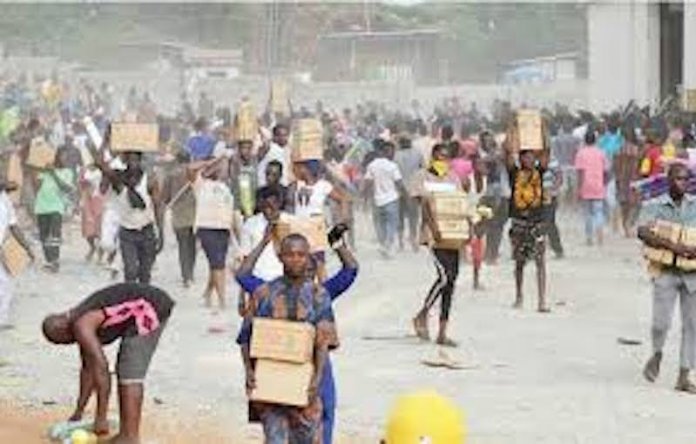 By Olawale Ajimotokan
Three women yesterday lost their lives after they were crushed in a stampede during the looting of a warehouse by hoodlums and others in Gwagwalada in Gwagwalada Area Council of the Federal Capital Territory (FCT).
The unfortunate turn of event occurred just as the FCT Police Command has paraded 51 suspects for looting relief items that were stored in private warehouses at Jabi-Daki-Biu, Idu Industrial Estate, and Karimo in the FCT.
Many people scrambled for the items after some hoodlums broke parts of the roof of the warehouse to provide access into the hall for all manner of looters.
It was as a result of the stampede occasioned by the rush that the victims lost their lives while many others sustained various degrees of injuries.
The warehouse at Gwagwalada was stocked with COVID-19 items that belonged to the Federal Capital Territory Administration (FCTA).
Items looted included bags of rice, cartons of noodles, Spaghetti, macaroni, bags of fertilizers, brand new motorbikes, grinding machines, bags of salt, bags of sugar and cartons of soaps.
Personnel of the Nigeria Civil Defence and Security Corps (NCDSC), the Nigeria Police and a contingent of the Brigade of Guards of the Nigeria Army, which were mobilised to the scene were overpowered by the looters, who converged on the warehouse early in the morning and forced their ways into the storage facility.
Meanwhile the FCT Commissioner of Police, Bala Ciroma, has arraigned 51 suspected warehouse looters.
Ciroma, who addressed journalists yesterday, said the police also recovered some of the looted items from the hoodlums.
The FCT police commissioner, who vowed that the Command would not condone any act that could undermine the security of lives and property, said the suspects would be arraigned in court upon conclusion of investigation.
Some of items recovered were 52 bags of five kg rice, two bags of 50kg rice, four cartons of Eva soap, one big sack of tomato paste and one big sack of spaghetti. Other exhibits were 20 pairs of trousers, 33 shirts, 10 linens and 17 wrappers.