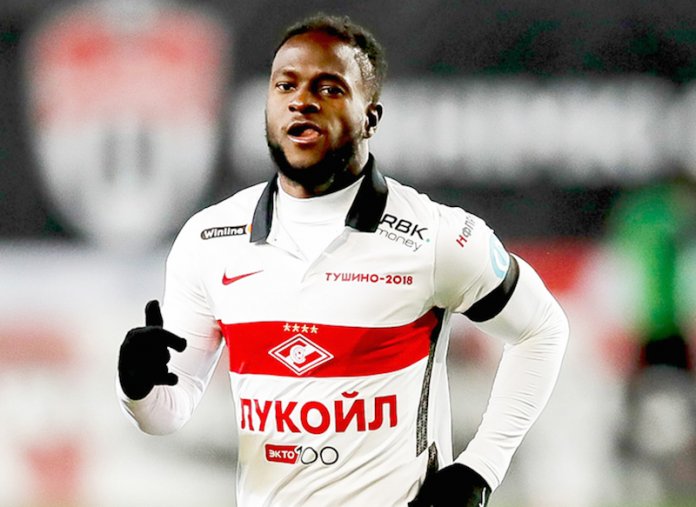 Since the exit of Antonio Conte from Chelsea, it was obvious that subsequent Blues managers have no place for him, culminating in a loan stint in Turkey and Italy. With the egg heads of Spartak Moscow ready to make his latest loan move permanent if he impresses, the question is if Victor Moses can make a home in Russia as his chances of playing at Stanford Bridge is almost zero
One thing was obvious after Victor Moses completed his loan spell at Inter Milan and returned to Chelsea, that another loan was in the offing as he was never in Frank Lampard's plan. Speculation then became rife as to where his next destination would be.
Last week however, Moses agreed to join Spartak Moscow for his latest assignment, and made his debut last weekend as an early second half substitute.
Speaking via his media team, Victor said he was excited about the new challenge and also described Spartak Moscow as one of the biggest clubs in Europe.
"It's a pleasure for me to sign for Spartak Moscow, one of the greatest clubs in Europe, I can't wait to get started and meet my teammates. It's going to be an interesting season." He said.
The former Nigerian international replaced Nail Umyarov in the 55th minute.
As at the time of the former Nigerian international's introduction, Spartak were losing 1-0, but with inspired Moses they would score three times in the next 20 minutes, and go on to win 3-2 to maintain their early-season charge to the top of the Premier Liga table, where they remain second only on goal difference behind powerhouse Zenit St Petersburg.
This development suggests that Moses can be challenging for another league title after achieving that same feat once with Chelsea in 2017 under the tutelage of Antonio Conte.
Moses wore the number 8 shirt at Spartak. The number has been previously worn by Guus Til, Denis Glushakov, Aiden McGeady, Nikola Drincic, Aleksandr Pavlenko, Dmitri Alenichev, Aleksandr Danishevski and Marcelo Silva among others.
Moses's preferred number 11 which he wore at Crystal Palace, Wigan Athletic, Fenerbahce, Inter Milan and for the Super Eagles, has already been taken by Sweden forward Jordan Larsson.
The 29-year-old started life at Fenerbahce with the number 8 and wore the numbers 12, 13 and 15 on his back at Chelsea.
So far so good then for their ambitious plan to return to the glory days of the 1990s, when they were the dominant force in Russian football, winning nine titles in 10 years from 1992 to 2001 and were a factor in European competitions as well after reaching the semifinals of the European Cup in 1991 and the quarterfinals of its successor, the Champions League in 1996.
Such ambitions don't come for free however. Fortunately, as confirmed by Spartak director Shamil Gazizov, Moses agreed to take a small paycut in order to join, and the move itself could be made permanent for a reported fee of just €10m should they qualify for the Champions League next season.
Expectedly, Moses was happy with how things panned out in his maiden outing in the Russian League and he expressed his delight with a tweet where he wrote: "Delighted to make my debut for this great club! Great to start with a win yesterday, hopefully, the start of many."
Spartak Moscow general director Shamil Gazizov says talks to sign Victor Moses from Chelsea went on smoothly.
Moses joined Spartak Moscow on a one-year loan deal last week with an option to buy for €8m.
Gazizov said, "I cannot say that the negotiations were easy, but they were warm. We agreed quickly enough. By October 5, we were already confident of the deal.
"We also talked to Marina Granovskai. The main issues were resolved with her.
"A strong manager, I can't say anything else. What else to say about a woman who is quite successful at Chelsea?"
Moses' present stint is his sixth loan move in eight years.
The 29-year-old was last on loan at Inter Milan. But before then, Moses had been shipped to Liverpool, Stoke City, West Ham, and Fenerbahce at different times from Chelsea
Moses attended Stanley Technical High School, now known as the Harris Academy, in South Norwood. Scouted playing football in the local Tandridge League for Cosmos 90 FC Crystal Palace approached him, with the club's Selhurst Park stadium just streets away from his school.
Moses first came to prominence at 14 after scoring 50 goals for Palace's under-14s side. Playing for three years at both Whitgift and Palace, Moses scored over 100 goals as well as helping Whitgift win many School Cups, including a National Cup where he scored all five goals in the final against Healing School of Grimsby at the Walkers Stadium, Leicester.