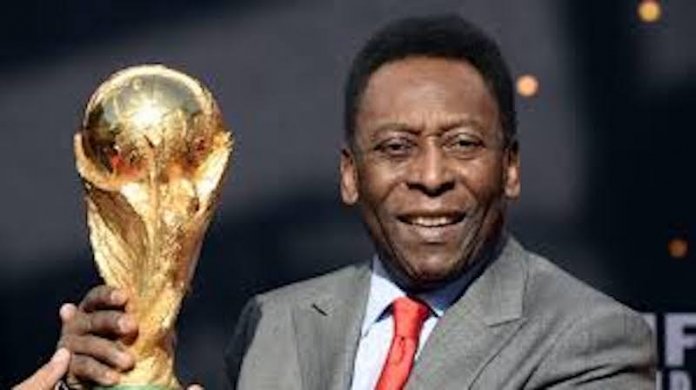 Fidelis Iyebote pays tribute to Pele, the King of football
Edson Arantes do Nascimento is his official name. Universally, he is called Pele and planetarily, he is acknowledged as the undisputed king of football. No celebrity or government leader in all of history can claim to have a better name recognition than Pele who enjoys the goodwill of all–male and female, young and old–in virtually every country. Even the popular U.S. President Reagan acknowledged this fact when he said at an official reception for Pele in 1982. Said he: "I need to introduce myself as Ronald Reagan, president of the United States of America, but Pele does not need any introduction because everyone knows him."
Born on October 23, 1940, at Tres Coracoes, Brazil, Pele was only 10 years old when an event that shaped most of his life happened. On their grounds, Brazil lost the 1950 World Cup soccer finals to Uruguay. The nation was devastated and the people mourned. On that day, Pele saw his father, Joao, who himself, was a footballer with the nickname Dondinho cry for the first time in his life. As a way of consoling his father, Pele made him a promise, "One day, I will win you the World Cup." Pele said afterwards, "seeing my father cry was more shocking to me than losing the World Cup."
It took Pele only eight years to keep his promise to his father when in 1958 he scored twice to beat Sweden 5-2 in the World Cup finals to lift the Jules Rimet Cup for Brazil. In jubilation, Pele's father and mother, Maria Celeste held him at the same time and kissed him on the left and the right cheeks on his return home.
Call it the application of sports diplomacy, if you wish. A year and a half into their fratricidal Civil War the national mood of Nigerians was so sombre. The economic blockade of the Eastern Region and the bombings had left some calamitous effects on the lives of the people, especially children who died in large numbers from malnutrition. On the federal side, there were discouraging stories about cases of "inhuman" prosecution of the war. Most Nigerians, therefore, heaved sighs of relief when the announcement came late in January 1969 that a cease had been accepted by Federal and Biafran leaders in honour of Pele and his visiting Santos Football Club. The announcement added that Santos would play a peace-inspiring, match against the Nigerian national football team, the Green Eagles. The friendly match was slated for Lagos City Stadium, Onikan with a Portuguese name Lagos, meaning lagoon, which hedges around the bustling metropolis.
So, on January 26, 1969, from about 2 p.m., the long lines of men and women fans began to build from the Racecourse bus stop at Tafawa Balewa Square via the Island club and from the State House, Marina end, all leading to city stadium venue of the match. "What is happening?" some uninformed passers-bye began to ask. Pele is coming to play at city stadium, they were told. Over the national radio came on the unmistakable voices of the inimitable Nigerian sports commentators, Ishola Folorunso and Yemi Fadipe. About an hour to kick-off, the stadium had been filled to capacity. I was lucky to get a ticket to watch the game. Nobody lives on trees in Africa as wrongly portrayed by the western media. But on that momentous day, some people who could not get tickets to watch the game climbed on nearby trees to catch a glimpse of Pele. The game started on scheduled at 4:45 p.m. In quick succession, Pele struck twice to find the upper far end corner of the net past the great Nigerian goalkeeper Lawal Inuwa Rigogo to put Santos two goals ahead. Nigeria drew level with goals from the indomitable Muyiwa Oshode and mid-field motivator Baba Alli, both from Israel Adebajo's Stationery Stores that formed the nucleus of the national team for several consecutive years.
My first face-to-face meeting with Pele was in Seoul, South Korea. One of his aides had given him a copy of my book, titled Nothing Like it Before: the untold Stories of the World Cup Soccer Championships which features on the cover Pele and President Bill Clinton playing football. Pele asked his aide to invite me to meet with him at his hotel in Seoul. My meeting with him was such a delightful moment. After exchanging pleasantries, we talked for an hour over a glass of orange juice and I could see in him the humility, loving-kindness and compassion for people that motivated his establishment of Vila Olimpica–the sports-oriented school he built for the poor in the suburb of Rio de Janeiro. The then U.S. President Bill Clinton and Pele played soccer with students of the school on October 15, 1997, during an official visit to Brazil. The Xerox Company arranged the visit to the school. President Clinton spoke some words of encouragement to the students, saying every child comes into this world with a gift from God–the power to dream of great things to achieve."
Pele is aging gracefully with bright hope for the future but as with older people, he struggles with some health issues ranging from urinary tract infection, kidney problems to eye ailments. Lately, he resorted to the use of a wheelchair to move around following a hip operation that was not accompanied by adequate rehabilitative therapy.
Although Edinho, Pele's son said his father was "becoming reclusive as a result of his inability to walk around unaided, Pele was quick to respond, saying "I am good. I continue to accept my physical limitations in the best way possible, but I intend to keep the ball rolling." He added: "I have good days and bad days and that is normal for my age. I'm not afraid; I'm determined, confident in what I do." He said he was "not avoiding the fulfillment of his commitments" and daily routine.
Some fans and friends of Pele around the world have joined hands to wish him a happy and blessed birthday. In response to his physical, health, emotional and spiritual needs, they have formed the global association, Cheerleaders for Pele. The organisation seeks to "respond promptly to concerns the king of football expresses from time to time.and to help him in every way possible to age gracefully and warmly." After the next World Cup in Qatar, the association will organize visits to Brazil to meet with Pele and listen to him to see how best members could help him live a more pleasant and productive life. All hail, the king of Football.
Formerly of the Guardian and U.S. News & World Report, Iyebote serves as an Assistant Chief Election Officer in Fairfax, a Washington, DC suburb