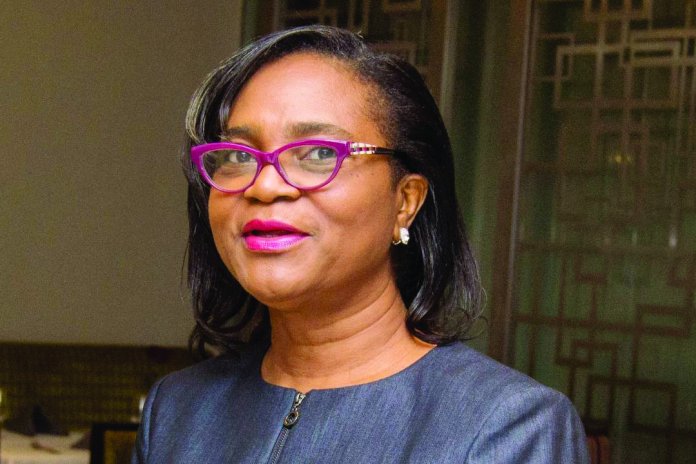 Margret Olele is the Chief Executive Officer of American Business Council, Nigeria. Margret is also a prolific writer and a seasoned corporate affairs communicator. She tells Festus Akanbi women have no excuse to shirk their responsibilities at home in the name of pursuing careers. She also speaks on a number of issues, including choice of careers for Nigerian students, and potential lessons from the ongoing EndSAARS protest
Growing up
Ispent the first three years of my life in Ibadan, Oyo State. In countries where the state of your birth is your birth state, I will say I come from Oyo State. Most of my early life was in Abule Oja, Yaba Lagos. I attended Our Lady of Apostles Secondary School and Queens College Yaba. Many higher institutions are situated near Abule–Oja – University of Lagos, Yaba College of Technology, Federal College of Technology or Trade Centre, as they called it at that time. It was an extension of the education community. The area was mix –grill- people lived in duplexes, flats, but others lived in 'face me-I-face you' homes. As children, we all played together, oblivious of the social and economic disparity. The last time I visited Abule-Oja (my family house is there), I was amazed at how rundown the place had become – very ugly storey buildings to cater to the increasing accommodation needs of students at the University of Lagos and, perhaps, those of Yaba college of Technology.
Career Path
I had parents who encouraged us in our chosen career path. My mum bought many books that encouraged me to read a lot and expand my intellectual horizon. My father was always available to teach us, and even had to attend a course at UNILAG to fully understand a certain area of study in Mathematics when we were growing. I was both an Arts and Science student–a bit weird. In fact, I was the Lab Prefect in my school. I liked sciences, but loved the Arts, especially Literature. We had a young female Youth Corper who taught us Literature. She made Literature come so alive that it was not difficult to take a decision after that. Her name was Nkechi Alli–Balogun.
Lessons for Children
They should learn to respect hard work; know that the highest achievement is possible. They should learn it is important to explore every side of our being and exploit it to the fullest. That it is important to respect timelines, and that ideas are like bubbles, and if you don't burst yours first, someone else will catch the bubble, and that there are lots of natural ways to keep healthy. Overall, they should trust in God in all things.
Becoming CEO of American Business Council
The American Business Council is the voice of American Business in Nigeria and the affiliate of the US Chamber in Washington DC. I sat on the Board of Directors representing one of the US companies. When I retired from the company in 2017, I realised there was a lot I could do to support the strategic vision of the America Business Council and the founding Father, Dick Kramer. The rest is history.
Lessons from the ongoing EndSAARS protest
Nigeria is a very interesting country and I'm not surprised Wole Soyinka sang 'I love my country, I know go lie…' Nigeria has different sides. When I discuss Nigeria with US companies, thinking of doing business in the country, we talk of the potentials of the country; a country with highest GDP in Africa, population, the dynamism and the indomitable personality of the people, especially the young population. I have also been involved in teaching a graduate class as an Adjunct Faculty at the Pan Atlantic University, witnessing first-hand the extremely intelligent and innovative youth in Nigeria, apart from engaging actively with my children and nephew's friends.
I believe the youth have a lot to offer this country and it is consoling to note that our youth are able to organise themselves in a non-violent way, definitely a sharp contrast in some roles some play during elections. I have also trained the medical corp of the Police Force at the Police Clinic and found very young and intelligent people in this engagement. I will say the lessons are unfolding. I will also say that the government is also responding, perhaps not as fast as the youth may want, but I see traction. Overall, I would be using the words of William Blake the eccentric English Poet in his Marriage of Heaven and Hell, "Without contraries, there is no progression".
Police Brutality
Police Brutality will always be there and it is not only peculiar to Nigeria. I have been a victim of anti–riot police in 1989 when I was studying for my Masters at the University of Ibadan. We did not have mobile phones then and I was living off campus. I was unaware that the school had joined the national student demonstration that year and that the Police had sealed off the campus. As a friend and I approached the campus, two of the anti- riot Policemen perceived we were students and they shouted that we should knee down. I refused, as I did not know what we had done wrong. I had a rain of baton blows on my person. But, for friends who pushed me to my knees and kept begging, it would have been a different story today. Police brutality has no geographical or time colouration. It transcends time and geography. I believe this protest has become a metaphor to look at all areas that appear as pain points for government to redress. For me, it should also be an opportunity to end all anti-social responses, and that is the responsibility, not just for the government, but for everyone.
Options for students in the face of growing unemployment
First, do not read a course because other people are doing so, or because you just want to attend University. I learnt that early in life and it paid off for me. Learn to position yourself for the career or business you know how to do best and have a passion for. Begin to plan long before you finish school the options available to you. Learn from those who have succeeded what they did right. Leverage relationships from school, Youth Service et. al. They can provide you with the next direction of your career path.
Nigerians excelling abroad
They have a less challenging environment and more opportunities to excel. I use the Pawpaw (Papaya) tree at the back of my house as a typical example. It was lean and frail-looking until I began feeding it with rich natural waste composite. Three months after, it has fruits and I'm waiting to harvest, but it may have died if I paid no attention. We have to "feed" our talent.
Combining career with home affairs
It can really be fun if you see home affairs as another project that must succeed. As a person, I throw my passion into all that I do and love. So, it is not as challenging as most people think it is. It is always important to remember when you are no longer at the office and be the wife, mother and aunty that you should be. Very challenging sometimes, but try to make your children and spouse your friends.
Nigerians being excluded from US Visa Lottery 2022
Every country has the right to have their own foreign or immigration policy, no matter how hurtful it would be to the other side. If we have a consistently enabling environment, some Nigerians will never seek to migrate. However, the two countries still have a good business/trade relationship and we have US companies that have been in existence in Nigeria since 1960. The US government and companies have supported Nigeria during this Pandemic. I hope that this may not be permanent decision of the US government. I also hope that a time will come when Nigerians will not see this as the only option to grow. I captured my thoughts on this in my recent article 'Stop Whining, Time to Upgrade Our Huts'.