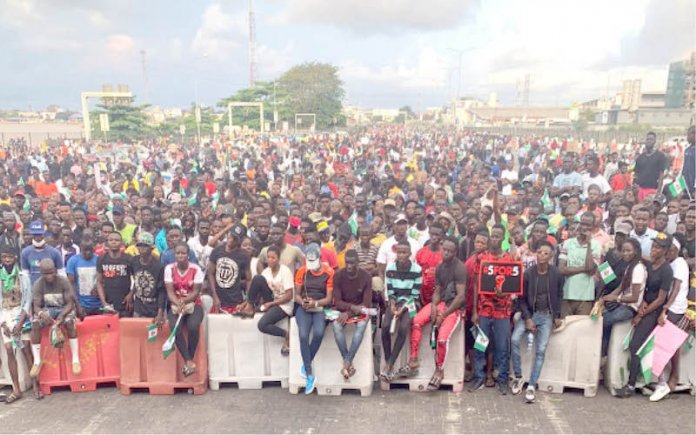 •Buhari briefs former heads of state, restates opposition to hooliganism
•Jonathan: No nation can ever win battle against its own people
•Ongoing police reforms will end impunity, Osinbajo tells US
•US urges Nigeria to prosecute killers of protesters
•Sanwo-Olu eases curfew, warns against further protests
•Fayemi threatens to deal with arsonists, looters
•Sunday Dare: Why Buhari hasn't spoken on Lekki shooting
•Atedo Peterside: Youths must start now to make #Endsars come to life in 2023
Bennett Oghifo, Segun James in Lagos, Adedayo Akinwale in Abuja, Yinka Kolawole in Osogbo, David-Chyddy Eleke in Awka and Victor Ogunje in Ado Ekiti
Investigation by THISDAY has revealed that 62 people were killed nationwide in the protests against the now-dissolved police Special Anti-Robbery Squad (SARS), which metamorphosed into agitation for improved governance in addition to justice for victims of police brutality.
It has also emerged that over N1 trillion may be required to rebuild public and private property destroyed by hoodlums in Lagos. This was a rough assessment of the financial requirement after Governor Babajide Sanwo-Olu visited some of the destroyed property yesterday.
This is coming on the heels of a virtual meeting held with former Presidents by President Muhammadu Buhari, who briefed them on measures taken so far to manage the #EndSARS crisis.
Official figures, which THISDAY accessed last night, show that 51 of those killed are civilians while 11 others were policemen.
The shooting by soldiers to disperse the protesters at the Lekki toll gate in Lagos had triggered more violence, resulting in deaths, largely in the state.
Earlier yesterday, Sanwo-Olu toured parts of the city affected by the breakdown in law and order. He was badly shaken by the level of destruction across the state.
The long list of destroyed public and private property in Lagos are Ajeromi Ifelodun Local Government secretariat; Palace of the Oba of Lagos; Lagos High Court, Igbosere; Oyingbo BRT terminus; Ojodu Berger BRT terminus; Vehicle Inspection Office, Ojodu Berger; Lagos State Public Works Corporation, Ojodu Berger; Lagos City Hall and Circle Mall, Lekki; numerous luxury shops in Surulere, The Nation Newspaper, TVC and Shoprite Lekki.
The state Commissioner for Information, Gbenga Omotosho, said 27 of the destroyed BRT vehicles cost $200,000 each, while 57 of them cost $100,000 each, all totalling about N3.9 billion.
According to the police, the 25 stations burnt in Lagos are Orile, Amukoko, Layeni, Ilasamaja, Ikotun, Ajah, Igando, Elemoro, Makinde, Onipanu, Ebute Ero, Pen-Cinema, Isokoko, Alade, Cele, Igbo Elerin, Shibiri, Gbagada, Onilekere, Makoko, Daleko, Asahun, Makinyo, Amuwo-Odofin, Anti-Kidnapping, Surulere. Other police stations that were vandalised but not burnt were Ojo, Ojodu, Mowo, PPL and Morogbo.
The Governor was at the Ajeromi Ifelodun Local Government Secretariat, where he saw several cars in the expansive premises of the LGA that were either burnt or damaged.
All the buildings within the premises, including that of an old generation bank located there, were also destroyed.
He then moved to the adjourning police station where he also saw massive destruction.
A number of people he met at the station lamented that they were sons and daughters of police officers and wondered why their parents should be singled out by the hoodlums when they were simply performing their lawful duties.
A particular woman, wept and complained that they could not be given decent education because their parents were poorly paid and appealed to Sanwo-Olu to see to the welfare of policemen and women.
The governor then left the LGA Secretariat to visit some other spots in the area that suffered extensive damage.
Lagos Relaxes Curfew
Meanwhile, Sanwo-Olu has announced the easing of the curfew imposed on the state.
The announcement was made during a state-wide broadcast yesterday from the State House in Marina.
The governor said people are allowed to go out between 8am and 6pm from today.
He said, "We have decided that we are going to be easing the curfew from tomorrow (today) morning; and what that easing means is that people will be allowed to go out from 8am to 6pm.
"For emphasis, from 8am tomorrow (Saturday) morning, you will be allowed to go out, to go wherever you wish till 6pm in the evening."
The governor also warned against protests in the state, saying "enough is enough".
Sanwo-Olu ordered the clean-up of the state, saying Lagos must heal.
He said, "We have also commenced the clean-up of the city because the city needs to be clean up. A whole lot of roadblocks, tyres burnt on the road…LAWMA (Lagos Waste Management Authority) are out already. They will be working all through the night.
"But in the event that they do not finish, I want to admonish and appeal to motorists and our citizens to be careful on the road. Please if you do not need to go out, please stay at home. But if you must and you have to go out, please drive with a lot of caution because there are still a lot of barricades, bonfires, broken bottles, burnt tires. Please be careful.
"We will try to clean up the city overnight. We've pushed all of the men outside."
Buhari Briefs Former Leaders
Meanwhile, President Buhari, during the virtual meeting with the former heads of state, reiterated that his government would not fold its arms and allow miscreants and criminals to continue to perpetrate acts of hooliganism in the country.
He said it was unfortunate that the initial genuine and well-intended protest of youths in parts of the country against the Special Anti-Robbery Squad (SARS) was hijacked and misdirected.
The former Nigerian leaders that participated virtually were Yakubu Gowon, Olusegun Obasanjo, Ibrahim Babangida, Ernest Shonekan, Abdulsalami Abubakar, and Goodluck Jonathan.
The President recounted the initial concessions made by his administration on the demands of the youths protesting against the excesses of some members of the SARS.
Buhari recalled that the youths had demanded that the squad be disbanded and articulated additional demands.
The President added that part of the demand that were met included the immediate release of all arrested protesters and justice for deceased victims of police brutality and appropriate compensation for their families.
Buhari added: "Setting up an independent body to oversee the investigation and prosecution of all reports of Police misconduct within 10 days.
"Psychological evaluation and re-training of all disbanded SARS officers before they can be re-deployed; and increase in Police salary."
"We accepted all the demands and proceeded immediately to scrap SARS and started the process of addressing the other demands.
"Unfortunately, the protesters refused to call off the protest and engage the Government to address their grievances. Instead, they became emboldened and gradually turned violent."
Buhari, however, expressed concern that in the mayhem that ensued, many lives had been lost, a number of public and private properties completely destroyed or vandalised.
The President reaffirmed that his "government would continue to improve good governance through our democratic process, including through sustained engagement."
He stressed that his government would continue to ensure that liberty and freedom, as well as the fundamental rights of all citizens are protected. "Here, I want to also reaffirm our commitment to preserving the unity of this country."
The President thanked the former heads of state for attending the meeting and their invaluable comments, observations and advice, adding that "Nigerians expect nothing less from responsible statesmen."
They were unanimous in their view that generation of employment and growing the economy including through direct foreign investments were critical to checking youth restiveness.
Each of the former leaders also commended Buhari for steps taken so far to restore calm and order to the country and also applauded the presidential broadcast of Thursday as detailed and soothing to the country.
They also expressed their condolences to the bereaved families of civilians, policemen and soldiers killed as a result of the violent protest, and reaffirmed the commitment to respect the fundamental rights of citizens, including for peaceful protest as enshrined in the Constitution.
The former heads of state also condemned the divisive and inciting pronouncements of separatists, and were of the opinion that such acts should be stopped.
Obasanjo said, "I commend the speech of last night. The nation had been waiting. You made points that I believe need to be commended. Peaceful demonstration is part of democratic practice. The demands of the genuine protesters were accepted, and you are working on implementation."
Equally, the former leaders commended the actions taken by governors to address the demands of the ENDSARS protesters and their efforts to check the excesses of those who perpetrated violent acts and conduct.
They, therefore, called on youths to pursue peaceful means in seeking redress through engagement with Government and encouraged further conversation with the youths and other stakeholders in the country.
Vice President Yemi Osinbajo; National Security Adviser, Major General Babagana Monguno (retd.); Chief of Defence Staff, General Gabriel Olanisakin; Inspector-General of Police, Mohammed Adamu; Director-General, Department of State Services, Yusuf Bichi; and Director-General, National Intelligence Agency, Ahmed Rufai, attended the forum at the Villa with the President.
Ongoing Police Reforms Will End Impunity, Osinbajo Tells US
Vice President Yemi Osinbajo has assured that the proposed reform of the Nigerian Police Force would put an end to impunity.
Osinbajo stated this on Thursday when he received the United States government delegation, including the US Assistant Secretary, Bureau for Democracy, Human Rights and Labour, Bob Destro; US Assistant Secretary, Bureau for Conflict Stabilization Operations, Denise Natali; the Counselor of the US Department of State, Thomas Ulrich Brechbuhl; and the Charge d'Affairs, US Embassy, Kathleen FitzGibbon, at the Presidential Villa, Abuja.
The Senior Special Assistant to the Vice President on Media and Publicity, Mr. Laolu Akande disclosed this in a statement issued yesterday, adding that the Minister of Foreign Affairs, Geoffrey Onyeama, was also at the meeting.
According to him, "The plan of both the Federal and State Governments to investigate police brutality and prosecute erring police officers, create new State-based Security and Human Rights Committees, as well as providing compensation to victims of the disbanded Special Anti-Robbery Squad (SARS) and other police units, would be a game-changer in ensuring an end to impunity."
The Vice President revealed that at least 13 states in the country including Lagos, had since established Judicial Panels "to seek justice and to compensate those whose rights have been breached."
He stressed that President Muhammadu Buhari had already supported the decisions of the National Economic Council.
Osinbajo recalled that on October 12, the Council, which he chaired, with all State Governors and FCT Minister as members, resolved on the immediate establishment of State-based Judicial Panels of Inquiry across the country to receive and investigate complaints of police brutality or related extra-judicial killings to deliver justice for all victims of the dissolved SARS and other police units.
The Vice President noted that NEC had also agreed on the provision of monetary compensation to victims and prosecution of erring officers.
While responding to the concerns of the U.S government on instances of impunity in the country, the Vice President noted that these efforts were part of the Nigerian government's commitment to implement extensive police reforms, adding that the establishment of Judicial Panels of Inquiry nationwide would further ensure that the Police and other security agencies protect the human rights of citizens.
He stated: "The concerns around impunity are some of the concerns that informed the establishment of Judicial Panels of Inquiry across states. Each state is now required to establish judicial inquiry that will look into cases of impunity, excessive use of force, extrajudicial killings etc., especially by law enforcement agents.
"Aside from two representatives of Civil Society groups, these Judicial Panels will have youth representatives and a representative from the National Human Rights Commission, among others. Each State is also required to have what is called the Special Security and Human Rights Committee to ensure that law enforcement and security agencies protect the Human Rights of citizens.
"Government is paying attention. The point we are making is that protests are a means to an end, but they cannot be the end. We are very optimistic that what we have put in place would eventually yield the best possible results for us," Prof. Osinbajo stated.
He stressed that the herder-farmer crisis was exacerbated mainly because of land and resources struggle as against the misinterpreted Christians-versus-Muslim narrative.
Members of the United States delegation from Washington DC offered to collaborate with the Federal Government on these issues, a suggestion welcomed by the Vice President, hoping that such cooperation would create better understanding of the issues.
Atedo Peterside: Youths Must Start Now to Make #EndSARS Come to Life in 2023
Meanwhile, the Chairman of non-profit organisation, Anap Foundation, Atedo Peterside, has urged Nigerian youths to start mobilising to take over political power in 2023.
The 65-year-old, who spoke yesterday on Arise TV's Morning Show, was reacting to the #EndSARS protests against police brutality, in the last two weeks, particularly the gory event at the Lekki toll gate in Lagos as well as the widespread violence, arson and destruction of lives and properties in the country.
The former Chairman of Cadbury Nigeria Plc condemned the attacks and condoled with the youths and the families of victims.
Peterside advised youths to use their numerical strength to get what they want legally. He cautioned the youths against divisive elements and urged them to be wary of thugs.
He said: "2050 is for the youths of today. It is not for those in my generation.
"We are talking about the future of Nigeria and it is for the youths. So, if things happened that get the youths to be disenchanted nationwide, then we are in trouble.
"I think what happened on Tuesday, October 20, 2020, can be turned around because it was the event of that day that made those who had no interest in politics to wake up.
"The best time to build a nation is when the youths who are in the majority, they are at least 60 to 65 per cent, have been awakened. The gentle giants move a nation forward.
"The youths themselves have learnt some lessons from these incidents. You will be most effective when you link your demands with political activism. They should start getting their voter's cards. Don't wait for the last one month or two months because then your cards may fail to arrive.
"There is no force more powerful than the youths in Nigeria in terms of voting. They should become politically active and send some messages.
"Based on what happened, I came to the conclusion that the youths should plan to take their country back from 2023. I'm a democrat and I will not encourage anything that will subvert democracy.
"You voted for some people and you have to see it through. Start planning now for the next election. Don't let anybody tell you it is too early.
"One powerful signal the youths can send is that they won't support anybody who today is above the age of 60. If you all unite on that, I bet you, all the ambitious people who are below 60 will be struggling to curry favour from you.
"When you send out that signal forcefully, they will obey you."
Furthermore, Peterside criticised the speech of Buhari on Thursday night.
According to him, the President should have made reference to all those who lost their lives and not handpicked cops who died on duty amid the civil unrest of the last few weeks.
Oyetola Suspends 24-Hour Curfew
In a related development, the Osun State government yesterday suspended the ongoing 24-hour curfew imposed three days ago due to unending protest by the youth protesters.
It noted the high level of compliance with the 24-hour curfew earlier declared to forestall the breakdown of law and order.
A statement by the Chief Press Secretary to the state Governor Gboyega Oyetola, Mallam Ismail Omipidan commended the residents and citizens of Osun for their show of understanding and cooperation in the last 48 hours of the curfew.
21 Stations Attacked, One Policeman Beheaded in Anambra
After the wave of attacks that rocked Anambra State between Tuesday and Thursday, the state police command has begun counting losses in the state.
A release by the Anambra State Police Command's Public Relations Officer, SP Haruna Mohammed showed that 21 police divisions were so far attacked by hoodlums who disguised as protesters, while seven of them were burnt down.
This was contained in a press statement titled: Update on attacks by hoodlums on police formations and other government facilities in Anambra State, a copy of which was made availabe to THISDAY on Friday.
Haruna said, "On the 21/10/2020 at about 11:30pm hoodlums in large number under the guise of "END SARS"protesters attacked Nnewi Police Station, set it ablaze and vandalised patrol vehicles and other exhibits but were prevented from assessing the armoury where they planned to cart away arms due to strong resistance from the police men on duty.
Similarly, on the 22/10/2020 between 3:30am and 5:pm, the hoodlums in large number equally attacked Nnewi Area Command, 3-3 Division, Ogbunike/ Isiuwulu, Nnobi, and Itchy Divisions as well as Peoples Club police post, burnt Police vehicles and set the facilities ablaze. They also carted away exhibits kept at the Divisions.
"Meanwhile, one police officer was beheaded and burnt to ashes while three others sustained various degrees of injuries. The injured police officers were rushed to the hospital for medical attention and they are responding to treatment."
He listed seven other police stations that the hoodlums attempted to attack, but were repelled to include; CPS/Area Command Onitsha, Ogidi, Awada, Inland Town and B'Division Awka.
Haruna said the hoodlums were successfully repelled, following resistance from police operatives in collaboration with members of the communities comprising of youths, vigilante and community leaders at Okpoko, CPS Awka, Oraifite, Otolo, Amichi and Oba.
Speaking on policemen attacked, Haruna said, "However, five persons were attacked in Onitsha and taken to the hospital for medical attention where three have been confirmed dead by the medical doctor while two others are receiving treatment.
"Other government property burnt or destroyed includes High Court Ogidi, Idemili North LG Secretariat, while Zik Statue at DMGS roundabout, Onitsha was vandalised. Arrest was equally made."
The command thanked the state governor, Chief Willie Obiano, saying that he was responsible for the successes recorded in curtailing the protest.
Meanwhile, as at the time of filling this report, Awka, the Anambra State capital and other major towns are peaceful, just as there is limited activities as a result of the 24 hours curfew imposed on the state by Governor Willie Obiano.
Sunday Dare: Why Buhari Hasn't Spoken on Lekki Shooting
Sunday Dare, Minister of Youth and Sports, says President Muhammadu Buhari will speak to the public on the Lekki shooting when he has all the facts.
Speaking on Arise Television on Friday, Dare said Buhari has ordered an investigation into the shooting incident.
"For sure, the president has ordered an investigation. He had a national security meeting yesterday. I can tell you that this is already ongoing because the president wants to have all the facts which will absolutely be made public," the minister said.
"It is important to get all the facts right before we go forward, in this case. It's going to be difficult to hide these facts because we live in a multimedia world and we have pieces of evidence and corroboration and I think it is important to get the facts right.
"I think that's the part the president has towed and I am sure that when the facts are made available, this president – because he has integrity – will level with the Nigerian people about what happened on Tuesday in Lekki.
"Previously, we just had lip service that SARS scrapped. For the first time, you have a presidential pronouncement that SARS has been dissolved followed by the inspector-general and then we saw quick steps thereafter.
"And I think when you look at what has happened in the past and the level of responsiveness and concrete steps, the whole five demands of the youth were wholeheartedly accepted by the president and he set up a process."
'Invasion of Oba of Lagos Palace is Desecration of Culture, Tradition'
The Adeniji-Adele Royal Family has cried out that the invasion and vandalisation of the palace of the Oba of Lagos by hoodlums is not only abominable but a desecration of the culture and traditions of the kingdom.
The family, in a statement signed by Dr. Habeeb Gbadebo Adeniji-Adele on behalf of Oba Adeniji-Adele Royal Family said "this desecration is completely unacceptable and a traditional abomination with grave consequences for the perpetrators of these acts.
"We, the Oba Adeniji Adele Descendants hereby condemn this ugly incident and also stand in total solidarity with our dear Royal Father, Oba Rilwanu Babatunde Osuolale Akiolu 1,and all White Cap Chiefs of Lagos in this trying period."
The family said they were shocked by the vandalism, saying that some "items of our traditional and ancestral heritage" were carted away by the vandals.
"The vandalisation on our ancestral Home was an attack on the indigenes of Lagos and very alien to our great culture. The family therefore calls on all indigenes of Lagos to rise up and protect our traditional and ancestral heritage of Lagos.
"Anyone behind the desecration and violation of Iga Idunganran shall know no peace and will ultimately be humiliated."
Hausa,Yoruba Youths Clash at Fagba, Lagos
A renewed clash between Hausa and Yoruba youths at Fagba, Iju Ishaga area of Lagos State yesterday left many injured.
One of the residents said there are causalities, but that could not be immediately ascertained by our correspondent.
There are also reports that buildings were damaged during the ongoing fight.
Another resident, Aina, told our correspondent that "We have not been able to leave our homes. They started the fight on Tuesday. We thought it was over yesterday until they renewed the fight again today.
"I don't know the cause of the fight, but I saw people running helter-skelter some minutes ago."
Also yesterday in Lagos, hoodlums vandalised the Sonic Japan warehouse in Abule Osun area of Lagos State, carting away valuable items such as gas cookers, generators, fans and other home appliances.
According to residents of the area, the hoodlums came in from the Tedi Mowe and Barracks area of the state.
Governor Udom Extends Curfew
Akwa Ibom State government has announced the extension of curfew by 13 hours from 12noon yesterday to 7am on Saturday, 24th October 2020.
The curfew was imposed by Governor Udom Emmanuel, following the violent demonstration that erupted after two persons suspected to be EndSARS protesters were shot dead by a suspected security agent along Willington Bassey Way, Uyo Akwa Ibom State.
The commissioner for Information and Strategy, Ini Ememobong, in a statement yesterday said the extension was due to the unfolding events and situations being monitored by the state and security agencies.
Hoodlums Loot Osun COVID Palliatives
Hoodlums yesterday looted COVID palliatives kept in warehouses located on the premises of Cocoa Processing Industrial, Ede, Osun State.
In video footage of the incident obtained by our correspondent, people were seeing carrying packs of noodles and bags of rice out of the premises.
The lawmaker representing Ede North State Constituency, Kofoworola Babajide, confirmed the incident.
He said, "They broke the warehouse before military men got there."
Fayemi Threatens Arsonists, Looters
The Governor of Ekiti State, Dr Kayode Fayemi has threatened to deal with anyone hiding under the facade of EndSARS protest to unleash looting and arson attacks on the state.
The governor said the tension generated by the killing of some protesters in Lekki area of Lagos should be allowed to simmer since President Buhari has promised to take proactive actions to heal the wounds, get justice for the victims and meet the protesters' demands.
Fayemi said this in Ado Ekiti during a state-wide broadcast aired by media houses based in Ekiti on Friday.
Fayemi urged the youths to be peaceful, assuring that all their rights would be protected by his government and the Federal, by extension.
"As a result of those who unleashed mayhem and brigandage on private and public property, the state government was compelled to impose a 24 hour curfew on the State.
"While calm has been restored in most parts of the state, we have decided to watch development over the weekend before deciding on next steps. It is for this reason that I have extended the 24-hour curfew on the state until 0600hrs on Monday, 26th October 2020. This painful action was taken in the best interest of ourselves to ensure that the crisis does not escalate since criminals enjoy mimicking violent occurrences in other places.
"In the meantime, security agencies have been instructed to exercise judicious restraint in response to the tense situation. The intention of Government is to ensure peace, under no condition should indiscretional responses be allowed to escalate the situation. I therefore appeal for the cooperation of our people and the security personnel who are doing a tremendous job to ensure that we live in peace.
"As for those who may still want to test the resolve of government by engaging in violent action leading to a breakdown of law and order, I urge you to think twice because I will not hesitate to bring the full weight of the law against such errant conduct".
Meanwhile, a Pan Yoruba socio-cultural group, Afenifere Renewal Group(ARG), has declared that those hiding under the cover of EndSARS Protests to launch attacks on Yoruba heritage with sinister motive to destroy it, would be resisted.
Jonathan: No Nation Can Defeat its People
Former president Goodluck Jonathan has condemned the "use of deadly force" on #EndSARS protesters in Lagos.
The former President who made his position known in a statement titled, "A call for Peace", also comforted the families of those who had died in the course of the protests.
In a statement, Jonathan said such actions would only worsen the situation, calling on all parties to embrace dialogue.
The former president said the event of recent days had been a difficult to him.
He said the task of building a nation must involve both the old and the young, adding that Nigeria "cannot afford to lose the lives of our youth who we look up to take over leadership and continue our nation's journey to greatness".
Jonathan said: "As leaders, we must understand that a nation can never win a battle against its own people. Thus, the use of deadly force against citizens only aggravates tense situations rather than assuage it. We must therefore move away from battlegrounds to middle grounds in our individual and national life. This, I believe, epitomises the essence of democracy.
"I condemn any unnecessary loss of life and urge efforts to be stepped up to ensure that there is no such reoccurrence.
"We all must accept that we are all brothers and sisters of one Nigeria, and always act towards each other accordingly."
Jonathan, said "nobody's interest is worth the blood of any Nigerian citizen," and asked security agencies to ensure maximum restraint is applied in carrying out their constitutional responsibilities of protecting lives and property.
He urged aggrieved Nigerians to sheathe their swords, embrace peace, and give a chance to the efforts being made in some states to investigate cases of impunity against security personnel.
He noted that nation building is a collective task and urged everyone to continue to have faith in Nigeria, and to be circumspect in their actions and peaceful in their engagements.
"Nation-building is a collective task that involves the genuine efforts of all patriotic citizens; old or young. Our country cannot afford to lose the lives of our youth who we look up to take over leadership and continue our nation's journey to greatness.
"As leaders, we must understand that a nation can never win a battle against its own people. Thus, the use of deadly force against citizens only aggravates tense situations rather than assuage it. We must therefore move away from battlegrounds to middle grounds in our individual and national life. This, I believe, epitomises the essence of democracy," the former president added.
#EndSARS Group Stops Receiving Funds
Feminist Coalition, a not-for-profit organisation and one of the leading supporters of the #EndSARS campaign, has urged protesters to stay indoors and observe the curfew in their respective states.
The group also said it received a total of N147.8m cash donations in favour of the #EndSARS protests against brutality and extrajudicial killings by men of the now-disbanded Special Anti-Robbery Squad of the Nigeria Police Force.
It said the funds were raised "through the generosity of well-meaning people and concerned Nigerians who want their voices to be heard and their demands to be met."
The group, however, said following the speech by the President, Major General Muhammadu Buhari (retd.), on Thursday night, it made a decision to "stop all donation inflows for the #EndSARS peaceful protest."
It added, "The rest of the donations will go towards funding medical emergencies, legal aid for wrongfully detained citizens, and relief for victims of police brutality and families of the deceased."
The group, whose objectives include "fighting injustice through peaceful protests, fundraising, and social media organisation" disclosed this in a statement on Thursday titled, 'A Statement from the Feminist Coalition'.
The statement was co-signed by Damilola Odufuwa, Odunayo Eweniyi, Layo Ogunbanwo, Ozzy Etomi, Ire Aderinokun, Fakhrriyyah Hashim, Oluwaseun Osowobi, Jola Ayeye, Laila Johnson-Salami, Karo Omu, Obiageli Alintah, Tito Ovia, Kiki Mordi and FK Abudu.
The statement partly read, "The past two weeks have been tough for many Nigerians, most especially the last two days. Many lives have been lost and properties destroyed at the height of what started as peaceful marches for the end to police brutality.
"The Feminist Coalition condoles with every Nigerian mother, father, son, daughter who has lost a loved one in these trying times. These Nigerians share the same vision for a better country as we all do and should be duly recognised as heroes.
"Following the President's address, we hereby encourage all young Nigerians to stay safe, stay home, and observe the mandated curfew in your state.
"The Feminist Coalition has made a decision to henceforth stop all donation inflows for the #EndSARS peaceful protest. The rest of the donations will go towards funding medical emergencies, legal aid for wrongfully detained citizens, and relief for victims of police brutality and families of the deceased.
"We wish to emphasize that we will no longer be accepting donations for #EndSARS going forward."
The President had in a broadcast last night said, "I would like to appeal to protesters to note and take advantage of the various well-thought-out initiatives of this administration designed to make their lives better and more meaningful and resist the temptation of being used by some subversive elements to cause chaos with the aim of truncating our nascent democracy.
"For you to do otherwise will amount to undermining national security and the law and order situation. Under no circumstances will this be tolerated.
"I, therefore, call on our youths to discontinue the street protests and constructively engage government in finding solutions. Your voice has been heard loud and clear and we are responding."
US Urges Nigeria to Prosecute Killers of Protesters
The United States Government has condemned the shooting of unarmed demonstrators by military forces in Lagos, leading to death and injury.
The U.S. Department of State, in a statement yesterday tagged 'Ongoing Protests in Nigeria', said, "The United States strongly condemns the use of excessive force by military forces who fired on unarmed demonstrators in Lagos, causing death and injury.
"We welcome an immediate investigation into any use of excessive force by members of the security forces. Those involved should be held to account in accordance with Nigerian law."
According to the U.S. Government, the right to peaceful assembly and freedom of expression "are essential human rights and core democratic principles.
"We call on the security services to show maximum restraint and respect fundamental rights for demonstrators to remain peaceful."
The US government extended its condolences to the victims of the violence and their families.