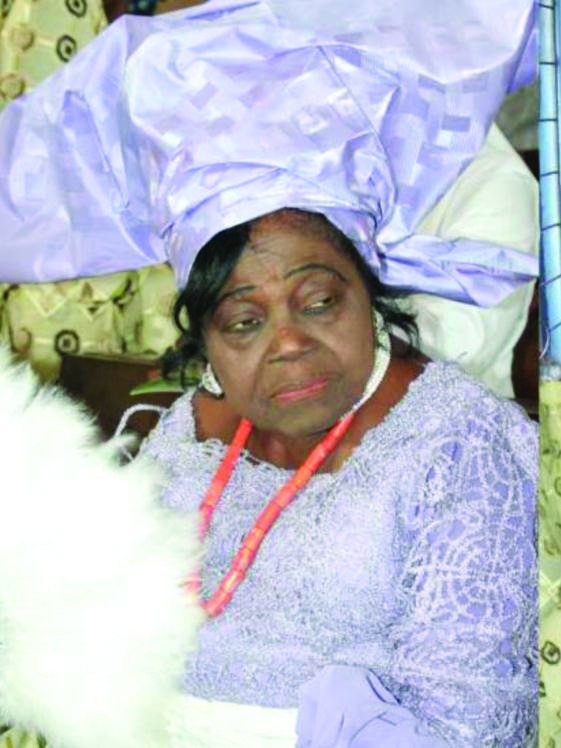 Martin Mordi and Helen Uwaezuoke
She passed away peacefully on the evening of Friday, February 28, 2020. This was after she had received the anointing of the sick. At 91 years and six months, she had attained a ripe old age. She died the way she lived, lovingly and peacefully surrounded by her son Ogbueshi Martin Mordi, her daughter Rev. Sr. Assumpta Mordi, Rev. Sr. Elizabeth Erhumwensee and her carers, Titilayo Bello and Goodness Sunday.
The third child of eight children, our dear mum Felicia Olisanwenye was born on August 7, 1928. This was at a time when her father Dick Anisha of Umuonaje, Asaba, whose job as a headmaster saw him moving from one end of Nigeria to another. This, therefore, accounted for the fact that she was born in Abak, which is in the present-day Akwa Ibom State. As for her mother Susan Mgbasia Anisha, she was an accomplished entrepreneur from the Onyebashi family of Umuagu, Asaba.
Her father's incessant transfers implied that Mummy had to attend several primary schools. But this changed when she was enrolled at the Anglican Girls Seminary boarding secondary school in Lagos.
Her eventually becoming a nurse surprised nobody since she was renowned for caring for people. With her double qualification in nursing and midwifery from General Hospital Aba, she enjoyed a fruitful career which culminated at the defunct General Hospital, now Federal Medical Centre, Asaba where she was popularly known as "The Matron".
Marriage and Family life
After she married our dad Cyril Chukwuma Mordi Esq. KSGG, KSM of Umuaji Asaba on May 9, 1957, Mummy made a few sacrifices. The first was her conversion to the Catholic faith, in which she grew to become so devout. The second was the suspension of her nursing career to become a full-time housewife. She also willingly joined her husband in London, when in the early years of their marriage he became a diplomat. She did not resume her professional working life until when she was sure that her children no longer needed her full-time care. Indeed, her taking a break from her career for the sake of her family certainly helped her children in more ways than one. Being there to directly impact their upbringing meant that she positively shaped and influenced their lives individually and collectively. Amongst many lessons, her children learnt was that of cooperation and keeping the family unit together through prayers.
As for our dad, Mummy gave him her unalloyed love, support and service. This helped him rise to the pinnacle of his career as a Permanent Secretary in the civil service and later as Secretary to the Government in the defunct Eastern Region of Nigeria. She continued to support him, even when he came out of retirement to become the president of the customary court in Asaba. It was in recognition of her support for my dad that our aunty Ada Mordi (Mama Biabia) chose Ogolikwadodia (a supportive wife) as her Alor title name.
Religious and Social life
Mummy was a daily communicant in her active days and a member of several pious/statutory organisations. Amongst them were St. Vincent De Paul, Catholic Women Organisation (CWO) where she was the leader of group D for years. She was also a Lady of St. Mulumba and was the leader of the only sub-council then in Asaba/Ibusa and a national financial secretary. She continually hosted her fellow knights and ladies in her home until her death. Two weeks before her demise, the Ladies of St. Mulumba visited her with some gifts. One activity that was remarkable in her religious experience was the pilgrimage she made to Lourdes, the Marian apparition site in France. For our dad and the rest of her family, she remained a bastion in the practice of the faith.
Mummy also spent several vacations in London, the UK with her children and grandchildren there. A sociable and fun-loving person, she was very generous and loved to entertain and delight people with her culinary skills. Besides being a member of "Otu Jolly No 2" dance group of Asaba, she was also a foundation member of the Asaba Women's Welfare Association, where she held different offices. Besides, she was a member of the Asaba Ladies League, becoming the president of its Asaba branch for some years. She so cherished her membership of this organisation that she sang their anthem with joy in her heart until her last days. She also treasured the visits of some of its members as they reminded her of the good old days.
Mummy had such good leadership skills that she was always at the helm of affairs in any organisation that she belonged to. It was with great reluctance that they allowed her to relinquish the various offices that she held in various societies. Her wise, peaceful and calm disposition coupled with a great sense of humour endeared her to many. Many people sought after her prudent counsel and they were never disappointed with the ideas and suggestions that she came up with. Punctuality was her watchword, as she never liked to be late to any event.
Her Last Years on Earth
A very lively person, she regularly attended most of the meetings in her various organisations and paid several social visits. She remained lively even at 80 years until she took ill and had a fall whilst she was recuperating. For over 10 years, the woman used to be a great dancer was never able to walk again. This was not an easy experience, which she had to live with until her death.
In her wheelchair, she would attend the Sunday masses and with the rosary in her hand, she would pray for all her offspring, relations and friends. In answer to her prayers, God bestowed multiple blessings on her and her children and grandchildren. To God be the glory! Her children and many others celebrated her numerous accomplishments. She extensively celebrated her 50th, 60th, 70th, 80th and 90th birthdays. At 88+ she was celebrated as the oldest female in her Kwekagbor lineage in Umuonaje, Asaba. She loved to live life and enjoyed it to the very end as best as she could.
We miss you Mummy, but we thank God for giving us such sterling and stellar mother. Mummy, whose remains was committed to Mother Earth yesterday, was a true Proverbs 31 woman in all ramifications. We thank God for your life. May your amiable soul find peace with the Lord. Amen!
––Ogbueshi Mordi and Dr Mrs Helen Uwaezuoke write from Asaba