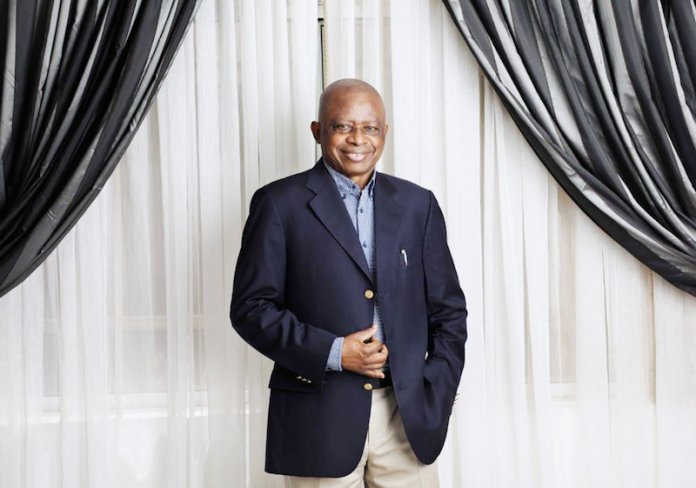 Olusola Akanmode
Prince Olusola Akanmode, technocrat, politician, farmer and Deputy Chief of Staff in the Obasanjo Presidency recently marked his 70th birthday. He spoke to Funke Babs-Kufeji on his growing up, trajectory, experience in public service, politics and Nigeria's challenges. Excerpts
Celebrating life at 70, how do you feel at this age. Is there a secret to your youthful look?
I get this kind of compliment on 'not-looking-my-age' almost on a daily basis. But for me, the more significant thing is that I don't feel like 70. I believe the greatest secret of "youthful look" is the Grace of God who is the giver of good health. No matter how strictly you adhere to the playbook of staying young and healthy, you need God's favour to succeed.
Tell us about your childhood memories and growing. What memorable event do you still reminisce on till date?
Growing up in what was a typically rural setting like Ayetoro-Gbede in Kogi State had its obvious challenges. I grew up in a house where, at any given time, there were at least 20 children because many of my father's relations wanted their children to grow up in "the School Manager's house" where strict discipline was guaranteed. Apart from the general atmosphere of discipline, there was hierarchy and military-like chain of command among the children. The most dreaded part of this early life was the daily routine of ending up in the farm after school hours.
The transition from this type of upbringing to the boarding school was not too drastic. However, the year 1965 witnessed one of the most poignant memories and a veritable turning point in my childhood. In that year (I was in Form Three) some "rebellion" on my part made my father to stop paying my school fees. Fortuitously, the Northern Regional Government took over the then Provincial Secondary School Okene and it became a Government Secondary School. My School Principal Mr. D.J.K Farrar intervened and ensured that I was "assessed " £3 per annum which he paid up to Form Five because as a Junior Table Tennis Captain, a Junior Debater and, more importantly, a good hockey player, I was one of his favorite students.
The main reason why I am mentioning this "turning point" is that even at that age, I developed the spirit to turn my adversity into a great motivation to be among the best academically. I missed having the best WASC result by two points and I came on top of my class in the Higher School Certificate (Cambridge) Examinations. My performance in the final HSC Cambridge examination automatically secured me a slot on the Merit List of the then Kwara State University Scholarship Scheme.
Now that you are 70, what's next for you, are you thinking of retiring or doing something different?
As I was approaching 70, my earnest desire was to gradually exit partisan politics but make the experiences garnered in governance available to anybody who may need it, with or without a fee as the case maybe. I also looked forward to devoting my attention to my large-scale farming activities which I have been actively involved in since 2006. I have also given a thought to writing my memoirs.
Looking back now on how far you have come are there things you think you would have done differently?
Definitely, a good number of things but they are too personal for me to talk about them here. What I can talk about openly is my big regret about the amount of investment I have made in agriculture. It has left me economically prostrate and there is no path to recovery in sight. At the height of my farming activities three years ago, I had 350 hectares of cassava farm before the cattle herders took over. I don't want to sound alarmist but from my personal experience we are heading for disaster. The level of impunity is alarming and we are just totally helpless.
You studied French as your degree in the university. Do you still speak the language and do you find it useful in your career path?
I studied French for seven years at the Secondary and Higher School level and for four years in the University including one academic year at the University of Dakar, Senegal, and three months Summer School at the University of Grenoble in France. This is why I still speak French but certainly not the way I spoke it about 40 years ago. If you are familiar with the complexity of the French language you will appreciate why. Did I find French useful in my career path? Absolutely. First, the French educational system is very comprehensive. It takes you through the whole gamut of French language, culture, history and philosophy. It affects the totality of the man, his intellect, his style and his worldview. French has been variously described as a language of exactitude or the language of diplomacy.
Being a civil servant in Kwara and Kogi States for many years in different capacity, tell us what your service years were like and what your best or memorable experiences were when you served?
By the time I finished National Youth Service in 1975, I had a choice between accepting the position of Lecturer III at the Kwara State College of Technology or Administrative Officer in the Kwara State Civil Service. Although the package for the former was far more attractive, my childhood friend, Mr. S.K. Adedoyin, advised me to settle for the latter.
The first thing is the diversity of experiences gained in working in different Ministries/Departments including Finance, Health, Governors Office, Office of the Head of Service, Education, Government House, Commerce and Industry as well Works, Lands and Housing.
In 16 years of pulsating activities, I had the kind of fulfillment anybody could have wished for. I worked in a Civil Service where early identified talents attracted more challenges, mentorship was strong and hard work was compensated with recognition and rewards. I became a Permanent Secretary at the age of 37 which was 13 years after I joined the service. As a Level 09 officer in the Governor's Office, I was appointed the Secretary of Judicial Commission of Inquiry into Okene Local Government. Two Level 15 officers were appointed Secretaries of the other two Commissions of Inquiries set up at the same time.
When Group Captain Salandeen Latinwo became the Military Governor, his Secretary to the State Government, Dr. Nasiru Oniyangi took me to Government House and introduced me to the Governor as "the young man who had been doing those write ups". That was how I became what he called "his staff officer" in Government House and ended up working with five Military Governors – Group Capt. Latinwo, Group Captain Ndatsu Umaru, Col. Ahmed Abdullahi, Group Captain Ibrahim Alkaliand Col. Alwali Kazir (as they then were) as (Under-Secretary Special Duties), Secretary (Special Duties) and Permanent Secretary/Director General.
With each tenure came several memorable experiences. I cannot forget the kind of rapport I had with Col. Zakari who was appointed Military Administrator of Kogi State. As the first Permanent Secretary of the Ministry of Works, Water Resources, Lands and Housing, we worked round the clock to lay a good foundation for Kogi in four short months.
When Prince Abubakar Audu became the Civilian Governor of Kogi State in January 1992, I was the only Permanent Secretary he retained in the exercise of the powers conferred on him by the Babangida 1988 Reforms to dispense, if he wished, with the services of any Director General who had worked with his predecessors. The political intrigue that led to my exit from his Government not long after is a story for another day. It will suffice to say that less than two years after leaving the service, I was appointed Secretary to Kogi Government by Col. Paul Omeruo.
The country has changed a great deal and the civil service isn't what it used to be; can you tell us what you think needs to be done urgently to restore the civil service to its glorious state?
It is true that the Civil Service, like other important facets of our national life, has witnessed enormous changes and, sadly, not for the better in most cases. I am also conscious of what many people refer to nostalgically as "the golden age of the Civil Service". There are many who believe that the way forward is to go back to that era. True, the Civil Service I joined in 1975 was a great institution but even at that time there were already strident calls for better ways of doing government business. So, with due respect, the issue is not to 'restore the Civil Service to the glorious state' of the past. We are living in a world where changes are rushing at us at a giddying speed and in some respects, the Civil Service we knew cannot meet the demands of the present and the future.
All over the world there is a clamour to reinvent government to make it more catalytic, entrepreneurial, result-oriented, mission-driven and customer-driven. There are calls for performance management and radical shifts in the budgeting system.
The bane of our reforms is the stop-go approach. Reforms should not be a fad that comes and goes with the season.
You served as director general at the Ministry of Education in Kogi State, so it's safe to say you are conversant with the Nigerian Education system. In recent years, the state of government owned schools is beyond abysmal. What in your view happened to the system and what has to change for it to return to its former glory?
I was Director-General for less than two months at the Ministry of Education in Kogi State. Although I was on posting to the Ministry of Education for about two years in the then Kwara State, I cannot speak as an expert. One of the most critical things to do is for all the stakeholders to recognise that our education system is in crisis and appreciate the need to prepare our children for the challenges of the 21st century. Secondly, public investment in education and training leads to higher achievements, higher productivity and reduces social costs to the nation. That is why investment in education not only makes social but also economic sense.
The third issue is to realise that providing good education is not cheap. Fourthly, education reforms must focus on teachers, improved facilities and participatory management of schools to include communities, parents, teachers and faith-based and Civil Society Organisations. Fifthly, every child should be given a head start i.e early, pre-primary education that is now the exclusive preserve of children of the elite. We also need better academic programmes with emphasis on science and technology that will train children for "the jobs of the future" and be globally competitive, smaller classes and performance-based assessment of schools and teachers with reward for outstanding performance. In summary, our educational system should focus on quality, access (i.e availability) and affordability.
What is your take on the government opening up the economy and general handling of the Covid-19 pandemic, and do you think the Government in Nigeria has done enough to be able to take this step like the rest of the world?
We must commend the Presidential Task Force on Covid-19 for their hands-on approach. It is true, however, that we have been lucky to escape very serious challenges in Nigeria considering our population and the relatively small number of infections. I consider the amount of information and awareness out there adequate. But we are dealing with a pandemic on which even the best experts in the world don't have all the answers. More significantly the PTF has always maintained that we have not peaked. This is what should guide our approach to the opening up of the economy. We have to bear in mind our peculiar situation in which more than 95% of the actors are in the informal sector. It is extremely difficult to track them and we lack the financial capacity to bail them out.
The CBN has announced over N1 trillion stimulus package just as the Ministry of Humanitarian Affairs has announced palliatives but the structure of our economy and our population make their impacts very limited. Everywhere in the world (except where these issues are needlessly politicized) it is a balancing act between lives and livelihood and our situation is not different.
What was it like working with Chief Olusegun Obasanjo and Alhaji Atiku Abubakar as Deputy Chief of Staff?
It was like being in a state of continuous animation. It was also like the icing on an eventful Public Service career. The beginning, of course, was the very uncommon circumstances in which Atiku made me his Chief of Staff barely two years after I met him for the first time. Then there was the great latitude which both the President and the Vice President gave me to express myself.
I believe a lot of people will concede to that Administration that it was a power house of ideas and initiatives and for me, it was the opportunity of a life time to watch at close quarters and even be involved in the formulation of enduring policies that radically transformed this country. Notable among them are Vision 20:2020, Fiscal Responsibility Act, Public Service Reforms, EFCC and ICPC, National Health Insurance Scheme, Contributory Pension Scheme, Banking Reforms, the Communication Revolution, the Agricultural Value Chain, the Infrastructural Concession Regulatory Commission, etc.
I consider myself extremely lucky that even when there were some tense moments, I enjoyed the privilege of a trusted honest broker and found myself engaged in shuttle diplomacy among Baba Obasanjo, Alhaji Atiku and late Chief Tony Anenih, among others. Unfortunately, at a point it dawned on me that I was no longer effective in that role. I voluntarily resigned my appointment on 1st December 2006, about six months to the end of our second term.
You are a member of the Pan-Okun People Relief Response Agenda, raising funds for effective health care across Okunland and to cushion the effect of the pandemic on the Okun people. Tell us what has been achieved thus far with this initiative?
We set for ourselves a target of N500,000,000 (Five Hundred Million Naira) based on the objective of upgrading some selected health facilities as opposed to the provision of food items as palliatives. Thus far we have been able to generate tremendous awareness and practical support for the project, but frankly we are still a long way from our target. I must add, however, that we are reasonably satisfied with the progress made in the face of the daunting economic environment.
The governor of Kogi State believes that the Covid-19 pandemic is a hoax and has been quoted by some dailies saying "there are no cases of Covid-19 in Kogi State" even after the Nigerian Centre for Disease Control (NCDC) in his state recorded a number of cases. What is your take on this?
I think the Governor needs to be fair to himself, the people of Kogi State and to the Federal Government that is investing a lot of resources to fight the pandemic. A more generally beneficial approach would have been to acknowledge that Covid-19 exists and to continue to create the awareness among our people while working hard to prepare for any eventuality.
Seeing the state of our country, do you think more technocrats and professional should get involved in politics and why do you think this is important?
It is a question of enlightened self-interest for technocrats and professionals to get involved in politics because the critical decisions that will affect their success or efficiency in their chosen fields will be dictated by the environment created by policies formulated by politicians. Another dimension is that if they constitute a recruitment ground for political leadership, they can significantly improve the quality of governance.
What is your advice to young Nigerians who want to go into politics?
There are very many young Nigerians who are in politics for the wrong reasons – mainly because everything else has failed. I am frightened by the prospect of many young Nigerians seeking to make politics a vocation. I will make a distinction between participating actively in the electoral process and making politics a vocation.
Those who want to do the latter should, as much as possible, first develop a career. Otherwise with the level of monetisation of the process and their severe handicap, they will just be tools in the hands of wealthy and unscrupulous politicians whose credo, with apologies to Professor Wole Soyinka; is that the end justifies the meanness.T