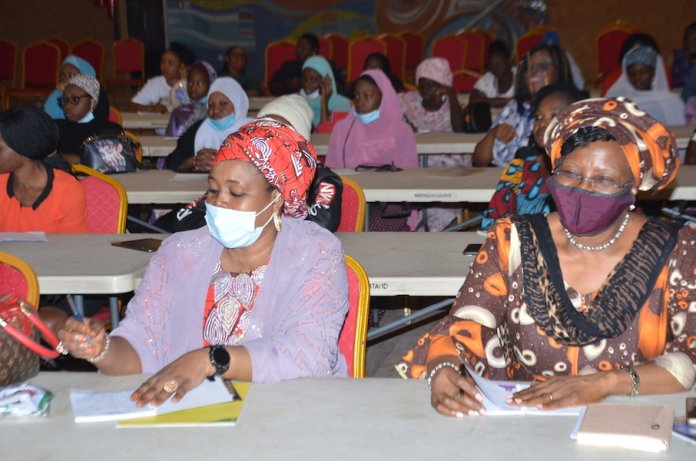 The Nigerian Society of Engineers recently held a three-day intensive training for their spouses on everyday- use household products. The spouses as pilot beneficiaries are expected to overrun the Nigerian markets, increase GDP and give foreign products a run for their money. Kuni Tyessi writes
Economic and social analysts have come to the conclusion that the world will take about a century to fully recover from the impacts of the COVID-19 pandemic. This is not unconnected to the fact that the scourge gave no warning or signal about its emergence which has completely changed the entire outlook towards life.
However, like the belief of every enthusiast, a coin is two-faced and such is life. Therefore, as much as losses have been recorded as a result of the pandemic, good reports have also emanated from the experience, especially in developing countries like Nigeria.
The good is embedded in the spirit and consciousness of entrepreneurship and the thought, as well as plans for a better tomorrow. This was the mindset behind the training which was organised for spouses of Nigerian male engineers under the auspices of the Nigerian Society of Engineers (NSE).
After dividing the nation into three zones, namely Enugu, Lagos and Abuja, and training them on how to make disinfectant, hand spray, methylated spirit, hand sanitizer, Vaseline, bleach and a host of other items, the society which spoke through its president, Engr. Babagana Mohammed said as late comers to the game of realisation, coupled with the fact that Nigerians can equal their counterparts in other climes, all thanks to the pandemic, acquiring life trainings will belt them up for future unknown challenges.
According to him: "the intention is to empower Nigerians. Our attention is not centered on just the spouses but on empowering 10,000 Nigerians with skills. Aftermath of COVID-19 has taught a lot of lessons. Yes, a health issue, but it came with a lot of lessons. There is nothing that cannot be done and so we can do everything for our selves. At the beginning of the pandemic, advanced countries were not ready to release their medical equipment, saying until they had served their citizens. This was indeed a loud message and a clarion call.
"It was during the pandemic that I knew that Nigerians can make hand sanitizers of high quality which is the same all over the world and based on WHO standards. Why should we then import hand sanitizers when we can make and package them effectively?
"I have never heard of anything called ventilators. I only read them in books and I pass because there's nothing special about them. But when they said ventilators are about $10,000, I asked that one should be bought and right now our people have started making ventilators. After going down and picking the designs, Nigerian engineers have started making ventilators.
"As I speak to you, one ventilator is at advanced stage. All the ventilators in the market are meant for one person and they cost between $30,000-$60,000 and that's the range.
"I am starting the programme with very few spouses because that is my immediate constituency. As engineers, we need to be happy at home before we think for any other Nigerian and how can we achieve that? Our finances need to look good. How can this be? It is made possible with the little things our wives can do at home so that we can save money. After this, we will go out.
"We will introduce how to repair handsets, laptops and this is because majority of the people in this country use them and so there's need to know how to repair them. The training will be practical and not in theory and the duration does not matter even if it will be for two weeks."
For while it is not enough to have the "he for she" as a mantra calling on men to advocate for the rights of women and close the gaps in keeping the pace with realities on ground as well as strengthen gender equality/equity, the society says the future belongs to women and the combination of Science, Technology, Engineering and Mathematics (STEM). Therefore, empowering them to meet up with their divine and natural roles is not out of place.
He added: "the world has changed. Men have failed. Let's be very honest to ourselves. Our only option now is to look at the side of the women. Women have not failed and have not been given the chance to operate. Nobody is arguing this. Who says women cannot do it? Are they not qualified? They are special specie from God. Their shock absorber is higher than that of men. Why not give them an opportunity. Men care for themselves and women take care of the entire family. Why shouldn't they be empowered? The case of empowering women is no longer an issue. It's a reality and it's a must. The gender called women must be empowered. It is key. If we must be on equal grounds and everything moving formally, women must be empowered.
"The young people are involved. The future belongs to engineering and the future belongs to women. It has to start now. The future does not start in the future. We are already behind and there's need to fast track it and be somewhere. When I say engineering, I mean Science,Technology, Engineering and Mathematics (STEM). Nobody should be left behind.
"Nigeria is yet to be in the 21st century even though the world is already there. Countries in the 21st century are countries that have overcome poverty, have 24/7 power supply of electricity, good roads network, people who live above two dollars per meal and eat three square meals a day without looking at the cost. Amongst us, there are people who are privileged but this is not about individuals but about all of us as a people."
He says although they do not have a ready market for the trainees, Nigeria has a population of about 200 million people, adding that "even if it's pure water that has been well packaged, there will be a market for it. Don't be deceived with the civil service life we are passing through. I know of many who are into petty trading who are richer that me and you. Their daily turnover is about 10,000 naira and we don't earn that in a day. So they are more comfortable than us. And who says we cannot do it? So we can work and engage in businesses in our own leisure.
"President Buhari said he wants to lift 100 million people out of poverty. He is just one person. He is not talking on his behalf but that of all of us. He is not a magician. When all of us play our part, the numbers will be congregated to give the 100 million. He is looking at the professionals. We have far passed depending on the government as it can't do everything. The government will do its part through SMEs, humanitarian ministry and we will do ours and at the end of the day, 100 people out of poverty will be actualised".
Wife of the president, Mrs. Amina Babagana Mohammed, who also doubled as co-pays convener, said aftermath of the COVID-19 pandemic has fine a long way in teaching women to be self reliant and have less dependency on men.
Disclosing that it was not easy putting up a crowd for the training, she said the distribution of palliative to the needy during the pandemic was an opener that many women are in need of skills acquisition, hence the training.
"It's not easy to put up a crowd. I first if all felt the pulse of women before we decided to settle for the training. Thankfully, the men have been very supportive. We were also able to distribute palliatives and the response was great with people begging that we make it a monthly venture. Women will have to stand up and make themselves useful and self reliant" she said.
A beneficiary of the training and a spouse of an engineer, Mrs. Benjamin Ogede, said apart from simplifying the method and processes involved in making everyday useable items at home, training the trainer mentality has been imbued in the trainees and society will be better for it.
According to her: "I have learnt quite a lot. We learnt how to make vaseline, methylated spirit, disinfectant, hand sanitizer, bleach, hand spray, and hair cream. Ordinary, I don't know how to go about it. Most times, I see the ingredients as big chemistry English I can't speak but this has been broken down for even the man on the street to understand.
"It's something I never imagined can be put together. It has given us knowledge that we can do it ourselves. They have taught us how to help our husbands. Now we are reaping the benefits of marrying engineers. I hope to produce in large scale but for now it is for immediate consumption. I will educate other women in my community, thereby empowering them and improve the lives of others."
Another beneficiary, Hadiza Hussaini Aliyu said as much as she hopes to go into large scale production of the items she has learnt, she is excited because the continuous idleness that has become a routine is coming to an end.
"I have benefited a lot after being at home and doing nothing. But for the past three days, I have been very happy because I have been able to learn a lot of things and I hope to go into large scale production even though for now, I do not have a ready market.
"The training has been superb and I encourage the organisers to do more. I will encourage them to empower many of us doing nothing. I expect to see trainings based on sewing, knitting, baking, catering, makeup and beads making among others."
Hopefully, the results of the training will be felt in no distant future, but the problem is: will Nigerians patronise their own as against foreign products?