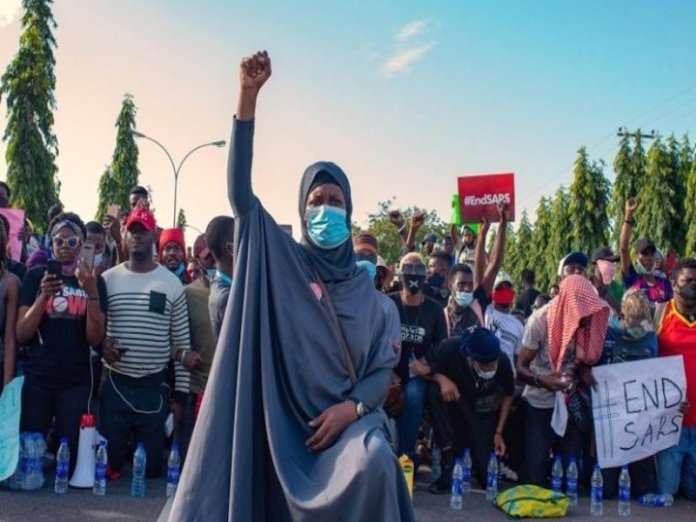 President of the Pan-Yoruba pressure group, Oodua Peoples Congress, Prince Osibote tells Nseobong Okon-Ekong the EndSARS campaign is warning signal to corrupt politicians
Having worked closely police authorities, did you see the EndSARS campaign coming?
EndSARS is not the issue for the fact that the issue is the entire system that runs the Nigerian state. We can't isolate SARS and then go home to jubilate. SARS is just another department in the Nigeria Police Force. In any country, we must have a tactical team that can combat certain crime. What we should be looking for is an overhauled system. There are some officers who are in the police stations, who are worse than SARS operatives. There are people sitting in the office who expect those operatives that are out on the streets to bring money back to them. If you remember there was one Inspector General of Police who suggested that the minimum requirement for Nigerian policemen should be a university degree and some people said nonsense, simply because there is a section of the country that feels its people may be deprived from joining the police. But if we are one country and it is truly a police for Nigerians, nobody should be concerned about where the policemen are from. The second point is, how much are you paying these people? The amount they are receiving is far below what can enable send their children to a decent school and guarantee them quality life. I am not supporting them because there are people who have suffered at the hands of these SARS operatives. EndSARS should not be the target, there should be a total overhaul of the system
The last few days have recorded the unleashing of anger directed at the police, why are the target?
I will be beg the youths. Burning of police stations and other government buildings is not the solution. The police are part of us. It is still the tax payers money that will be used to rebuild these burnt assets. If they can identify the guilty ones and go after them, that is a different case. I, however, do not support jungle justice in any form. If the youths want to vent their anger, it should be directed at politicians. There are people in this country who have been in government since independence or since the Second Republic. When they are indisposed, they put their children there. They are the ones sharing the resources of this country among themselves. The only time they ever remember the people is when they want their votes, which they obtain criminally and further dehumanise the people by paying them pittance. These are the people the youths should vent their anger on. But it is coming to that. I think the youths have served the politicians adequate notice, it wont be businessas usual, going forward. They have demonstrated their capacity for violence. All the filthy politicians in Nigeria are afraid now. It will get to a point when the police will refuse to protect them. In any society, I will not support burning of police station and killing of policemen. We had this issue sometime ago when a DPO lost his life. No good society will tolerate that. But, even the police, do they love themselves? Our political elders have failed us. In the Southwest we are talking of Chief Obafemi Awolowo, is this the same legacy that he left behind? Awolowo identified Alhaji Lateef Jakande as his successor and we are all witnesses to Jakande's brilliant performance as Lagos State. I stand to be corrected that no Nigerian governor has surpassed his record. But people who have the capacity to make a lot of noise and steal the peoples collective wealth now claim that they are leaders of the Yoruba when Jakande is alive. You don't elevate yourself. The people know who their heroes are. Is there any of them who can equal Awolowo or Jakande's record? Why are they galivantimg all over the place? I am disappointed a little bit with the diplomatic community, they have a lot of intelligence on Nigerian politicians. Are they sincere with Nigeria in the fight against corruption? Placing a visa ban on them is tokenism. These corrupt Nigerians whose monies are stacked abroad should be named and shamed. They should be in prison. They have done a lot of investigation on them. What they are saying to Nigerians is that it is our local problem, but they know what to do, if they want to do it.
EndSARS has taken an ethnic colouration, why do you think this happened?
I know Comrade Shettima who issued this ethnic warning well. He is entitled to his own opinion. When people talk there must be a reason and there is something they want to achieve. When they talk like this, they want to escalate the problem. One thing I know is that Nigeria cannot break up until all those generals die, because they fought the war. We should not pray for a war or revolt because it will take us,years to come back. I do not see Buhari as the problem. It is his lieutenants. I will beg him to allow the youths see him. Then they will see a different man. What I will say to our own Yoruba man in the Presidency is, if the man is not doing your job, come back home. You did not know Buhari is bad, but when you started working with him you realised it, what should do? Come back home! But the availability of a free house, cars and driver will not allow that wise decision. Forget the talk someone convinced people to vote for Buhari. People voted for him out of conviction, particularly those of us who were around when he was military head of state. If God said Buhari will not be there, he will not win. It is true that some people don't trust him. There are those who have a strong believe in his capacity to govern well. My observation is that he needs to be on his feet to do the right things because of his name. Already, there is a school of thought that the country has never been this divided. What led to the civil war? Do a people who are friendly go to war? Was Buhari the ruler when Nigeria went to war? Many of the problems of this country have been with us for long, but we want Buhari to show that he is addressing them to the best of his ability during his time. He must step on toes, but destruction of government assets is not the solution. There is a difference between a revolution and protest. A protest can lead to a revolution, but it must be well coordinated. People must all agree. With this EndSARS protest, we are going to a state of anarchy, if government doesn't resolve it quickly. Anything can happen. There is so much anger. A lot of things happened fast to the disadvantage of the common man, the EndSARS protest was what they needed to release bottled up anger. You cannot control what you cannot control. If Buhari is bad, some of our state governors should be thrown into the lagoon. There are states you get to and you ask yourself, where is that state among states in the nation? Some state governors have turned Government House to an entertainment venue only. It is just for merry making and sharing money. When Buhari came in the first impression we had is not what is happening now.
What OPC was founded for are the ideals I holding in to since I took over the leadership. My first address to the members was that I do not want to see the violence in them. Some of the OPC members are bad. They are being encouraged by unscrupulous Yoruba leaders who want to pocket the group for their selfish reasons. I will not agree to that. What is their problem with Dr. Frederick Fasehun, founder of the OPC? Why are they empowering factions? What made me to come out is to change the perception of OPC. Even the June 12 they are talking about, many of our leaders from the Southwest are Abacha boys. I am not a novice in the struggle. I have enough information. The time is coming when we will tell them the true role they played in the June 12 struggle. Today, they are going around claiming they are champions of democracy and that they suffered for democracy. More troubles are coming for these so-called big politicians from the Southwest. When Tinubu was promoting Buhari he said when the trouble started in France they sent for a General, then what happened? He did not complete the picture. Perhaps, that is what we are seeing now. The judiciary is not working, even the security system is not working, they only use intimidation.
QUOTE
With this EndSARS protest, we are going to a state of anarchy, if government doesn't resolve it quickly. Anything can happen. There is so much anger. A lot of things happened fast to the disadvantage of the common man, the EndSARS protest was what they needed to release bottled up anger. You cannot control what you cannot control. If Buhari is bad, some of our state governors should be thrown into the lagoon. There are states you get to and you ask yourself, where is that state among states in the nation? Some state governors have turned Government House to an entertainment venue only. It is just for merry making and sharing money. When Buhari came in the first impression we had is not what is happening now