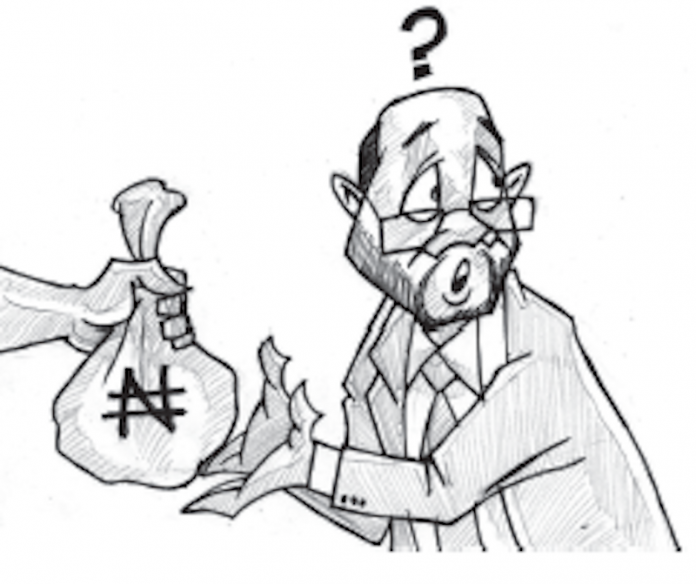 Fighting corruption has become an empty ritual
The dismal culture of impunity in public sector is spreading. Many institutions of government are increasingly being compromised. Recently, the Independent Corrupt Practices and other Related Offences Commission (ICPC) Chairman, Bolaji Owasanoye, said some N2.67 billion meant for the feeding of boarding students in federal government colleges was diverted into private accounts. Besides, the anti-corruption body found over N2.5 billion diverted by a deceased worker with the ministry of agriculture. At about the same time, the National Security Adviser to President Buhari, Babagana Monguno, restated what has become an open secret: that the Presidential Amnesty Programme was plagued with corruption, waste and mismanagement. He said a whopping N712 billion was unaccounted for "due to so many issues, corruption being the main."
All the raging issues of deficits of enlightened governance and lack of fidelity to rudimentary public morality run counter to the avowed commitment of President Muhammadu Buhari to right the wrongs of our past. Indeed, the scourge of corruption has grown in monstrosity because the administration has failed to speak with precision and clarity about the problem when politics is involved. It is a cynical dimension of the Buhari administration: If you are on their side, no matter how much you have undermined the system and abused public trust, you can walk the streets with arrogance and nothing will happen to you.
It is therefore no surprise that reports on corruption have since degenerated into a tool of propaganda, born of weakness and made for television. Many are of the view that instead of fighting corruption, one of the cardinal pledges that brought it to power, this government has indeed encouraged the vice by its attitude, insincerity and inaction. Indeed, the administration's record on corruption in the last five years cannot, by any stretch of imagination, be said to be better than that of its predecessors. Some will in fact wager that it is far worse. Mounting instances of the administration's tardiness in taking prompt decision on corruption allegations cut across the executive, legislature and the judiciary.
That many public officials have continued to fleece the very people they are supposed to protect is to put the situation rather mildly. There are thousand cases of graft that dot the entire landscape and many more are committed daily. Only recently, the Auditor-General of the Federation, Ahmed Idris, revealed the recklessness with which the MDAs conducted their affairs with scant regard for accountability. So many of them did not even care to file their annual returns yet the National Assembly that is charged with the responsibility of oversight kept approving new budgetary estimates for them. Even when the lawmakers conduct public hearings into issues bordering on transparency and accountability, they end up as footages for social media entertainment.
Of the Open Treasury Portal review carried out between January and 15th August 2020, according to the ICPC, some 268 ministries, departments and agencies had cumulative infractions totalling N90 million. But this is peanuts compared to the billions of naira siphoned recently into private pockets from the systemic corruption in the Niger Delta Development Commission (NDDC). Despite the all noise and the public hearings conducted by the National Assembly on the issue, all is now quiet and all those who openly confessed to stealing public money are still in office. There is no inkling that the offenders will be prosecuted. Even the major institution created to fight corruption is troubled. The question therefore is: Why do the officials, including those positioned to fight graft, continue to regale the public space with tales of corruption?
Having failed to grasp the meaning of corruption, fighting it has become a hollow ritual to the current administration to our collective shame as a nation.