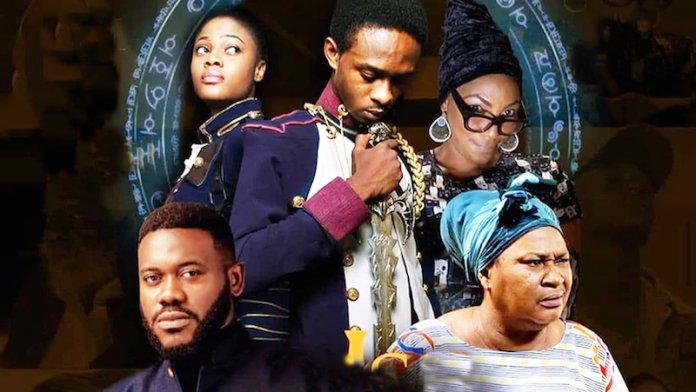 Ferdinand Ekechukwu
Tosin Olateru's directorial debut, "Rise of The Saints" is currently screening in cinemas nationwide. The feature film had its theatrical release after five years in development limbo. The Nollywood epic fantasy is action packed and as ambitious. For film lovers who have seen the film, the account of the legendary Moremi Ajasoro might come with shocking revelations. Well, not all of it is true. There are several firsts recorded in "Rise of the Saints".
Away from it being Olateru's directorial debut, it is also the feature film debut of leading man, Tele Kuponiyi. The actor who plays Luke, the reincarnated son of Moremi Ajasoro, first tried his hands at acting as an undergraduate of the Obafemi Awolowo University. The prologue of "Rise of the Saints" is breathtaking and achieved using 3D animation sequence. The Costume of the "Saints" is a creative fusion of old military and modern fashion.
The flick gives a fictitious spin to the story of Yoruba's revered princess who sacrificed herself for her subjects. In the present-day world, her prophesied son is manifest in Luke, a young aspiring musician. Orphaned at birth and raised by his aunt, Luke is suddenly plunged into a battle of two worlds: of light and darkness. He joins forces with The Saints, a group of people charged with the duty of protecting the legacy of Moremi, and together they must employ all their wits to defeat the ferocious warlord, Jagan.
Amid all, Luke has no choice but to take the biggest test of his life: choose between a destiny of honour or his dazzling dream of music and fame. A fictional story of a man's struggle to succeed against the evil that plagues him, the project is motivated by the determination to make a change in the psyche of the youth in our society. It hopes to accomplish this by showing, through the movie, that despite the circumstances around, we can thrive and achieve our dreams, no matter how big.
The fictitious paranormal work in "Rise of The Saints" is sworn to the highest level of secrecy, and inspired by the heroism of Moremi Ajarsoro, from generation to generation keeping the line between good and evil. Seeing as they exist in the new world, their costume had to sufficiently express this detail. Quite riveting are the scenes which leave viewers in want of more.
Produced by Bolanle Olasunde, Rise of The Saints stars great stars befitting of the storyline. As noted by the movie makers at Grand Redemption, "We've created characters that are peculiar to the story we have and their costumes and props are an integral part of the characterization so we need the money to finish up the scenes we're yet to shoot." Think of thespians like Peter Fatomilola, Rachael Oniga, Tina Mba, among other superstar actors. T